Ballotpedia tracked three new state-level candidates in Texas between Sept. 11 and Sept. 17. This was two more candidates than the prior week.
One of the candidates is a Democrat and two are Republicans. The three candidates are running for the state legislature in 2024.
Details on these candidates are below:
Incumbent Angela Paxton (R) is running for Texas State Senate District 8. Paxton said, "I am running for re-election for Senate District 8! Today, at the Collin County GOP Labor Day Rally, I officially announced I am seeking re-election for #SD8. I appreciate the outpour of support & I look forward to serving my district for another term!"
Kristian Carranza (D) is running for Texas House of Representatives District 118. Carranza said, "I'm running for State Representative for all the families who know the meaning of grit and sacrifice but are losing faith that our political system is serious about anything more than lip service. And our current incumbent is your stereotypical politician. Given a seat at the table, he chooses to stand on the sidelines.  Facing a $33 billion budget surplus, he and his colleagues did nothing for teachers. Nothing. Tens of thousands of families lost their health care due to bureaucratic mistakes, and he reacts with silence. And when it comes to the most basic individual right of a woman to choose for herself, if, when, and how many children to have, he toes the line of the most extreme faction of his party. … This campaign is about fighting for a seat at the table for families like mine."
Dale Huls (R) is running for Texas House of Representatives District 1. Huls said, "Election integrity, border security, protecting children from conception to adulthood, respecting the family and parents, standing firm on your right to own a gun, and fighting bad Democrat policies – what Texas Republican would hesitate to publicly commit to those common-sense principles? … I have publicly championed these principles all my life … Standing for these principles is not controversial in East Texas, but for some reason our current representative thinks it might be controversial. So, I want to be clear with you about where I stand on our conservative, Christian principles. … I stand with you. And as your representative, I will loudly and proudly always stand with you. It's time to fight the nonsense being shoved at us."
Since the beginning of the year, Ballotpedia has identified 37 candidates for state-level office in Texas. Seven hundred and fifty candidates ran for state-level office in Texas in 2022, while 582 ran in 2020. In 2022, 277 were Democratic, while 384 were Republican. In 2020, 270 were Democratic and 249 were Republican. Nationally, Ballotpedia has tracked 669 Democrats and 824 Republicans running for state-level office in 2023, and 168 Democrats and 212 Republicans running in 2024.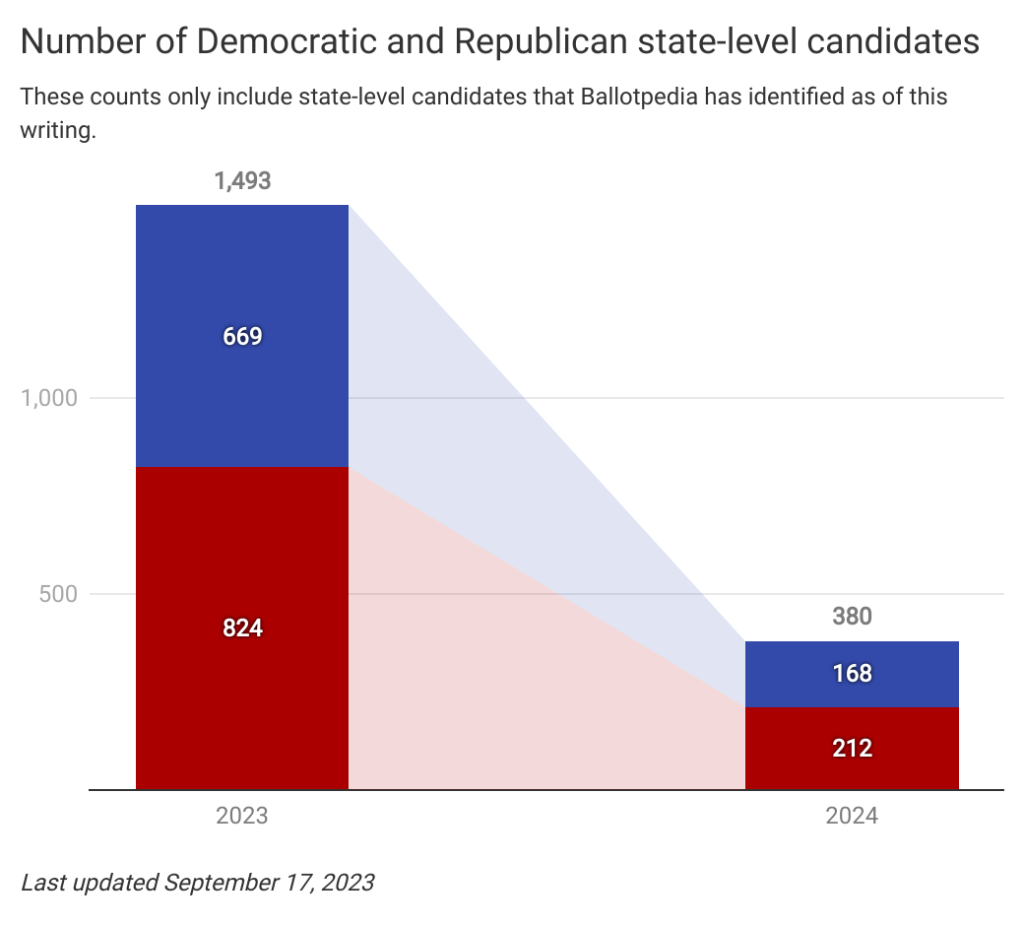 Additional reading: