Ballotpedia tracked two new state-level candidates in Colorado between Sept. 11 and Sept. 17. This was one more candidate than the prior week.
Both of the candidates are Democrats and are running for the state legislature in 2024.
Details on these candidates are below:
Tina Mueh (D) is running for Colorado House of Representatives District 10. Mueh said, "Democrats in House District 10 hold a spectrum of opinions about the issues we face locally and at the state level. I acknowledge and embrace these diverse and disparate voices, and I respect and value all as part of our collective HD10 voice. … Four of the biggest issues that Boulder Democrats care most deeply about – science and the environment, reproductive health and justice, education, and the rights and well-being of current and retired workers – are the areas in which I've done decades of meaningful and dedicated work. … After recently retiring from 30 years of teaching, this is the job I want. I will devote all of my attention to representing the people of HD10 at the legislature."
Marc Snyder (D), currently the incumbent representing District 18 in the Colorado House of Representatives, is running for Colorado State Senate District 12. Snyder said, "I'm proud of the work I have done as mayor and in the legislature over the past five years, but there is still more work to be done … El Paso County needs a legislator who will continue to make a resilient place to live. … We need to continue our investments in mitigation, to continue to lower the cost of living, including health care, … [t]o protect our environment and mitigate the effects of wildfires, and to support a fair education system to improve our local economy, like I have done during my time in the House." 
Since the beginning of the year, Ballotpedia has identified 20 candidates for state-level office in Colorado. Three hundred and twenty-two candidates ran for state-level office in Colorado in 2022, while 287 ran in 2020. In 2022, 112 were Democratic, while 134 were Republican. In 2020, 125 were Democratic and 107 were Republican. Nationally, Ballotpedia has tracked 669 Democrats and 824 Republicans running for state-level office in 2023, and 168 Democrats and 212 Republicans running in 2024.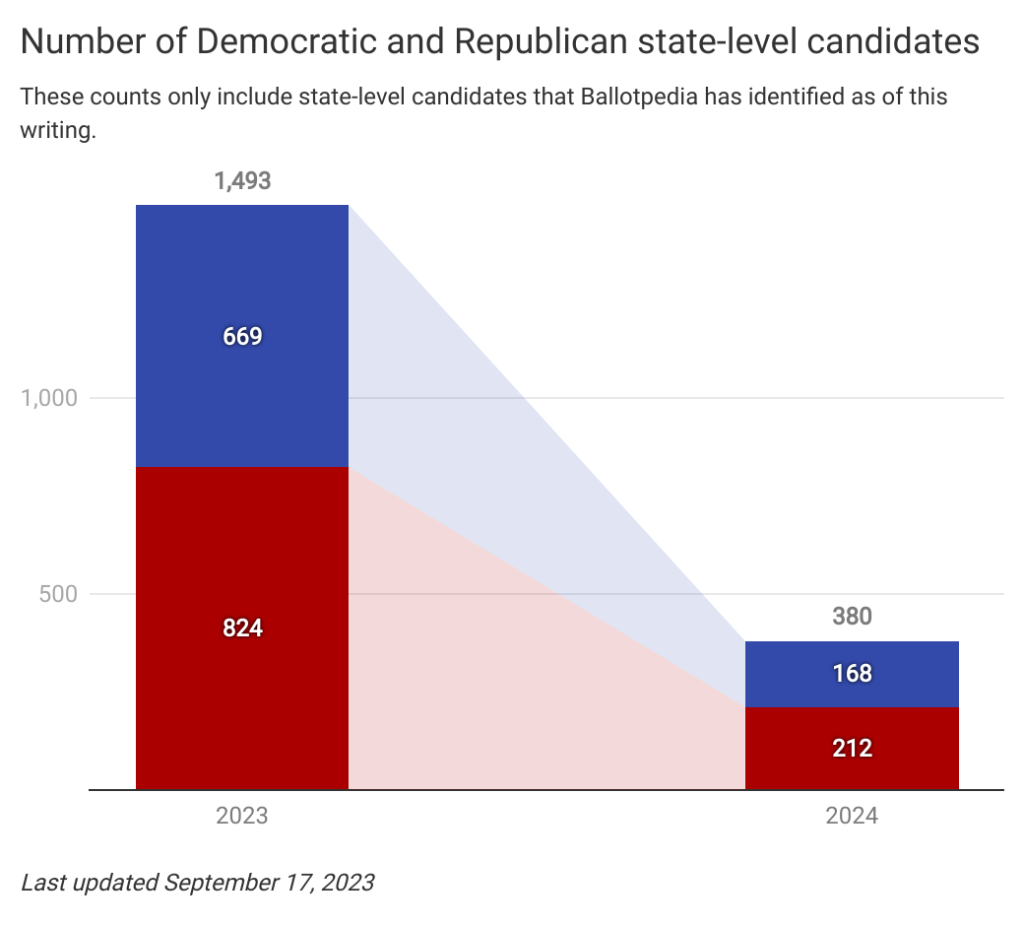 Additional reading: