Ballotpedia tracked two new state-level candidates in North Carolina between Sept. 11 and Sept. 17. This was two more candidates than the prior week.
Both of the candidates are Democrats running in 2024, one for state executive office and one for the state legislature.
Details on these candidates are below:
Abbie Lane (D) is running for North Carolina House of Representatives District 23. Lane said, "… I support a full review of every current NC law … If elected, no bill will be voted on by myself without first making it public through my office website, as well as giving you the opportunity to review it and comment. Bills affect us all and should never be voted on without first being seen by those it stands to effect. … I support a line item veto for the Governor … I support term limits for the General Assembly … I support a NC Constitution Amendment to change Governor Term …I support the expansion of broadband (high speed) internet … I support recognizing internet as a utility … I support burying all utilities including electrical lines …I support increasing access to public transportation … Main street revitalization is key to growing corporate and small businesses …"
Michael R. Morgan (D) is running for Governor of North Carolina. Morgan said, "I am running to be the Governor of North Carolina to restore the progressive, forward-thinking North Carolina where I grew up. I want to build on our rich history and fight for a level playing field for ALL our people. I bring a rare wealth of experience to this race. My one-of-a-kind, never-before-seen skill set features 44 years of state government service, with 34 years as a judge. Such lengthy experience in state government combined with such extensive service on the bench has provided me with a unique depth and breadth of understanding of how state government works and the analysis of its complex issues. I am confident that I am the most qualified candidate for Governor to move North Carolina toward fulfilling its unlimited potential."
Since the beginning of the year, Ballotpedia has identified 40 candidates for state-level office in North Carolina. Four hundred and thirty-seven candidates ran for state-level office in North Carolina in 2022, while 508 ran in 2020. In 2022, 178 were Democratic, while 232 were Republican. In 2020, 242 were Democratic and 235 were Republican. Nationally, Ballotpedia has tracked 669 Democrats and 824 Republicans running for state-level office in 2023, and 168 Democrats and 212 Republicans running in 2024.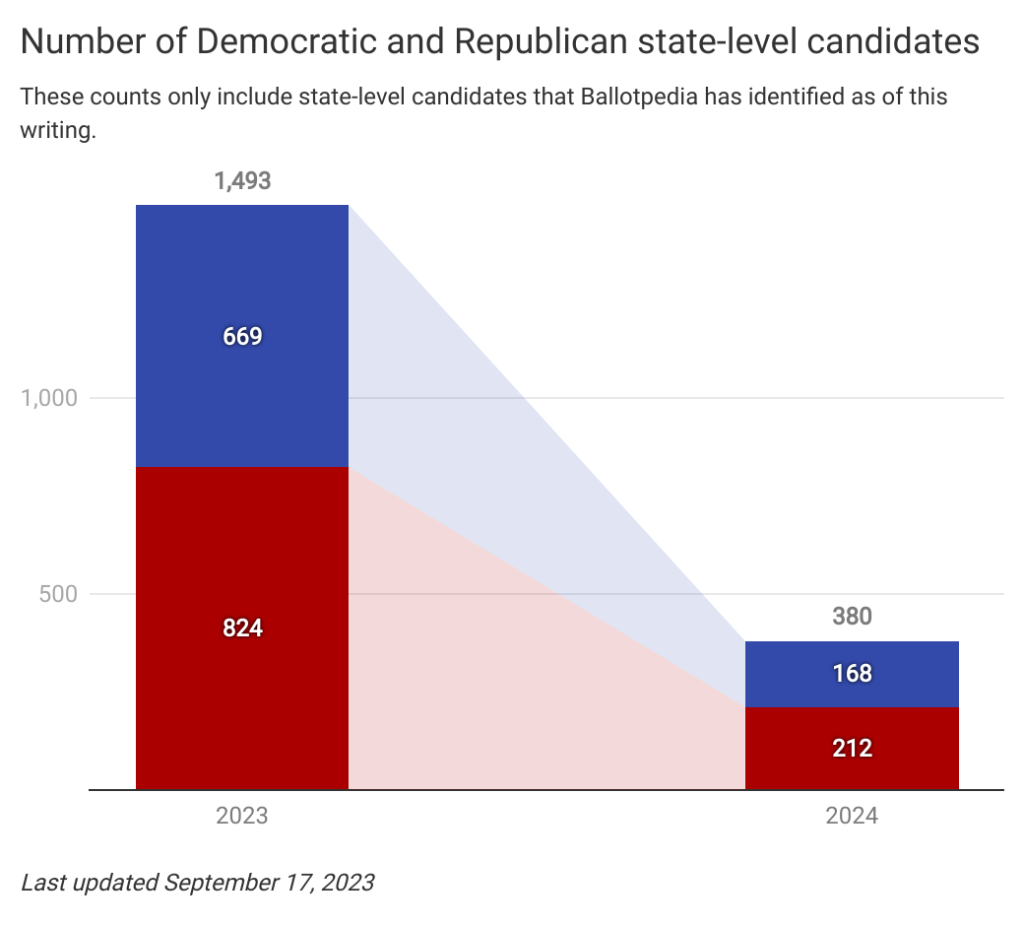 Additional reading: