There are 336 (58%) state legislative seats — out of 578 up for election — that are uncontested and have no major party competition in 2023. This is the largest number of seats with no major party competition in an odd year since Ballotpedia began gathering data in 2011. Percentage wise, this is the second-largest since 2011, as the 2015 elections had 62% of seats (332 out of 538) without major party competition.
A seat has major party competition when candidates from both major parties are on the general election ballot. When only one major party is running for a seat, it has no major party competition and is likely to be won by the major party candidate on the ballot.
Out of the 336 uncontested seats, Democrats are likely to win 137 (24%), while Republicans are likely to win 199 (34%). This is the highest number of likely Republican seats in an odd year since at least 2011.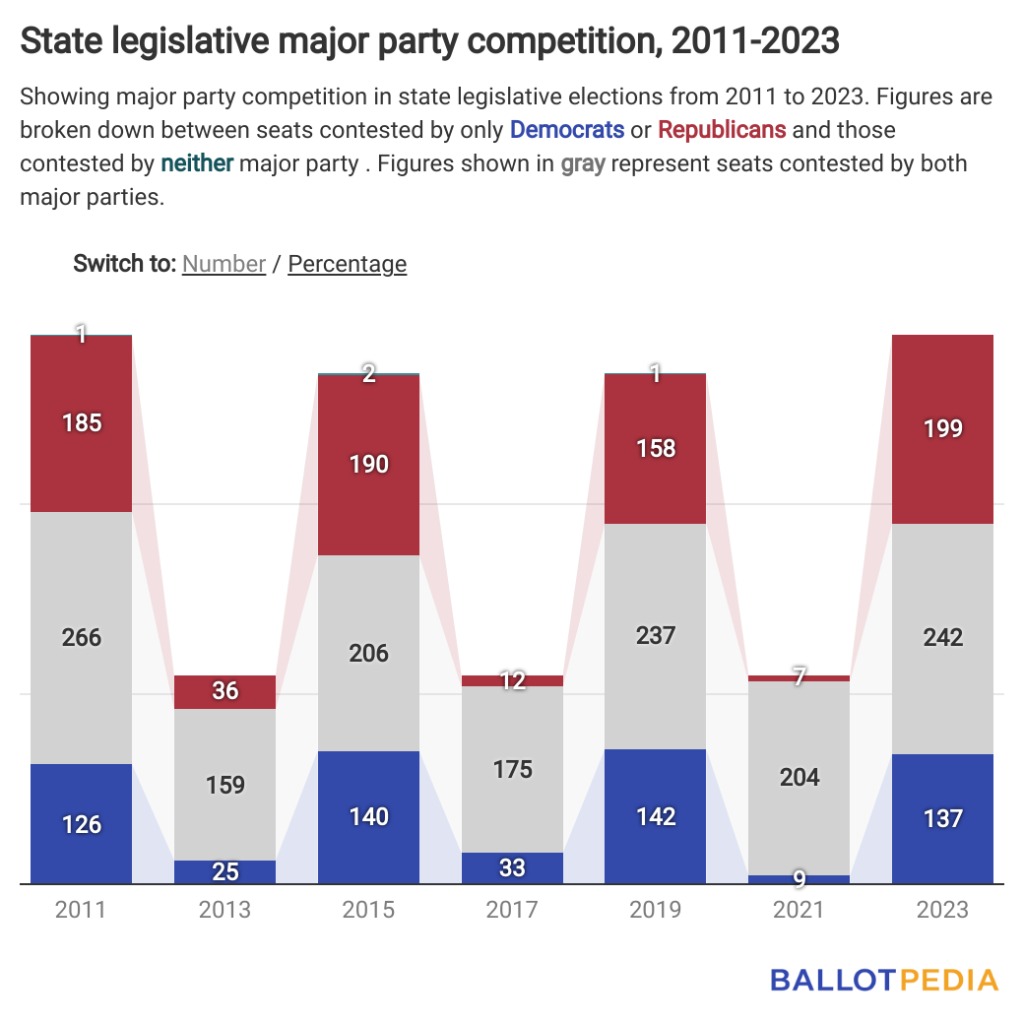 The total number of uncontested seats — 336 — is more than in 2019 (301), the last time Louisiana, Mississippi, New Jersey, and Virginia held elections, representing a 12% increase. Virginia and New Jersey have more Democratic uncontested seats than Republican uncontested seats with 39-15 and 13-2, respectively. Mississippi and Louisiana have more Republican uncontested seats than Democratic uncontested seats with 100-48 and 82-37, respectively.
The absence of major party competition can effectively guarantee that one party wins the number of seats needed for a simple or veto-proof majority. Republicans are guaranteed a simple majority in four chambers across two states.Democrats are not guaranteed simple majorities in any chambers.
In the Louisiana House, Republicans need 53 seats and are guaranteed 59, while in the Louisiana Senate, they need 20 seats and are guaranteed 23. In the Mississippi House, Republicans need 62 seats and are guaranteed 68, while in the Mississippi Senate, they need 27 seats and are guaranteed 32.
Neither major party has guaranteed veto-proof majorities in any state legislative chambers.