State supreme courts issued 133 opinions from Sept. 18-24. The Supreme Court of Appeals of West Virginia led the field with 32 opinions issued, followed by Georgia with 11, and Montana and Texas with seven each. The 133 opinions account for 3% of the year-to-date total of 4,851. West Virginia, again, leads with 404 opinions issued since Jan. 1, followed by Texas with 342, Delaware with 312, and Pennsylvania with 286.
State supreme courts have been issuing an average of 128 opinions per week so far this year. This figure is less than the 2022 weekly average of 143. It's also less than the average of 160 opinions issued per week in 2021.
Supreme courts in three states have issued fewer than 25 opinions since the start of the year, while those in 20 states have issued over 75 each.
[
Some of the state supreme court opinions issued this year include those in:
Idaho, where the court affirmed a citation issued against "a residential assisted living and memory care facility, for failing to provide a safe living environment for residents and for inadequate training in relation to COVID-19 infection control measures;"
Mississippi, where the court found that "the creation of the CCID inferior court in Section 4 of House Bill 1020 was constitutional" but "Section 1's creation of four new appointed 'temporary special circuit judges' in the Seventh Circuit Court District for a specified, almost-four-year term violated the State Constitution's requirement that circuit judges be elected for a four-year term;" and,
Ohio, where the court "granted a limited writ ordering the ballot board and [Secretary of State Frank] LaRose to reconvene and adopt ballot language that accurately conveyed that the proposed amendment limited the ability of the state, as defined by the amendment, to burden, penalize, or prohibit abortion."
Supreme courts in Pennsylvania, West Virginia, Texas, and Delaware regularly end the year as some of the country's most active courts. Collectively, they accounted for 26% of all opinions issued in 2021 and 2022, and, to date, 28% in 2023.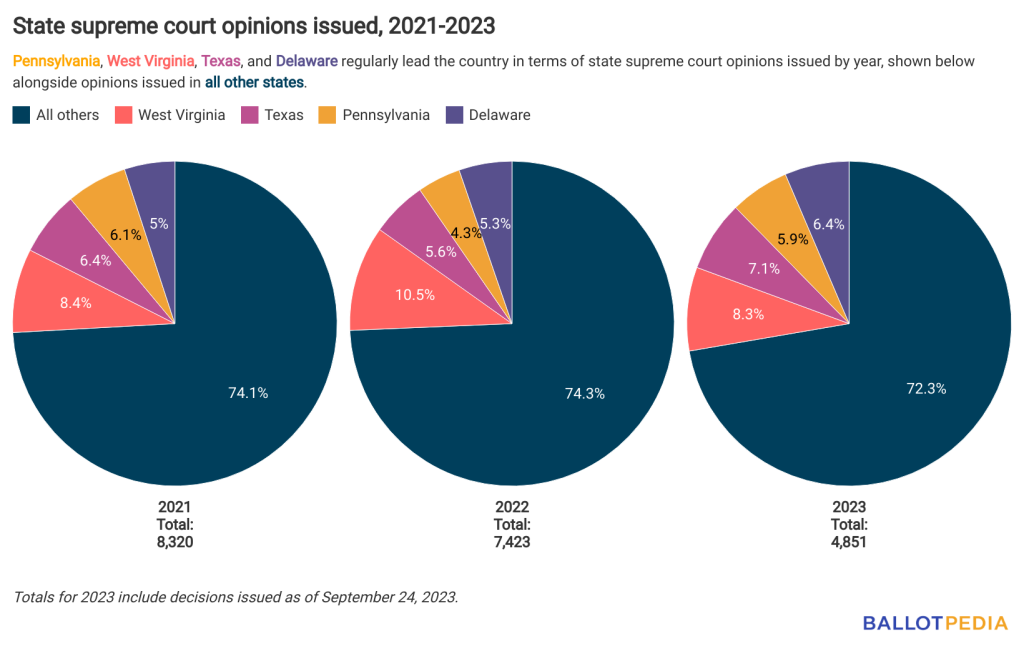 Every state and the District of Columbia have at least one supreme court, known as a court of last resort. Oklahoma and Texas have two courts of last resort, one for civil cases and one for criminal proceedings. Supreme courts do not hear trials of cases. Instead, they hear appeals of decisions made in lower courts. The number of justices on each state supreme court ranges between five and nine.
In 2020, we conducted a study identifying the partisan balance on every state supreme court. You can find that research here. We also identified which justices ruled together most often in our Determiners and Dissenters report found here.