Ballotpedia tracked three new state-level candidates in Texas between Sept. 25 and Oct. 1. This was two more candidates than the prior week.
Two of those candidates are Democrats and one is a Republican. The three candidates are running for state legislature in 2024.
Details on these candidates are below:
Incumbent John Smithee (R) is running for Texas House of Representatives District 86. Smithee said, "There are significant issues facing House District 86, the Panhandle and the state of Texas that require conservative leadership, thoughtful independence, and experience. … I look forward to returning to the Texas House to provide a steady hand, assist in unifying our Party, and help set a course for strong Republican victories in Novembers to come and beyond. …"
Cody Grace (D) is running for Texas House of Representatives District 6. Grace said, "I want to focus on education. I think our teachers need to get paid more, our schools need more respect, our schools need to be safer and that's going to be my primary focus. Political corruption is the next big issue. I think there's a transparency issue in the state legislature that I want to go and tackle head on … Today, I stand before you not merely as a candidate, but as a servant, ready to represent every individual in East Texas."
Vincent Perez (D) is running for Texas House of Representatives District 77. Perez said, "I love this community and I love public service … I've dedicated my adult life to serving the people of El Paso.  We're all fortunate to live in such a great community. I want to do all that I can to help make this community a better place, now and in the future."
Since the beginning of the year, Ballotpedia has identified 40 candidates for state-level office in Texas. Seven hundred and fifty candidates ran for state-level office in Texas in 2022, while 582 ran in 2020. In 2022, 277 were Democratic, while 384 were Republican. In 2020, 270 were Democratic and 249 were Republican. Nationally, Ballotpedia has tracked 673 Democrats and 828 Republicans running for state-level office in 2023, and 189 Democrats and 236 Republicans running in 2024.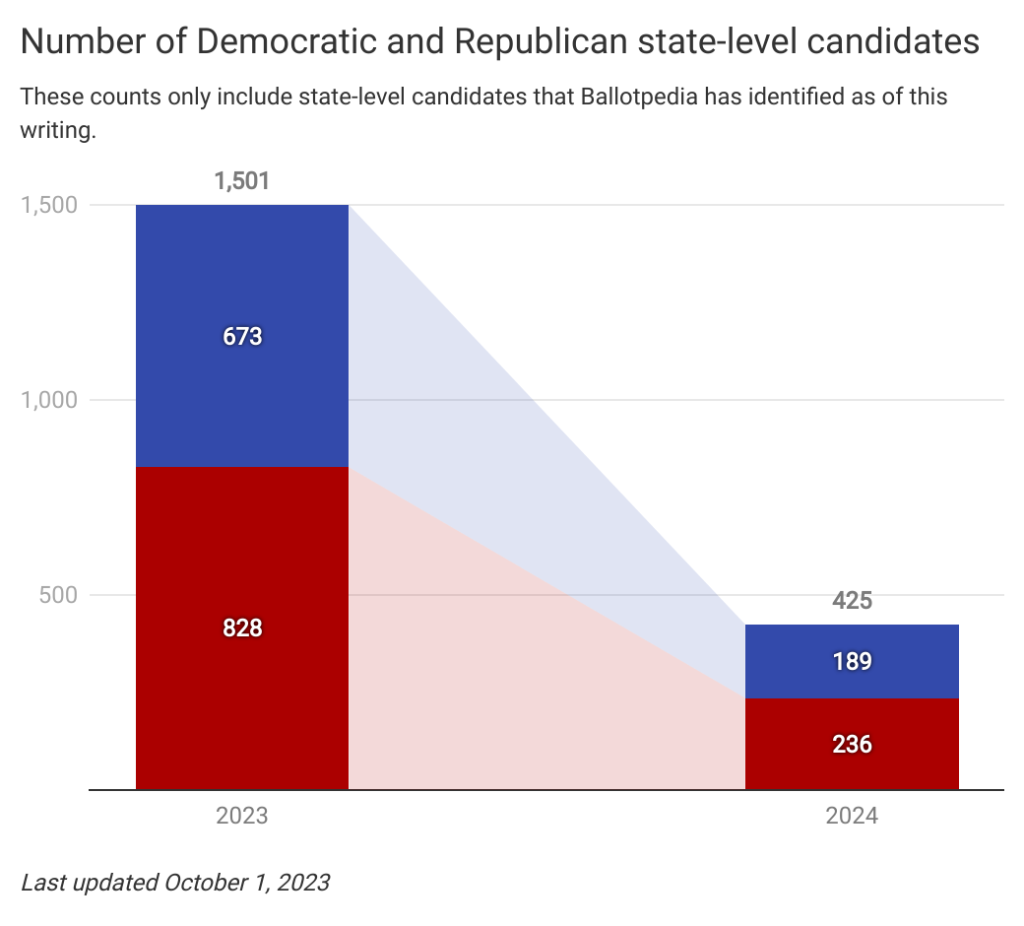 Additional reading: