As of Oct. 1, Ballotpedia has tracked 193 election-related bills in the New York State Assembly since the beginning of the year. Of the 193, Ballotpedia tracked one from Sept. 25-Oct. 1. Democrats sponsored the bill. The bill is below:
NY A04009: Relates to providing notice of voting rights to persons released from local jails, Assembly Members Juan Ardila (D), Alex Bores (D), Chris Burdick (D), Kenneth Burgos (D), Monique Chandler-Waterman (D), William Colton (D), Brian Cunningham (D), Manny De Los Santos (D), Inez Dickens (D), Harvey Epstein (D), Charles Fall (D), Edward Gibbs (D), Rodneyse Bichotte Hermelyn (D), Andrew Hevesi (D), Pam Hunter (D), Alicia Hyndman (D), Jonathan Jacobson (D), Kimberly Jean-Pierre (D), Anna Kelles (D), Grace Lee (D), Dana Levenberg (D), Nikki Lucas (D), Crystal Peoples-Stokes (D), J. Gary Pretlow (D), Karines Reyes (D), Jo Anne Simon (D), Tony Simone (D), Yudelka Tapia (D), Alfred Taylor (D), Monica Wallace (D), David Weprin (D), and John Zaccaro (D).

As introduced, this bill requires a chief administrative officer of a local corrections facility to distribute to every 18 year old and older released from the facility information on their voting rights and a voter registration form. If the person declines to register to vote, the officer must note the person's decision.
During the week of Sept. 25-Oct. 1, Ballotpedia tracked 14 House election-related bills nationally. As of Oct. 1, Ballotpedia has tracked 1,740 House bills nationally. Ballotpedia tracked the most House bills this year in the New York State Assembly with 193, while Ballotpedia tracked the fewest House bills in the Colorado House of Representatives with seven.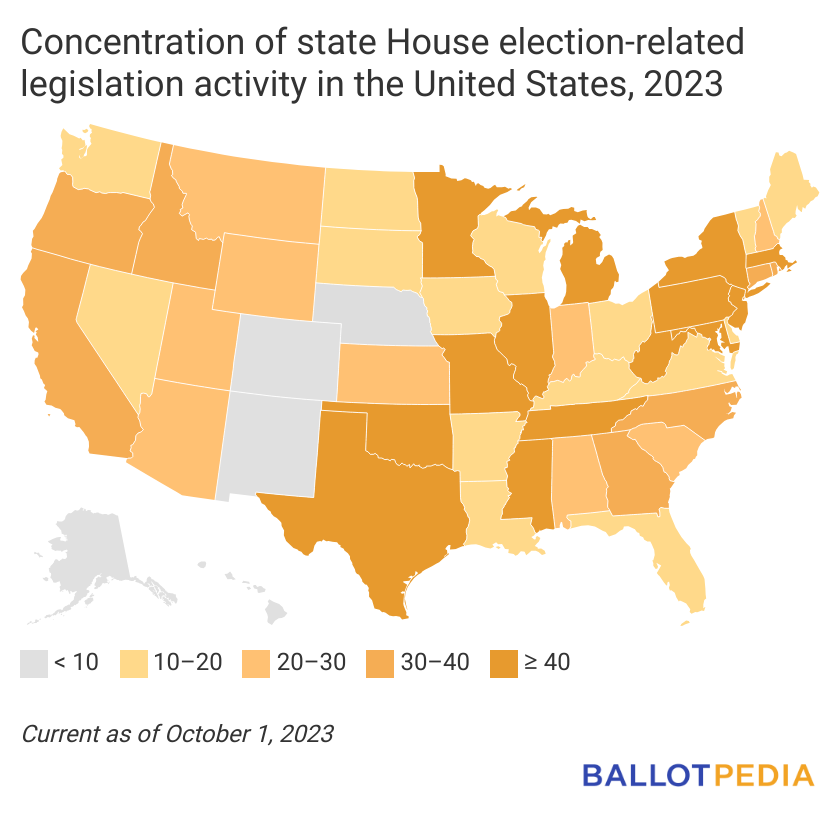 As of Oct. 1, Ballotpedia has tracked 772 House bills in Democratic trifectas and 748 House bills in Republican trifectas. A trifecta is when one political party holds the governorship and majorities in both chambers of the state legislature. Ballotpedia has tracked 220 House bills in states where neither party holds trifecta control.
The New York Assembly was scheduled to be in regular session from Jan. 4 to June 8 this year. In 2022, Ballotpedia tracked 211 House bills related to election administration. Nine of these bills passed both chambers and all were enacted into law. New York is a Democratic trifecta.
Additional reading: