Ballotpedia tracked two new recall efforts against local officials in Colorado from Sept. 25-Oct. 1, bringing the yearly statewide total to 14 efforts against 28 officials. The most recent efforts are:
Roman Kolodziej and Dwayne Lehnertz recall, Mount Crested Butte, Colorado (2023): Town Councilmen Roman Kolodziej and Dwayne Lehnertz.

Organizers initiated the recall effort against Kolodziej and Lehnertz following a decision by the Mountain Express Board of Directors, which both serve on, to approve a contract for a one-year pilot program to replace fixed bus routes with on-demand service in north Mount Crested Butte.  
Recall organizers said, "Our reasons for this recall petition include but are not limited to: 1. Oversaw aggressive spending in a reduced tax revenue environment without consent from Mt. Crested Butte Town Council. 2. Lack of engagement with voting constituents on public matters. 3. Failure to represent voting constituents' interests. 4. Oversaw the allocation of taxpayer funds from local organization to out-of-state organization without Mt. Crested Butte Town Council awareness, discussion or approval."
In response to the recall effort, Kolodziej said, "My reaction to this petition is that it seems misguided and vindictive. Removing me from public office does nothing to affect the on-demand service for this winter. Over the last few months, the petitioners and the people they've tried to rally around them have perpetuated a lack of understanding of how Mountain Express is organized, how decisions are made regarding the service and how the on-demand service will function. Their petition language illustrates that. Heck, if I read the petition in a vacuum, I'd probably sign it myself."
Recall efforts make the ballot if recall supporters submit the required number of signatures by a pre-approved date. Recall supporters will need to submit 41 signatures by Nov. 6 in order for the recall to proceed.  
Angela Ternus recall, Elizabeth, Colorado (2023): Trustee Angela Ternus.

Ternus was one of the subjects of a 2020 recall effort in Elizabeth. Recall organizers alleged that Ternus, among others, voted to benefit developers rather than the town's best interests. Ternus did not appear on the ballot for a 2020 recall election because she was on the ballot for the regular election in April 2020.  
In the 2023 recall effort, organizers alleged that Ternus was not acting in the best interests of the town and its residents.
Organizers said, "Trustee Ternus doesn't seem to understand the concept of servant leadership, and because of that she has even been demoted from her previous leadership position by fellow members of the Elizabeth Board of Trustees."
In response to the recall effort, Ternus said, "I've worked with some truly dedicated board members and some who have gotten on the board for only one reason … They aren't servant leaders, as the man behind the curtain keeps calling them, but instead are puppets doing the will of a master manipulator. Overturning the zoning on Elizabeth West will cripple this town financially for years to come. Nice job. You didn't take back control of the destiny of your town but instead gave that power to the Wizard of Oz in Douglas County."
Recall efforts make the ballot if recall supporters submit the required number of signatures by a pre-approved date. Recall supporters submitted at least 55 signatures, which allowed the recall to proceed. It was held on Sept. 5, 2023, and Ternus was recalled.
Of the 14 recall efforts this year, eight have made the ballot.
Nationwide, 350 officials are the subject of recall efforts through Oct. 1. Michigan leads the field with 126 officials targeted. Eighty-seven targeted officials have made the recall ballot as of Oct. 1. Michigan leads the field with 34 officials on the ballot.
In 2022, Ballotpedia covered a total of 266 recall efforts against 448 officials in 30 states as well as Washington, D.C. Michigan led the way in officials targeted for recall with 133 in 2022. California followed with 72. From 2016 to 2021, California had the most officials targeted in five of the six years.
Looking at Colorado alone, 34 officials were targeted in 2022. This is more than the ten-year average of 25.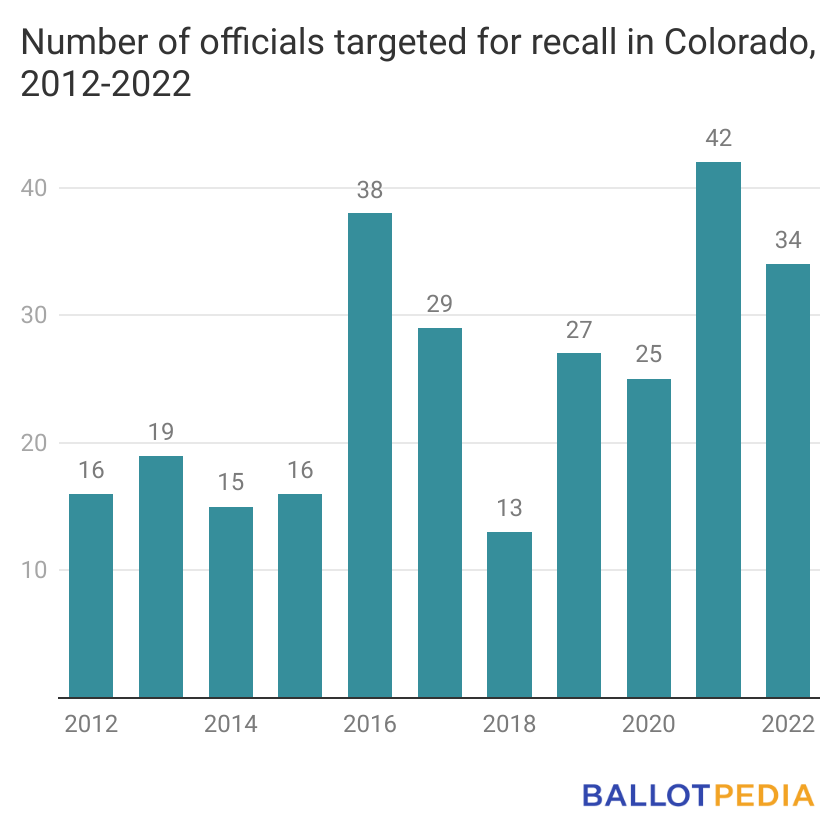 Additional reading: