Ballotpedia tracked three new state-level candidates in Texas between Oct. 2 and Oct. 8. This was equal to the number of candidates tracked last week.
The three candidates are Democrats. All three are running for state legislature in 2024.
Details on these candidates are below:
Incumbent César Blanco (D) is running for Texas State Senate District 29. Blanco said, "In 2015 [I] ran and was elected to represent District 76 in the Texas House. … In the Texas House, [I have] delivered as a strong champion for El Paso by leading initiatives to improve access to healthcare, strengthen our workforce, local economy, and border communities while also improving the quality of life and increasing economic opportunities for all Texans. [I have] also led efforts to expand mental health resources for veterans, rein in rising prescription drug prices, increase oversight over border security, and deliver historic public school funding. For [my] record of fighting for veterans' education opportunities and border communities, Texas Monthly named [me] one of the best legislators in Texas. Today, [I am] running for Texas Senate because we need a fighter committed to building a stronger future for El Paso and West Texas."
Tsion Amare (D) is running for Texas House of Representatives District 113. Amare said, "…I am an advocate, social worker, and immigrant running to be the youngest member of the Texas House and the first Ethiopian-American legislator. As a former Texas house staffer and political social worker, I have been at the frontlines of influencing change informed by my lived experiences and my unwavering passion for advocacy and service to others. I believe young leaders need to have a seat at the decision-making table so we can bring fresh perspectives, creative ideas, and a passion for service to Texas' politics. We are at a pivotal point in our history where youth are spearheading movements for a better future and we need your vote to make sure that young leaders like myself are at the decision-making table here in our State. We are the future and it is time for Texas' leadership to reflect its growing young population. I have been honored to be a public servant in my community, and with your help, I look forward to representing my neighbors in House District 113."
Al Price Jr. (D) is running for Texas House of Representatives District 22. Price said, "Our campaign is not only going to make history, we're going to earn our place in history … We're taking our message to all corners of District 22, and we're talking to people about our bold vision for the future of Southeast Texas. Nobody is going to outwork this campaign and nobody is going to fight harder or more effectively for the people of Southeast Texas. … We're running this campaign to save public education and raise teacher pay … We're running this campaign to create an economy that produces a shared prosperity that doesn't leave people behind. But fundamentally, we're running this campaign to … offer the people clear, informed choice the vision, values and voice that represents them."
Since the beginning of the year, Ballotpedia has identified 43 candidates for state-level office in Texas. Seven hundred and fifty candidates ran for state-level office in Texas in 2022, while 582 ran in 2020. In 2022, 277 were Democratic, while 384 were Republican. In 2020, 270 were Democratic and 249 were Republican. Nationally, Ballotpedia has tracked 673 Democrats and 828 Republicans running for state-level office in 2023, and 203 Democrats and 243 Republicans running in 2024.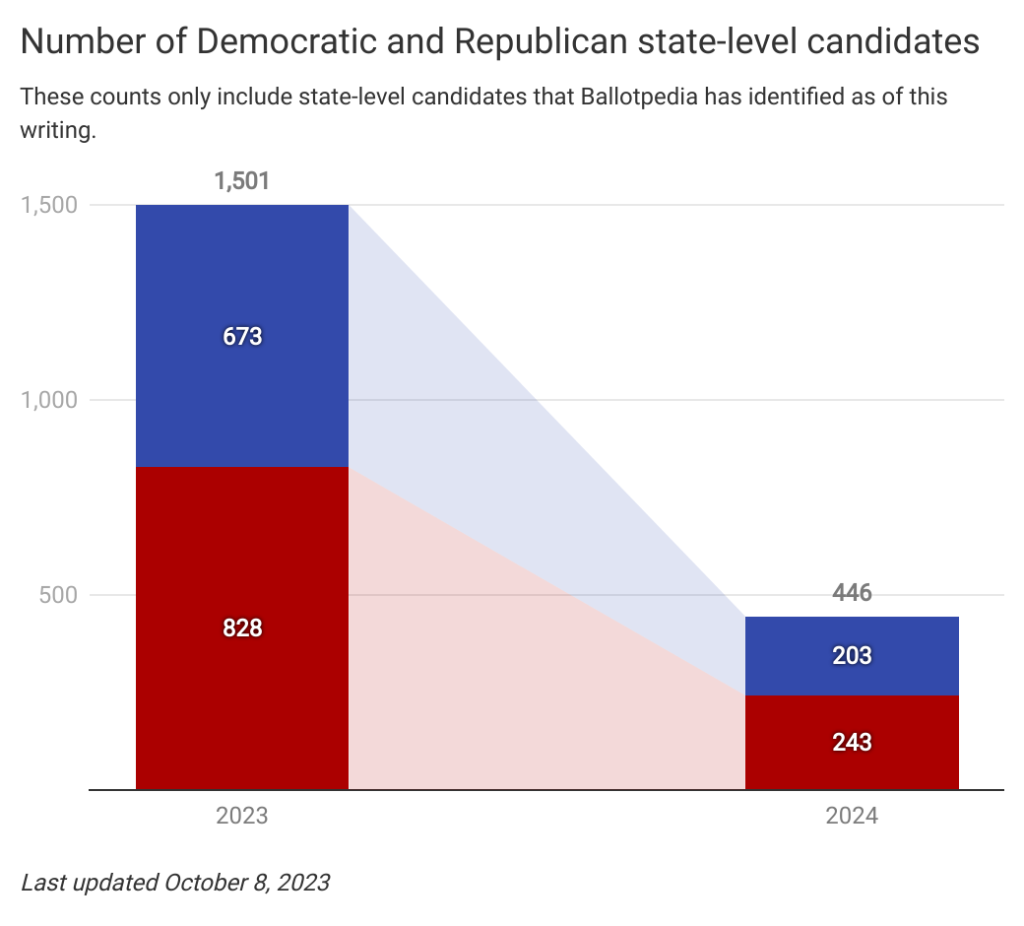 Additional reading: