Ballotpedia tracked two new state-level candidates in Texas between Oct. 9 and Oct. 15. This was one fewer candidate than the prior week.
One of those candidates is a Democrat and one is a Republican. Both candidates are running for state legislature in 2024.
Details on these candidates are below:
Alexsandra Annello (D), currently serving as a member of the El Paso City Council representing District 2, is running for Texas House of Representatives District 77. Annello said, "Serving the El Paso community over the last six years has been the most humbling and meaningful experience of my life. I have seen our community come together through tragedies, a pandemic, and a global crisis. … Transparency is an important value for elected officials, so I want to share with the public why I am running for the State Legislature. While on City Council, I have diligently worked to address local needs including improving streets, parks, mental health initiatives, economic development collaboration, community infrastructure projects, and public safety strategies, and know that there still much work to be done. … My work at City Hall required the collaboration of numerous businesses, individuals, and organizations who share the desire to improve quality of life, expand jobs, and keep El Paso safe. I believe that with my experience as a City Representative, I have the skills necessary to fight for El Paso in the State Legislature and bring home the necessary funds to improve our community."
Joanne Shofner (R) is running for Texas House of Representatives District 11. Shofner said, "… [I am] a conservative candidate for these serious times running for State Representative. [I am] prepared to defend and protect the rights of children, parents and the Texas borders. As a 7th-generation Texan with East Texas roots, [I] share[ ] the District 11's conservative values of life, liberty, and freedom. [I am] loyally passionate about God, family, community, and the Lone Star State. … [I] was born and raised in a family of entrepreneurs and public servants in the Houston area. Family businesses include commercial real estate, construction and development as well as banking and finance. Public service has included serving on boards of universities and public school systems, civic organizations, and state organizations appointed by multiple governors. The multi-generational message in [my] family has always been God, family, working hard and public service."
Since the beginning of the year, Ballotpedia has identified 45 candidates for state-level office in Texas. Seven hundred and fifty candidates ran for state-level office in Texas in 2022, while 582 ran in 2020. In 2022, 277 were Democratic, while 384 were Republican. In 2020, 270 were Democratic and 249 were Republican. Nationally, Ballotpedia has tracked 673 Democrats and 828 Republicans running for state-level office in 2023, and 206 Democrats and 258 Republicans running in 2024.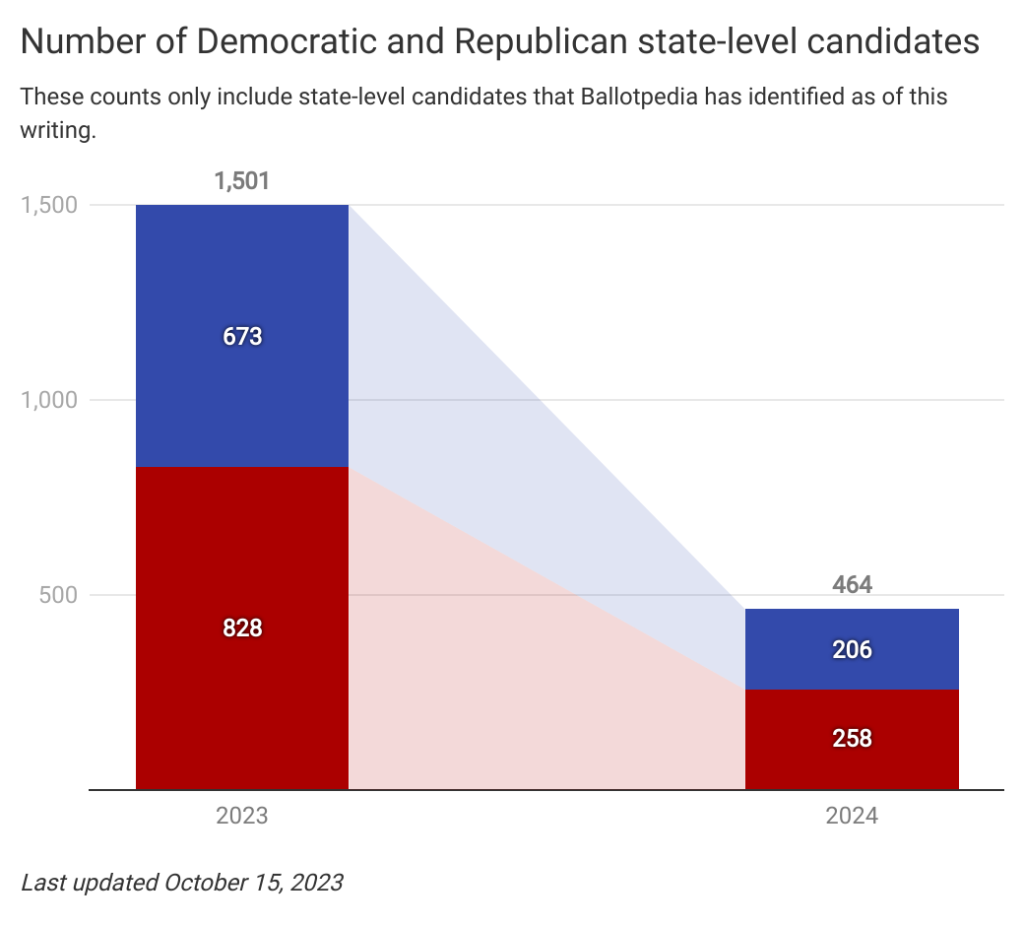 Additional reading: