As of Oct. 15, Ballotpedia has tracked 18 election-related bills in the Wisconsin State Senate since the beginning of the year. Of the 18, Ballotpedia tracked one from Oct. 9-15. Republicans sponsored the bill. The bill is below:
WI SB488: Legislative redistricting, Reps. Joel Kitchens (R), Jeffrey Mursau (R), Todd Novak (R), Loren Oldenburg (R), Jon Plumer (R), and Travis Tranel (R), and Sens. Rachael Cabral-Guevara (R), Robert Cowles (R), Dan Knodl (R), Howard Marklein (R), and Duey Stroebel (R).

As introduced, this bill:

"Divides the state into 33 senate districts, each made up of three assembly districts, with each district electing one representative.
Sets out criteria to be followed by the Legislative Reference Bureau when drawing a redistricting plan, including items such as obtaining decennial census information, requiring contiguous and compact territory and equal population standards.
Sets a deadline of January 1 of the second year after the decennial census for the Bureau to deliver a plan to the majority leader in the senate and the speaker of the assembly.
Directs that if neither bill is approved, the chief clerk must transmit information to the Bureau about why it failed, and that the Bureau should create a new plan taking those issues into account.
Stipulates that such bills will be dealt with rapidly and will be voted upon within seven days of being introduced, and that the bill must pass with a bipartisan vote."
Click the hyperlinked bill number above for more information.
During the week of Oct. 9-15, Ballotpedia tracked four Senate election-related bills nationally. As of Oct. 15, Ballotpedia has tracked 1,191 Senate bills nationally. Ballotpedia tracked the most Senate bills this year in the New York State Senate with 166, while Ballotpedia tracked the fewest Senate bills in the Vermont State Senate with two.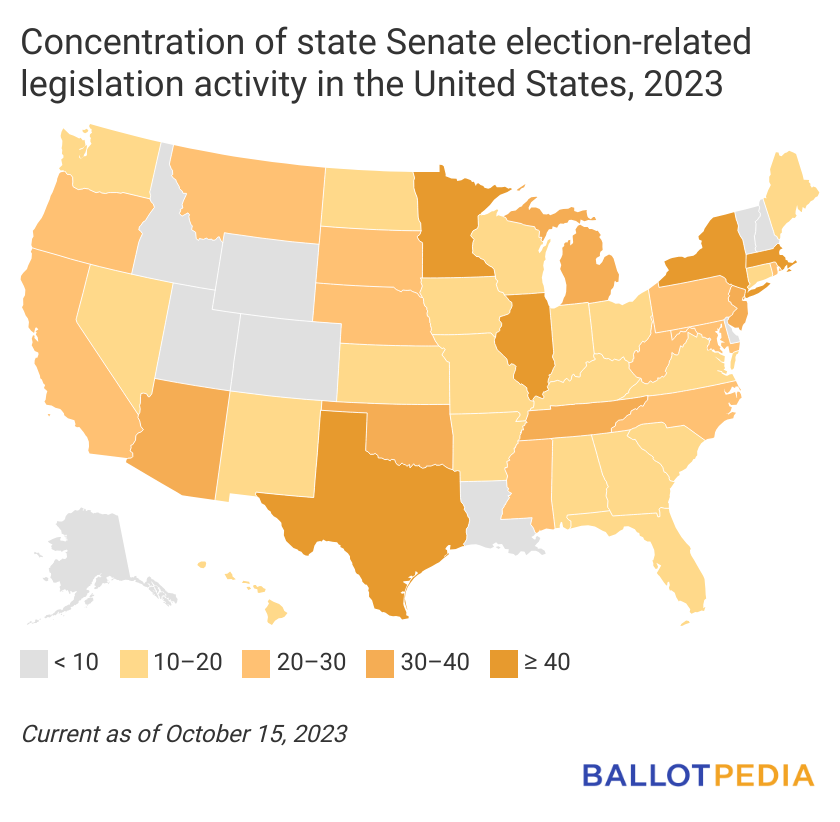 As of Oct. 15, Ballotpedia has tracked 543 Senate bills in Democratic trifectas and 474 Senate bills in Republican trifectas. A trifecta is when one political party holds the governorship and majorities in both chambers of the state legislature. Ballotpedia has tracked 174 Senate bills in states where neither party holds trifecta control.
The Wisconsin Senate is scheduled to be in session from Jan. 3 to Dec. 31 this year. In 2022, Ballotpedia tracked 36 Senate bills related to election administration. One of these bills passed both chambers and was enacted into law. Wisconsin is a divided government, meaning neither party holds trifecta control.
Additional reading: