Ballotpedia tracked one new state-level candidate in Colorado between Oct. 16 and Oct. 22. This was equal to the number of candidates tracked last week.
The candidate is a Republican and is running for state legislature in 2024.
Details on the candidate are below:
Dan Woog (R) is running for Colorado House of Representatives District 19. Woog said, "[I] made [my] mark as a dedicated public servant during [my] tenure in the Colorado House of Representatives from 2020-2022 and as a two term Trustee for the Town of Erie from 2013-2020. As State Representative, [I] served on the Energy & Environment Committee and was the ranking member of the State, Civic, Military, & Veterans Affairs Committee. Prior to [my] tenure as a State Representative and Town Trustee, [I] served [my] community as a Planning & Zoning Commissioner and Economic Development Council Board Member. … As a father and small business owner, [I have] leveraged [my] experiences to better understand House District 19's unique challenges and opportunities. Raising two young children has fueled [my] desire to make a difference for the next generation. During [my] tenure as a Colorado public servant, [I] crafted effective legislation that benefited schools and transportation. [I] consistently demonstrated a keen ability to work across party lines, especially when it came to lowering taxes, protecting Coloradans, and supporting law enforcement. … [I] approach[ ] every decision with careful consideration and a willingness to listen, ensuring that the voices of those [I] represented were not only heard but also reflected in the policies [I have] championed. [I] ha[ve] a deep belief in the power of citizens who are committed to driving positive change through the democratic process in order to shape their collective future."
Since the beginning of the year, Ballotpedia has identified 23 candidates for state-level office in Colorado. Three hundred and twenty-two candidates ran for state-level office in Colorado in 2022, while 287 ran in 2020. In 2022, 112 were Democratic, while 134 were Republican. In 2020, 125 were Democratic and 107 were Republican. Nationally, Ballotpedia has tracked 673 Democrats and 828 Republicans running for state-level office in 2023, and 217 Democrats and 279 Republicans running in 2024.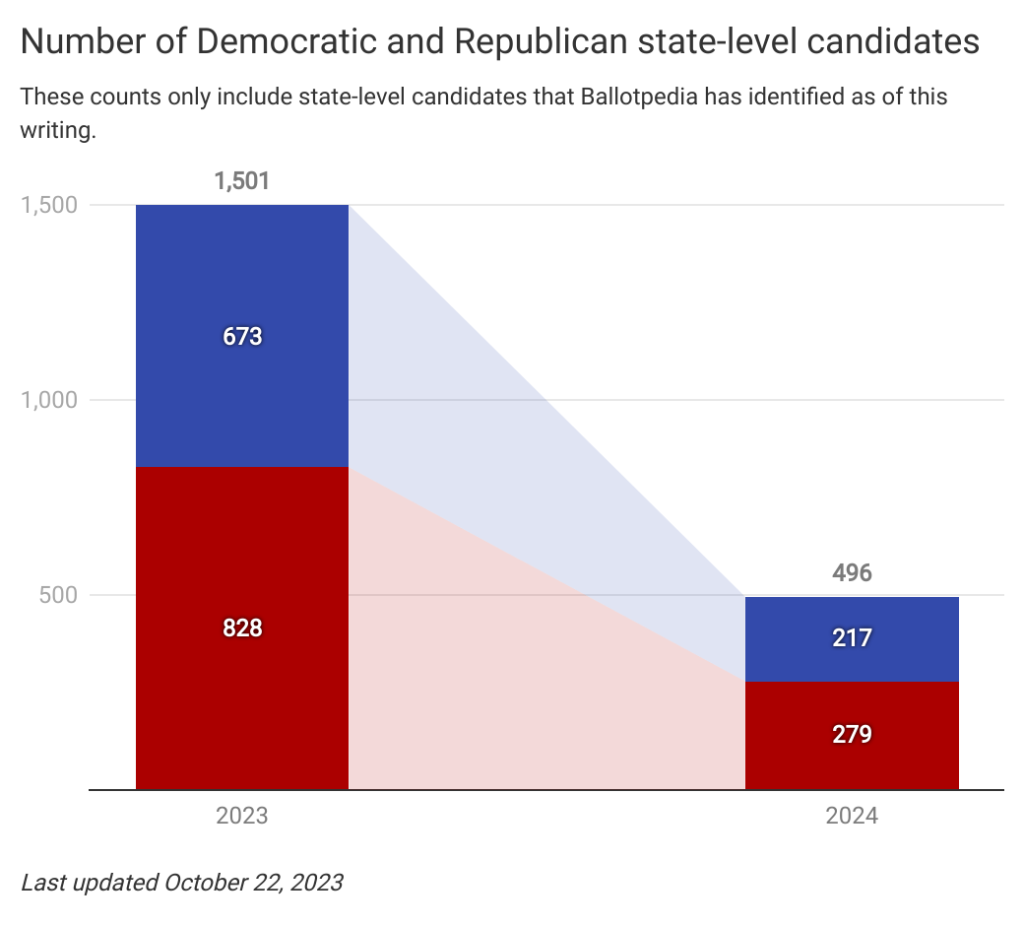 Additional reading: