Ballotpedia tracked two new state-level candidates in Florida between Oct. 16 and Oct. 22. This was one more candidate than the prior week.
One of those candidates is a Democrat and one is a Republican. Both candidates are running for the state legislature in 2024.
As of this writing, Ballotpedia identified campaign materials for one of the two candidates. Details are below:
Michael Levine (R) is running for Florida House of Representatives District 26. Levine said, "…I will guard and protect the sovereignty of each and every citizen and each and every family living in the District and then the individuals and families of the Great State of Florida. I recognize that the family is the cornerstone of a peaceful, prosperous and civil society. … I will work closely with the Constitutional Officers and Offices of Lake County, Florida, the municipalities and other political subdivisions therein towards providing a culture of peace, prosperity and civility. Government is required in order to advance the common interests of Florida families. The size of government is to be minimized. Government is to be minimally intrusive on the lives of the citizens it serves. … the legislation I propose and the legislation I support will be consistent with the promises above, the Constitution of the United States of America and the Constitution of the State of Florida. The Constitution of the United States is the common thread that binds Americans as a people. Absent this bond individual interests and lifestyles could corrupt America putting the people and the country in peril. The Constitution of the State of Florida sets the Great State of Florida apart from the other states in the United States and secures Florida's sovereignty. … my actions and decisions will be derived from the foundational documents set forth above and the Holy Bible, Genesis through Revelation."
Since the beginning of the year, Ballotpedia has identified 74 candidates for state-level office in Florida. Five hundred and eighty-five candidates ran for state-level office in Florida in 2022, while 520 ran in 2020. In 2022, 238 were Democratic, while 276 were Republican. In 2020, 266 were Democratic and 194 were Republican. Nationally, Ballotpedia has tracked 673 Democrats and 828 Republicans running for state-level office in 2023, and 217 Democrats and 279 Republicans running in 2024.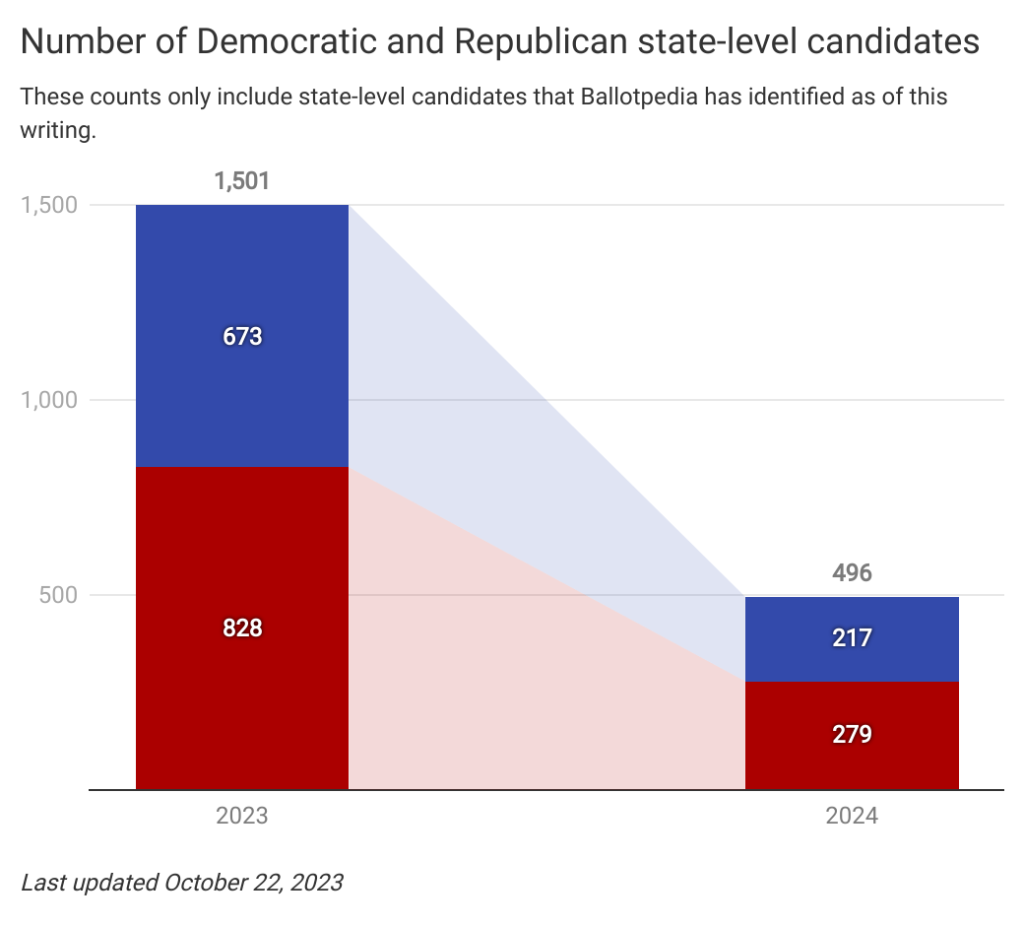 Additional reading: