As of Oct. 22, Ballotpedia has tracked 14 election-related bills in the Florida State Senate since the beginning of the year. Of the 14, Ballotpedia tracked one from Oct. 16-22. Republicans sponsored the bill. The bill is below:
FL S0190: Ballot Boxes, Sen. Ileana Garcia (R).

"As introduced, this bill:

Stipulates that a law enforcement officer must transport a ballot box or container to the precinct, and must supervise it at all times until it is transferred.
Directs that all papers used in an election be transported by law enforcement officer to the supervisor's office."
During the week of Oct. 16-22, Ballotpedia tracked six Senate election-related bills nationally. As of Oct. 22, Ballotpedia has tracked 1,197 Senate bills nationally. Ballotpedia tracked the most Senate bills this year in the New York State Senate with 166, while Ballotpedia tracked the fewest Senate bills in the Vermont State Senate with two.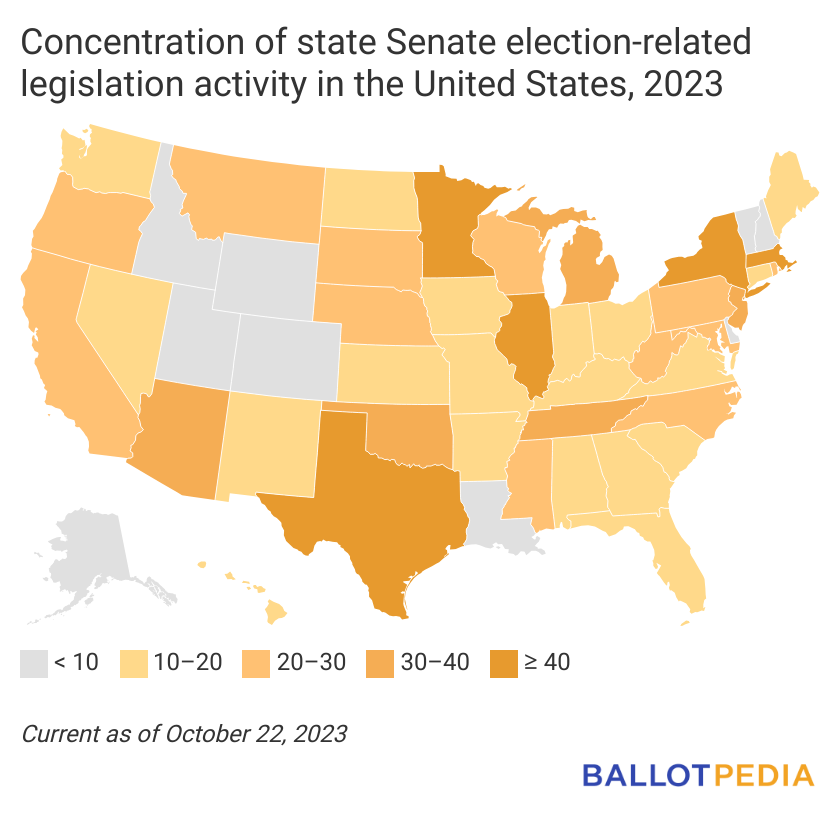 As of Oct. 22, Ballotpedia has tracked 546 Senate bills in Democratic trifectas and 475 Senate bills in Republican trifectas. A trifecta is when one political party holds the governorship and majorities in both chambers of the state legislature. Ballotpedia has tracked 176 Senate bills in states where neither party holds trifecta control.
The Florida Senate was scheduled to be in regular session from March 7 to May 5 this year. In 2022, Ballotpedia tracked 16 Senate bills related to election administration. Four of these bills passed both chambers and three were enacted into law. Florida is a Republican trifecta.
Additional reading: