As of Oct. 22, Ballotpedia has tracked 195 election-related bills in the Texas House of Representatives since the beginning of the year. Of the 195, Ballotpedia tracked two from Oct. 16-22. Republicans sponsored both of the bills. The two bills are below:
TX HB60: Relating to the selection of the chief appraiser of an appraisal district; authorizing a fee, Rep. Cecil Bell (R).

"As introduced, this bill establishes that a partisan county-level chief appraiser will be elected (rather than appointed) at a general election, allowing for partisan primaries, in the appraisal district for a two-year term. This bill also supplies a filing fee for the office of chief appraiser of $750 for districts with a population under 200,000 and $1,250 for districts with a population of 200,000 or more."
TX HB143: Relating to a requirement that an election for a member of a board of trustees of an independent school district is partisan, Rep. Steve Toth (R).

"As introduced, this bill:

Establishes that school board elections will be partisan elections and that elections must be held during the general election for state and county officers.
Eliminates three-year terms for school board members, thus requiring all school board members to be elected for four-year terms.
Exempts independent school districts from the requirements.
Applies existing rules for partisan municipal and state general elections to school district races."
During the week of Oct. 16-22, Ballotpedia tracked 14 House election-related bills nationally. As of Oct. 22, Ballotpedia has tracked 1,767 House bills nationally. Ballotpedia tracked the most House bills this year in the New York State Assembly and the Texas House of Representatives with 195 each, while Ballotpedia tracked the fewest House bills in the Colorado House of Representatives with seven.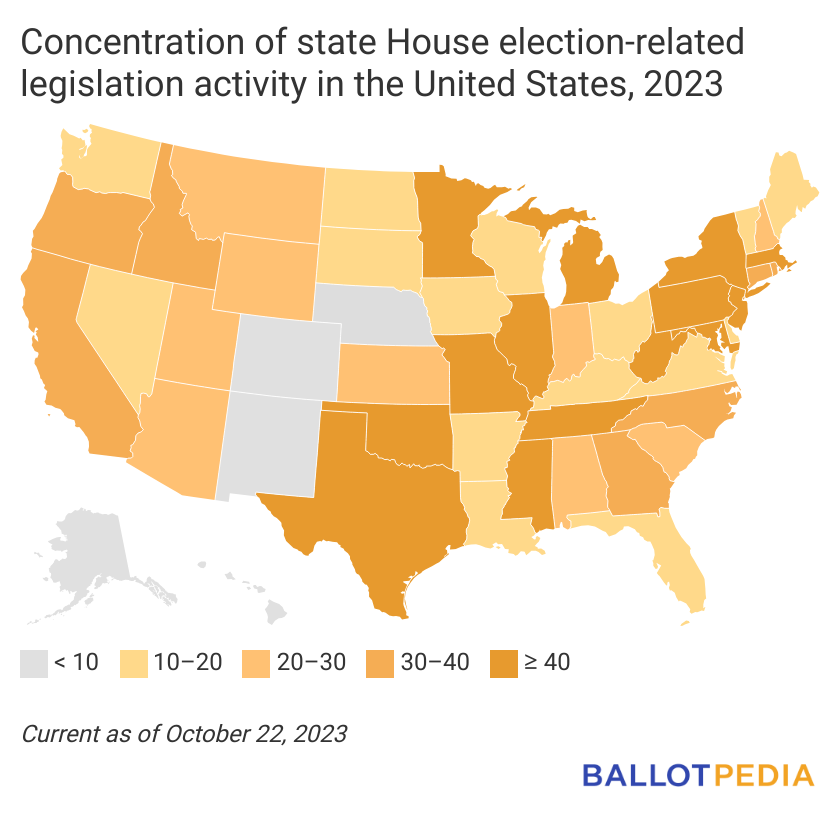 As of Oct. 22, Ballotpedia has tracked 784 House bills in Democratic trifectas and 752 House bills in Republican trifectas. A trifecta is when one political party holds the governorship and majorities in both chambers of the state legislature. Ballotpedia has tracked 231 House bills in states where neither party holds trifecta control.
The Texas House was scheduled to be in regular session from Jan. 10 to May 29 this year. In 2022, Ballotpedia tracked zero House bills related to election administration. Texas is a Republican trifecta.
Additional reading: