North Carolina lawmakers made unaffiliated voter participation in partisan primaries a permanent feature of state election laws as part of a veto override of S747 on Oct. 10, 2023. As part of the omnibus election bill, political parties holding primaries in the state must allow unaffiliated voters to participate in their primaries. Previously, state law permitted but did not require parties to allow these voters to participate in their primaries.
Both the Democratic and Republican parties in North Carolina have allowed unaffiliated voters to participate in their primaries since 1995, so the state's primary systems do not change immediately due to the new law. The new law gives unaffiliated voters a right to participate in partisan primaries and eliminates a party's ability to bar these voters from primary participation moving forward.
This type of primary is referred to as a semi-closed primary. Closed primaries, in contrast, are primaries in which a voter must affiliate formally with a political party before the primary to participate. In open primaries, any voter may vote in the primary of their choice, regardless of their affiliation status.
As of October 2023, at least one political party conducted semi-closed primaries in 14 states. As of the same date, at least one political party conducted open primaries in 20 states, and at least one political party conducted closed primaries in 15 states. Finally, parties in four states hold some version of a top-two primary. Note that because parties in the same state may hold primaries of differing types, the sum of these numbers exceeds 50.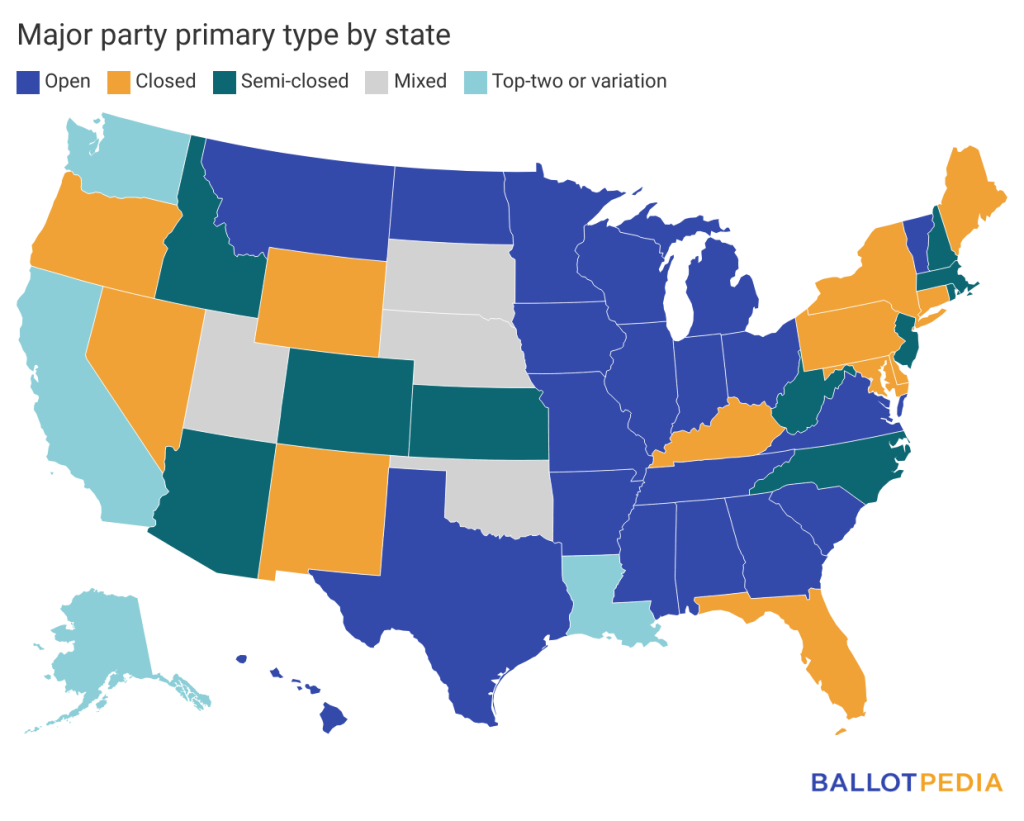 Four other states since 2000 have opened their primaries to unaffiliated voters or begun allowing parties to do so. Colorado and Maine passed similar laws to North Carolina's recent change, allowing unaffiliated voters to vote in the primary of their choosing, in 2016 and 2022, respectively. Two other states, Maryland in 2003 and West Virginia in 2011, changed their laws to permit parties to allow unaffiliated voters to participate in their primary elections.
In that same period, two states, Idaho and Wyoming, changed state law to restrict participation in primaries. Idaho moved from an open primary system to a semi-closed one in 2011, while Wyoming moved from a semi-closed to a closed system earlier this year.
North Carolina Gov. Roy Cooper (D) vetoed S747, the omnibus elections bill that included this change, on Aug. 24, 2023. Lawmakers in the North Carolina State Senate voted 30-19 to override the veto on Oct. 10, and the North Carolina House of Representatives subsequently voted 72-44 to complete the veto override later the same day.
According to Dallas Woodhouse, former executive director of the North Carolina Republican Party, "The change has angered some GOP activists who have long argued that the NCGOP should once again close its primaries and only allow registered Republicans to vote in primary elections." As of October 2023, unaffiliated voters comprised 35.47% of all registered voters in North Carolina.
S747 made a series of changes to state law, including prohibiting private funding for election administration and requiring absentee ballots be received by Election Day.