State supreme courts issued 247 opinions from Oct. 9-22. The Supreme Court of Appeals of West Virginia led the field with 30 opinions issued, followed by Delaware with 23 and Pennsylvania with 18. The 247 opinions account for 5% of the year-to-date total of 5,339. West Virginia, again, leads with 439 opinions issued since Jan. 1, followed by Texas with 377 and Delaware with 346.
State supreme courts have issued an average of 127 opinions per week so far this year. This figure is less than the 2022 weekly average of 143. It's also less than the average of 160 opinions issued per week in 2021.
Supreme courts in 16 states have issued more than 100 opinions since the start of the year.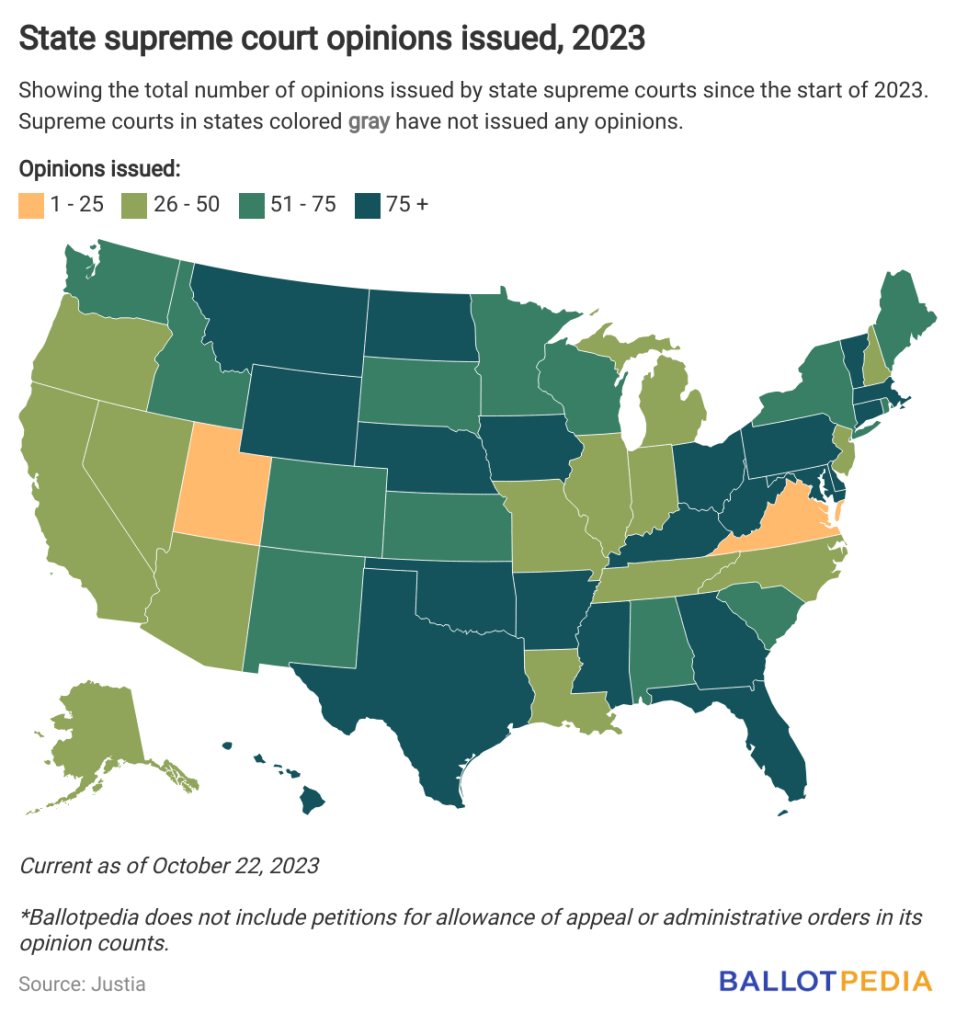 Some of the state supreme court opinions issued this year include those in:
New York, where the court held that music producer Lukasz Gottwald "was a limited-purpose public figure" in a defamation case between Gottwald and singer Kesha Rose Sebert. Since the court determined Gottwald was a public figure, the court held that it would require "proof that the allegedly defamatory statements [against Gottwald] were made with actual malice."
South Carolina, where the court, having found the 2021 version of the Fetal Heartbeat and Protection from Abortion Act unconstitutional, declared the 2023 version of the act constitutional; and,
Vermont, where the court upheld a statute allowing noncitizens who are legal U.S. residents to vote in Montpelier's local elections.
Supreme courts in Pennsylvania, West Virginia, Texas, and Delaware regularly end the year as some of the country's most active courts. Collectively, they accounted for 26% of all opinions issued in 2021 and 2022, and, to date, 28% in 2023.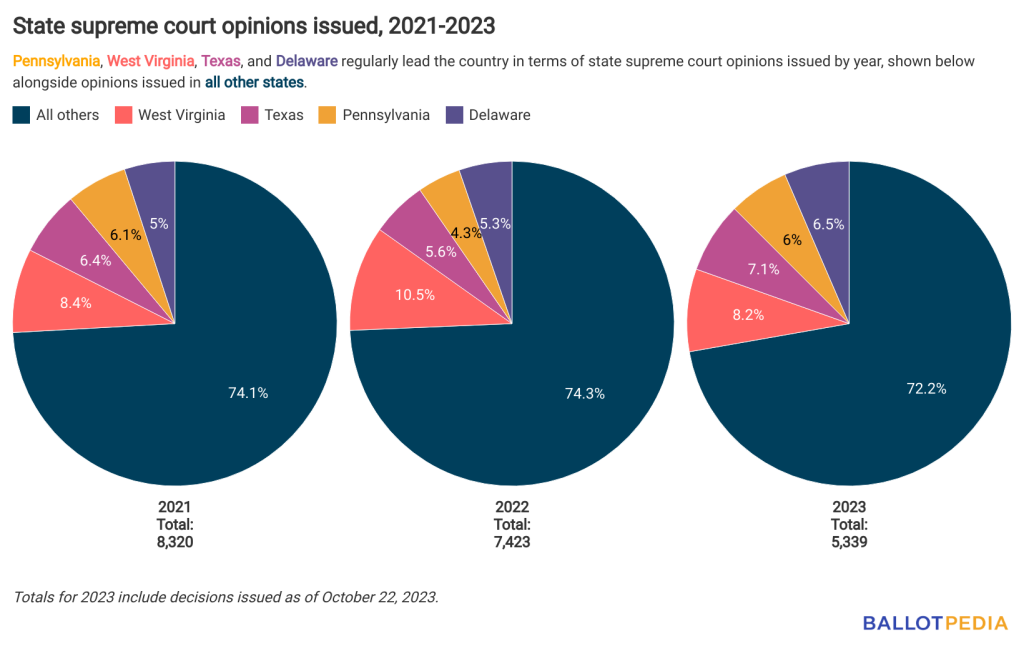 Every state and the District of Columbia have at least one supreme court, known as a court of last resort. Oklahoma and Texas have two courts of last resort, one for civil cases and one for criminal proceedings. Supreme courts do not hear trials of cases. Instead, they hear appeals of decisions made in lower courts. The number of justices on each state supreme court ranges between five and nine.
In 2020, we conducted a study identifying the partisan balance on every state supreme court. You can find that research here. We also identified which justices ruled together most often in our Determiners and Dissenters report found here.