As of Oct. 29, Ballotpedia has tracked 118 election-related bills in the Texas State Senate since the beginning of the year. Of the 118, Ballotpedia tracked two from Oct. 23-29. Republicans sponsored both bills. The two bills are below:   
TX SB75: Relating to confirmation of a voter's residence by a voter registrar, Sen. Lois Kolkhorst (R).

"As introduced, this bill modifies when a registrar must request written confirmation of a voter's address from when the registrar has 'reason to believe' a residence may not be current to: if the voter's address is a post office (or similar) box, the voter's name is not on a suspense list and the voter has not voted in an election in the previous 25 months (after the next general election), or if the registrar has any other reason to believe the voter's residence is not current."

TX SB76: Relating to the combination of certain election precincts, Sen. Drew Springer (R).

"As introduced, this bill:

Empowers the executive committee of a political party holding a primary election in any county to combine precincts if, due to redistricting, some precincts have fewer than 500 registered voters.
Stipulates that if a county has 750-250,000 registered voters, the executive committee may modify precincts with 500-750 registered voters.
Provides that the county election board in a county with less than 1.2 million people may recommend combining election precincts, with certain exceptions and requirements."
During the week of Oct. 23-29, Ballotpedia tracked 11 Senate election-related bills nationally. As of Oct. 29, Ballotpedia has tracked 1,206 Senate bills nationally. Ballotpedia tracked the most Senate bills this year in the New York State Senate with 165, while Ballotpedia tracked the fewest Senate bills in the Vermont State Senate with two.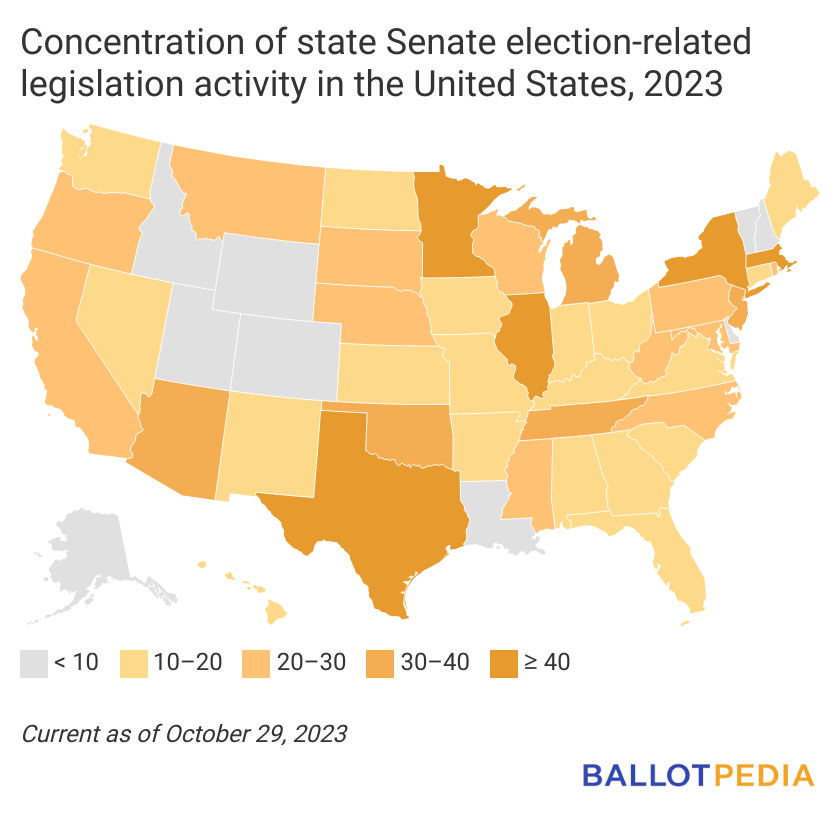 As of Oct. 29, Ballotpedia has tracked 548 Senate bills in Democratic trifectas and 478 Senate bills in Republican trifectas. A trifecta is when one political party holds the governorship and majorities in both chambers of the state legislature. Ballotpedia has tracked 180 Senate bills in states where neither party holds trifecta control.
The Texas Senate was scheduled to be in regular session from Jan. 10 to May 29 this year. In 2022, Ballotpedia tracked zero Senate bills related to election administration. Texas is a Republican trifecta.
Additional reading: