Ballotpedia tracked two new state-level candidates in Texas between Oct. 23-29. This was two fewer candidates than the prior week. 
Both of the candidates are Republicans running in 2024 for the state legislature.
Details on these candidates are below:
Jamie Haynes (R) is running for Texas House of Representatives District 86. Haynes said, "Our state needs strong, principled leadership that puts the interests of Texans first and respects their values. As a conservative standing for House District 86, I will do the work in Austin to secure the border, eliminate property taxes, elevate education, and protect Texas children. … SECURE THE BORDER … The State of Texas needs to take hard action now to legalize and adequately fund border security to defend its citizens. … PROTECT LOCAL CONTROL … We must stop the unfunded mandates and restore power to local governments who are more connected with the community. … ELEVATE EDUCATION & PROTECT TEXAS CHILDREN … All Texas children deserve the very best our state has to offer from educators to academics. … TERM LIMITS FOR EVERY TEXAS POLITICIAN … We must enact term limits on every Texas politician to eliminate corruption and ensure fresh, new ideas are being heard in the legislature."
Larissa Ramirez (R) is running for Texas House of Representatives District 24. Ramirez said, "BORDER SECURITY Over 87,000 children are missing at our southern border. … Texas deserves a State Representative who will advocate for border security and fight against human trafficking. … STRONG REPRESENTATION Texans along the gulf coast experience unique challenges that require an immediate resolution catered to our region. … District 24 deserves a Representative who has unique experience in disaster recovery and federally funded program implementation. … OUR RIGHTS From the Right to a Fair Trial, to the Right to Bear Arms, you deserve someone who will stand strong and unwavering in their promise to fight for your rights."
Since the beginning of the year, Ballotpedia has identified 51 candidates for state-level office in Texas. Seven hundred and fifty candidates ran for state-level office in Texas in 2022, while 582 ran in 2020. In 2022, 277 were Democratic, while 384 were Republican. In 2020, 270 were Democratic and 249 were Republican. Nationally, Ballotpedia has tracked 673 Democrats and 828 Republicans running for state-level office in 2023, and 214 Democrats and 284 Republicans running in 2024.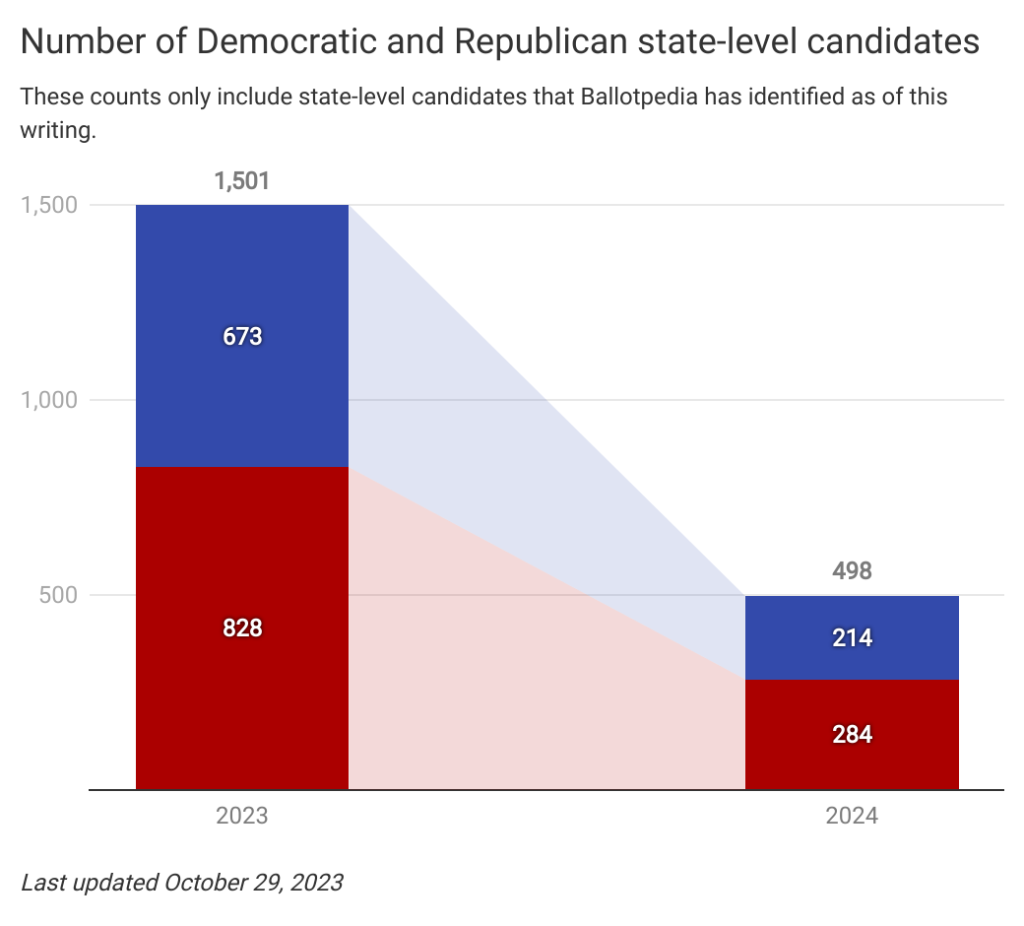 Additional reading: