Among the elections Ballotpedia is covering in 2023, 73 are between 148 candidates who share last names with one or more of their opponents. Pennsylvania had the most such races (27), followed by Wisconsin (19). North Carolina and Wisconsin each had races where three candidates share the same last name.
This data includes the elections within Ballotpedia's regular coverage scope and our comprehensive coverage of school board elections taking place in 10 states: Colorado, Kansas, Minnesota, Ohio, Oklahoma, Pennsylvania, South Dakota, Virginia, Washington, and Wisconsin. Data for previous years does not include the comprehensive school board election coverage.
"Brown" was the most common shared last name among candidates in this analysis, appearing in four races.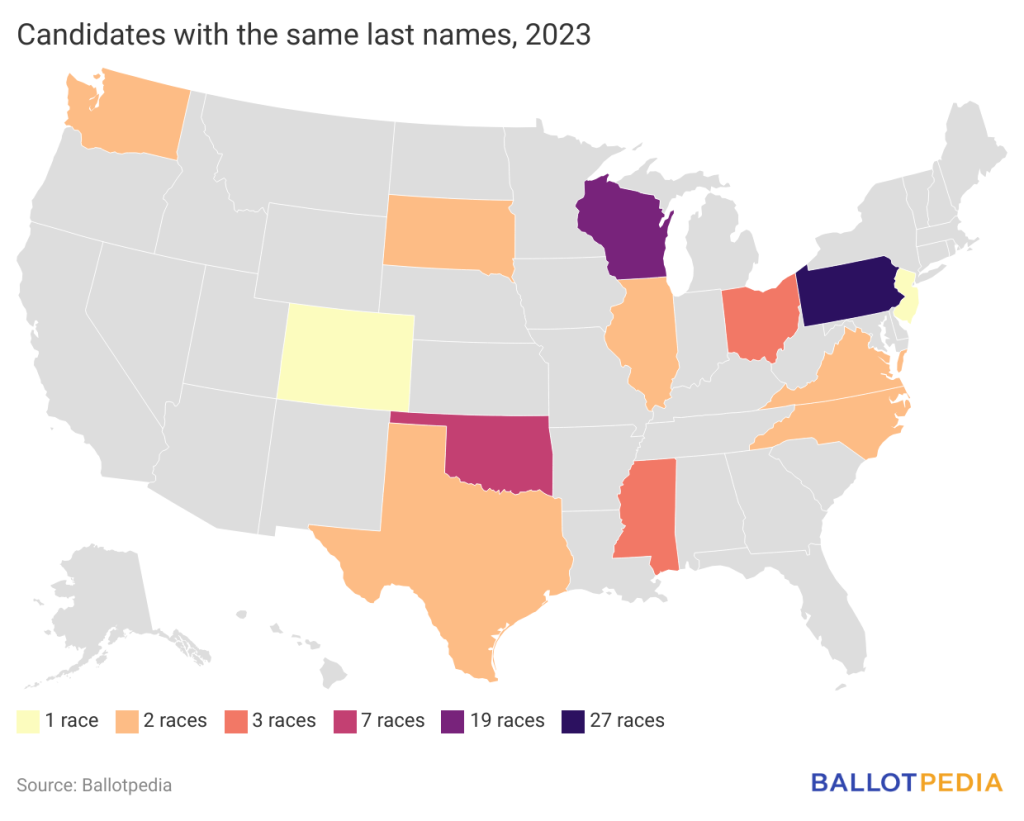 In 2022, Ballotpedia covered 22 races in 13 states and territories between 45 candidates that shared last names with one of more of their opponents. New Hampshire had the most races with six, and the U.S. Virgin Islands had the only race with three candidates who shared the same last name.
According to the U.S. Census Bureau, Smith was the most popular surname in the 2010 census, with 2.44 million people. Ten other surnames appeared more than a million times in the 2010 census. In order, they were: Johnson (1.93 million), Williams (1.63 million), Brown (1.44 million), Jones (1.43 million), Garcia (1.17 million), Miller (1.16 million), Davis (1.12 million), Rodriguez (1.09 million), Martinez (1.06 million), and Hernandez (1.04 million).