Five states have created new education savings account (ESA) programs in 2023—the most in a single year since Arizona enacted the country's first in 2011. In the last four years, the pace of states enacting new programs has increased—two states enacted programs in 2019, while four did so in 2021.
ESAs allow families to receive a deposit of public funds into government-authorized private savings accounts for use on approved educational expenses. States set different rules for what counts as an approved educational expense, but in general, families can put ESA money toward private school tuition, tutoring, curriculum, and school supplies.
Since 2011, 13 states have enacted 15 ESA programs. The Nevada State Legislature passed a bill establishing an ESA program in 2015 that would have covered nearly all students but the state supreme court ruled against the program's funding mechanism in 2016, leaving it inoperable.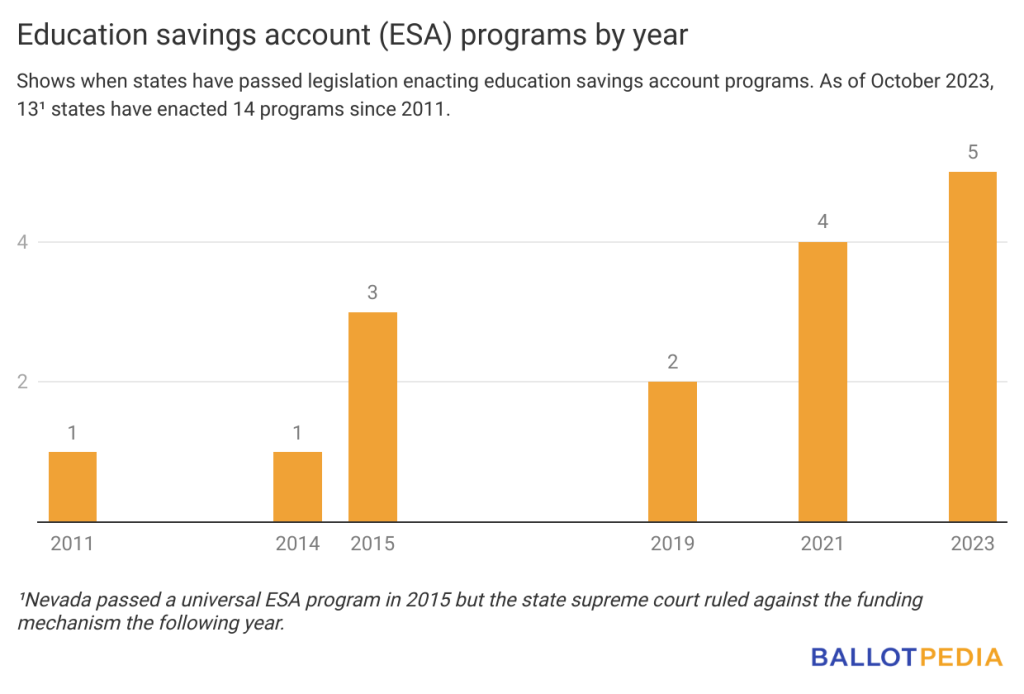 States can limit accounts to a particular set of students, such as students with special needs or those from low-income families, or open them to all—or most—students in a state. Of the 15 active ESA programs, seven are open to all or most students, while eight are restricted to students with special needs or those from low-income families.
Five states enacted new ESA programs in 2023:
Two states—Florida and North Carolina—expanded existing ESA programs to cover all or most students in 2023.
Florida (Republican trifecta): On March 27, Gov. Ron DeSantis (R) expanded the state's Family Empowerment Scholarship program to provide all K-12 students with around $7,500 for educational expenses. The program was initially launched in 2019 but was restricted to a subset of students.
North Carolina (divided government): On Sept. 22, Gov. Roy Cooper (D) allowed the state's $30 billion budget to become law without his signature. Included in the budget was an expansion of the state's Opportunity Scholarship program, providing taxpayer funding for eligible students to use at participating private schools. The General Assembly enacted the program in 2013 but limited the tuition assistance to students from low-income families who had previously attended a public school for at least a year. North Carolina has a divided government and is one of 29 states where one party holds a veto-proof majority in both legislative chambers. Republicans have a 30-20 majority in the Senate and a 72-48 majority in the House.
Arizona and West Virginia were the first states to create universal or near-universal ESA programs. Arizona expanded its program in July 2022 to cover all students. A few months later, in October, the West Virginia Supreme Court allowed the state's ESA program, first enacted in 2021, to go into effect. Over 90% of West Virginia students are eligible for the accounts.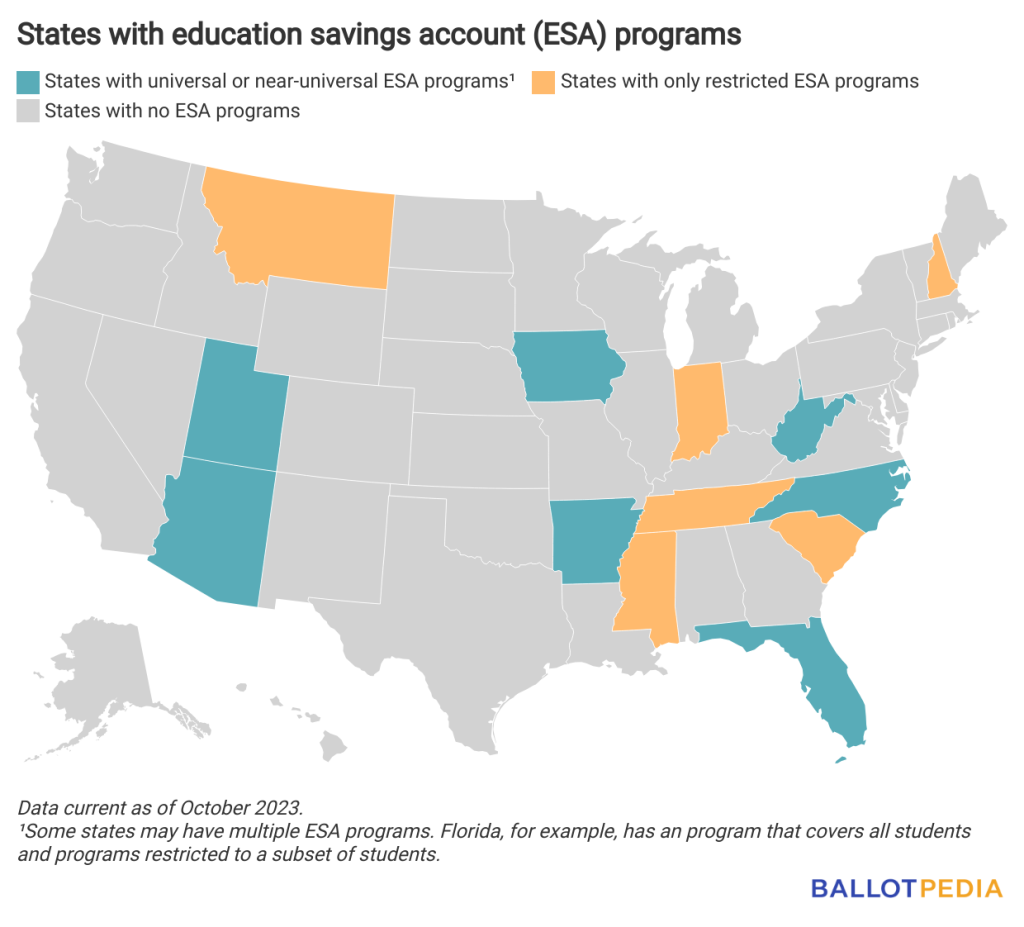 In 2021, New Hampshire, North Carolina, West Virginia, and Indiana enacted new ESA programs. Tennessee and Florida enacted new programs in 2019. Tennessee and Mississippi enacted new programs in 2015. Florida enacted a program in 2014.
Critics of ESAs argue they remove funding from public schools, leaving students and teachers with fewer resources, and lack accountability. Proponents argue ESAs provide families with more options for finding the best education for their children and put pressure on public schools to improve.
As of this writing, Texas lawmakers are debating whether to create a near-universal ESA program in a special session Gov. Greg Abbott (R) called for education-related reasons. On Oct. 13 the Senate voted 19-12 to pass SB 1, a bill that would provide around $8,000 to most students. The bill now goes to the House for consideration.
Republicans hold a 19-12 majority in the Senate and an 85-64 majority in the House.
ESA programs are not the only policies states have enacted that provide taxpayer funding for educational alternatives to public schools. In May, for example, Oklahoma Gov. Kevin Stitt (R) signed legislation creating the Oklahoma Parental Choice Tax Credit Program. The program created a refundable tax credit open to all families with students eligible to enroll in K-12 public schools that allows them to write educational expenses—like private school tuition—off their state income taxes. A maximum of $7,500 is available per student to households making under $75,000 a year. The amount of the credit decreases as household income rises above $75,000 a year.