Ballotpedia tracked three new state-level candidates in Florida between Oct. 30-Nov. 5. This was two more candidates than the prior week.
The three candidates are Democrats running for state legislature in 2024.
As of this writing, Ballotpedia identified campaign materials for two of three candidates. Details are below:
David Arreola (D) is running for Florida House of Representatives District 22. Arreola said, "I was born and raised right here in Florida House District 22. I'm running for office to fight back against the extremists who are hurting our communities. During my time on the Gainesville City Commission, I fought for life-saving gun safety legislation, advocated for reproductive freedom, and spearheaded efforts to expand job training opportunities. I know that together we can rise above the chaos of MAGA Republicans, strengthen our community, and empower all Floridians to thrive. I've always been the underdog, but if like me, you see our challenges as opportunities to build a better future, it's time to get to work."
Chad Klitzman (D) is running for Florida State Senate District 35. Klitzman said, "[I am] eager to channel [my] lifelong passion for public service as our next State Senator. … Since graduating from law school, [I have] practiced corporate law at two of the world's leading law firms and remain[ ] active in our community. In addition to supporting various Democratic candidates and causes, [I] serve[ ] on the board of the Broward County Democratic Party Jewish Caucus and serve[ ] on State Attorney Harold Pryor's Prosecutorial Performance Indicator Community Advisory Board. … A proud product of Broward County Public Schools, [I have] been active in the community since before [I] could even vote. …"
Since the beginning of the year, Ballotpedia has identified 77 candidates for state-level office in Florida. Five hundred and eighty-five candidates ran for state-level office in Florida in 2022, while 520 ran in 2020. In 2022, 238 were Democratic, while 276 were Republican. In 2020, 266 were Democratic and 194 were Republican. Nationally, Ballotpedia has tracked 679 Democrats and 828 Republicans running for state-level office in 2023, and 233 Democrats and 302 Republicans running in 2024.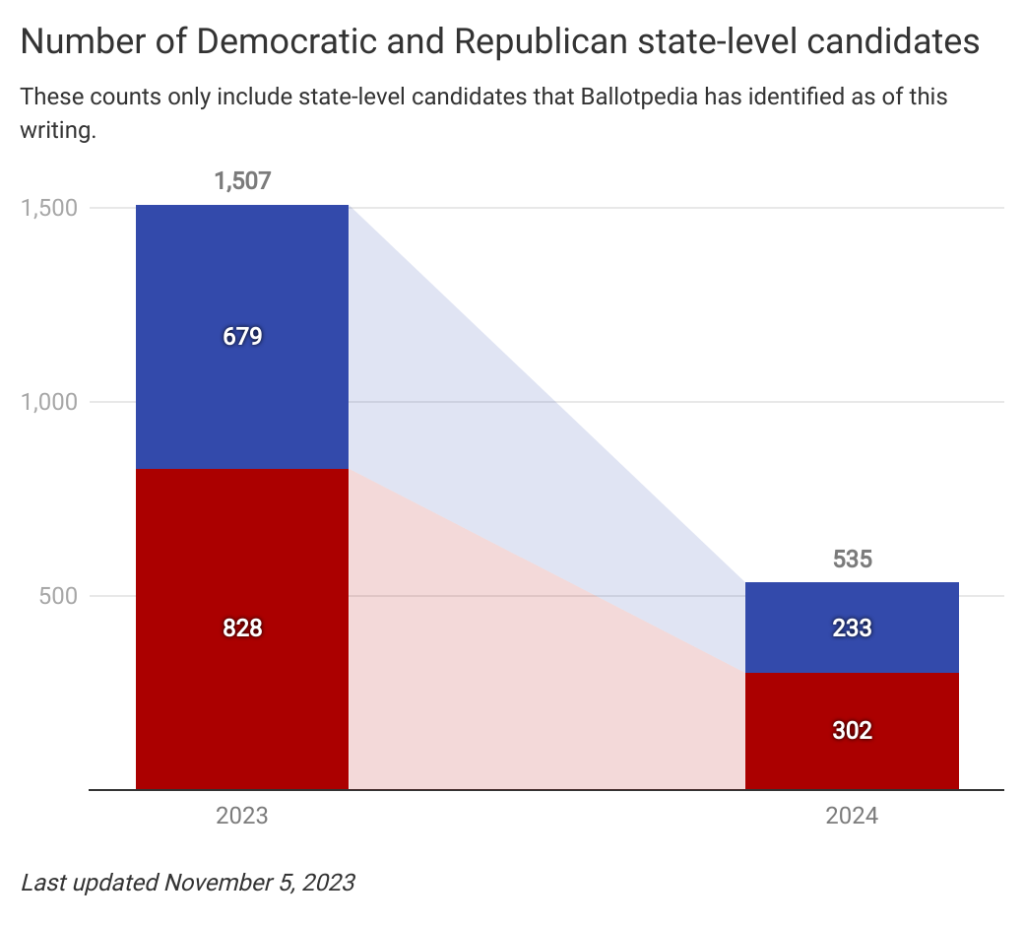 Additional reading: