As of Nov. 5, Ballotpedia has tracked 197 election-related bills in the New York State Assembly since the beginning of the year. Of the 197, Ballotpedia tracked two from Oct. 30-Nov. 5. Democrats sponsored the two bills. The bills are below:   
NY A08178: Removes party lines from ballots and has candidates' names appearing only once on a ballot for an office for all elections that are not presidential or gubernatorial, Assembly Members Patrick Burke (D) and Albert Stirpe (D).

"As introduced, this bill:

Removes ballot partisanship indications for all offices except presidential and gubernatorial offices.
Specifies that names of candidates on the ballot for nonpartisan office will be printed in the order that the candidate's party received votes in the preceding election for the office, with the highest being at the top."
NY A08175: Provides that qualified persons who have never previously registered to vote in this state may apply personally for registration by appearing at the appropriate polling place for the election district in which such person resides on the day such polling place is open for voting; requires establishment of a procedure to enable such registrants to cast their votes at the appropriate polling places, Assembly Member Robert Carroll (D).

"As introduced, this bill:

Allows anyone who is not registered in the state to apply for voter registration on election day or during early voting by appearing at their polling place.
Specifies that the person must have approved identification, and specifies the oath to be executed.
Grants the person access to an affidavit ballot if he or she does not have proper identification.
Directs the board of elections to establish a procedure for the same day registrant to vote at the polling place."
During the week of Oct. 30-Nov. 5, Ballotpedia tracked 17 House election-related bills nationally. As of Nov. 5, Ballotpedia has tracked 1,788 House bills nationally. Ballotpedia tracked the most House bills this year in the New York State Assembly with 197, while Ballotpedia tracked the fewest House bills in the Colorado House of Representatives with seven.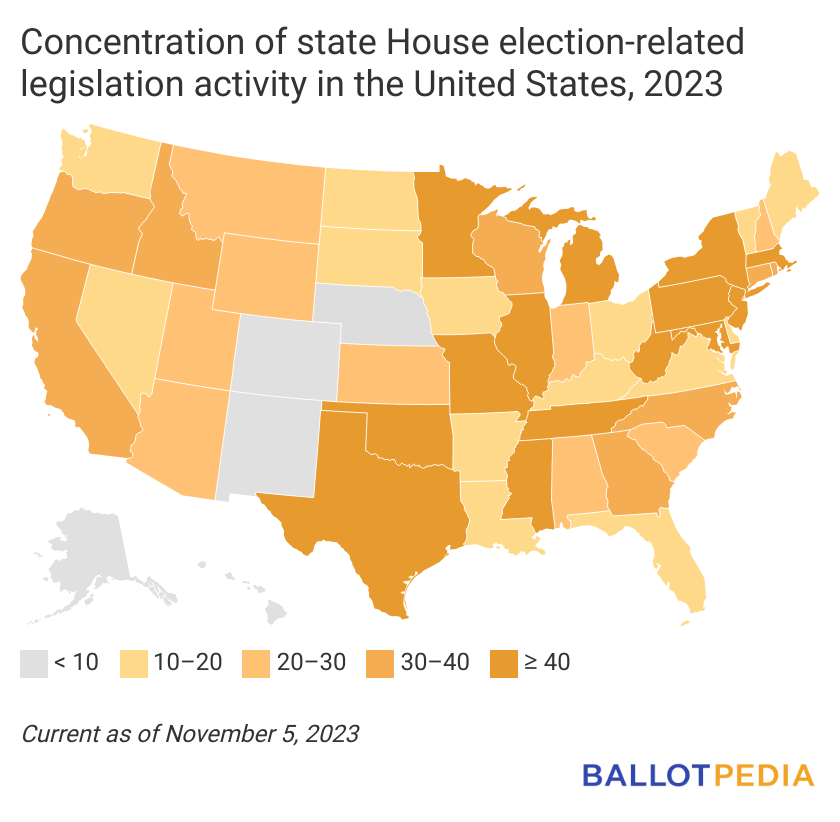 As of Nov. 5, Ballotpedia has tracked 789 House bills in Democratic trifectas and 752 House bills in Republican trifectas. A trifecta is when one political party holds the governorship and majorities in both chambers of the state legislature. Ballotpedia has tracked 247 House bills in states where neither party holds trifecta control.
The New York Assembly was scheduled to be in regular session from Jan. 4 to June 8 this year. In 2022, Ballotpedia tracked 211 House bills related to election administration. Nine of these bills passed both chambers and all were enacted into law. New York is a Democratic trifecta.
Additional reading: