Ballotpedia tracked three new state-level candidates in North Carolina between Oct. 30-Nov. 5. This was two more candidates than the prior week. 
One of those candidates is a Democrat and two are Republicans. The three candidates are running for state legislature in 2024.
Details on these candidates are below:
Incumbent Lisa Grafstein (D) is running for North Carolina State Senate District 13. Grafstein said, "I am honored to represent Senate District 13 because I believe in public service, and that we are here to make a difference. I have spent my legal career trying to do just that – advocating for people with disabilities, for workers facing unfair treatment, and for people whose civil rights have been violated. … Healthcare and public education have suffered because that's what happens when you starve systems of the funding they need and treat people as less important than profit. … Social divisions have deepened because that's what happens when you divide people for political and financial gain and refuse to acknowledge the dignity and humanity of every person. … Political divisions have hardened because that's what happens when you let elected officials pick their voters instead of voters choosing who they want to represent them. … I will continue to do all I can in the North Carolina Senate to move our state forward."
Incumbent Robert Hanig (R) is running for North Carolina State Senate District 3. Hanig said, "[I am] a highly regarded and staunch fiscal conservative leader in Eastern North Carolina, celebrated for [my] steadfast commitment to core principles that have greatly benefited [my] constituents and the state as a whole. With a focus on tax cuts, education, and conservative values, [I have] left a positive mark on North Carolina. … [My] dedication to fiscal responsibility is evident in [my] strong support for tax cuts that directly ease the financial burden on North Carolina families, fostering economic growth and making the state more appealing to families and businesses. … Education and the well-being of students and families are among [my] top priorities. … [I] champion[ ] policies that promote fiscal responsibility and sustainable economic growth, mitigating the adverse effects of inflation on North Carolina's citizens. … [My] unwavering commitment to conservative principles, coupled with [my] background as an army veteran, make [me] a trusted and unwavering leader in the Senate, truly dedicated to the cause of fiscal conservatism."
Scott Lassiter (R), currently serving as a member of the Wake Soil and Water Conservation District, is running for North Carolina State Senate District 3. Lassiter said, "After the legislature ratified new maps this afternoon, the opportunity presented itself for me to run in an open seat to represent a portion of the county that either myself or a member of my immediate family has called home for over 65 consecutive years. No one will be more committed to supporting good governance than me. … The fact is there is a lack of public education experience and knowledge in the General Assembly. As a practicing public school administrator at a school specially designed to support at-risk students, no one on Jones Street has the unique perspective, education, or experiences that I will bring to the discussion. I am ready to serve. I'm ready to do what it takes to make our schools the pride of the nation. … There are plenty of folks who can talk-the-talk but our district's savvy voters are looking for someone who has walked-the-walk. I know our best days can be ahead of us, and I will use common-sense conservatism to make that a reality."
Since the beginning of the year, Ballotpedia has identified 51 candidates for state-level office in North Carolina. Four hundred and thirty-seven candidates ran for state-level office in North Carolina in 2022, while 508 ran in 2020. In 2022, 178 were Democratic, while 232 were Republican. In 2020, 242 were Democratic and 235 were Republican. Nationally, Ballotpedia has tracked 679 Democrats and 828 Republicans running for state-level office in 2023, and 233 Democrats and 302 Republicans running in 2024.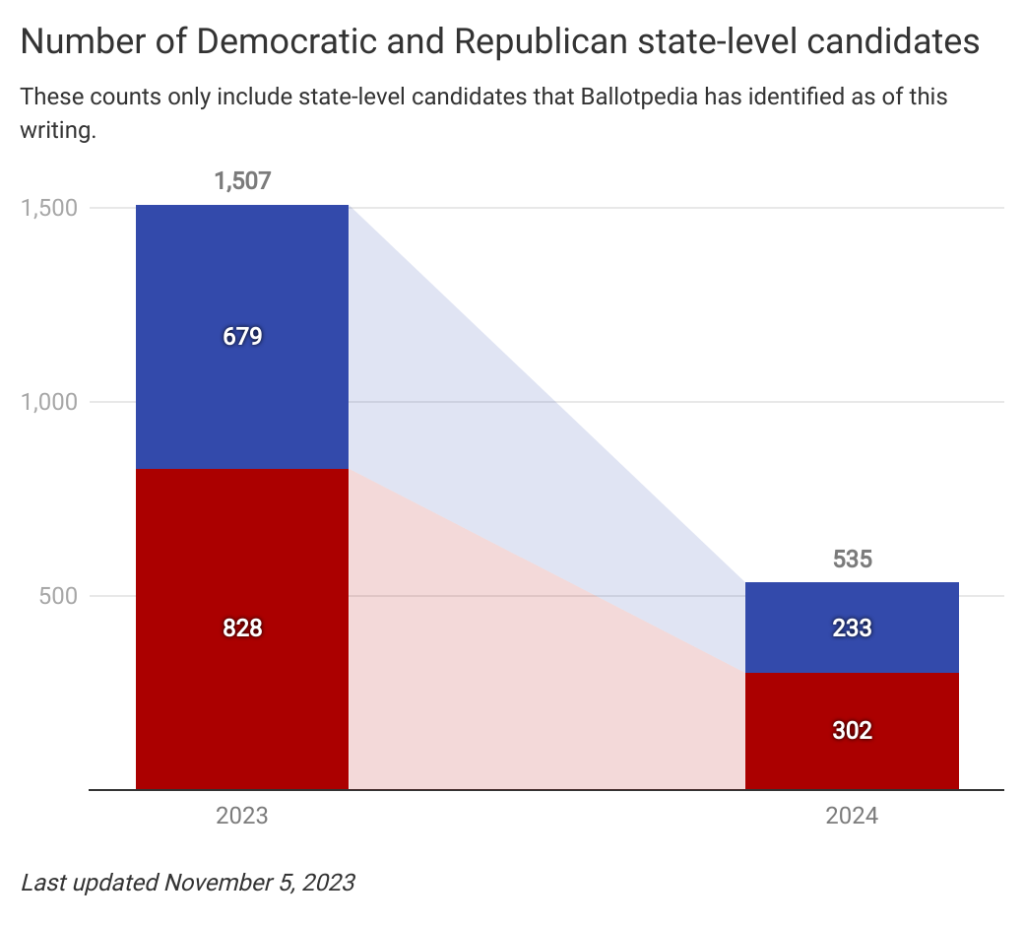 Additional reading: