Ballotpedia tracked one new state-level candidate in North Carolina between Nov. 6-12. This was two fewer candidates than the prior week.
The candidate is a Republican and is running for state executive office in 2024.
Details on the candidate are below:
Marlenis Hernandez Novoa (R) is running for Lieutenant Governor of North Carolina. Novoa said, "We moved to the beautiful state of North Carolina and instantly fell in love with the people, the different cultures, and the natural beauty. I love that everyone thinks of farming first in their yard. I fell in love with the Beaches and the Mountains and the wonderful people who love animals as much as I do. We moved to North Carolina because we wanted to raise our children in a community that we feel safe in. … As a Paramedic Firefighter for over 25 years, putting the lives of my patients and community above anything else and serving our states and working all over the world, I took an oath to serve our country and I will continue to serve and work for you North Carolina!  I am continually in awe of the human spirit, the ability of neighbors to come together to help one another. … In addition to my work, I have been involved in growing a successful startup business for our family and those who need my services.  I understand the difficulties small business owners face daily.  The never-ending red tape, taxes, fees, regulations, and government intrusion make it difficult for small business owners to reach their goals and profits. … As your next Lieutenant Governor, I will work to restore the American dream for all North Carolinians."
Since the beginning of the year, Ballotpedia has identified 52 candidates for state-level office in North Carolina. Four hundred and thirty-seven candidates ran for state-level office in North Carolina in 2022, while 508 ran in 2020. In 2022, 178 were Democratic, while 232 were Republican. In 2020, 242 were Democratic and 235 were Republican. Nationally, Ballotpedia has tracked 679 Democrats and 828 Republicans running for state-level office in 2023, and 240 Democrats and 314 Republicans running in 2024.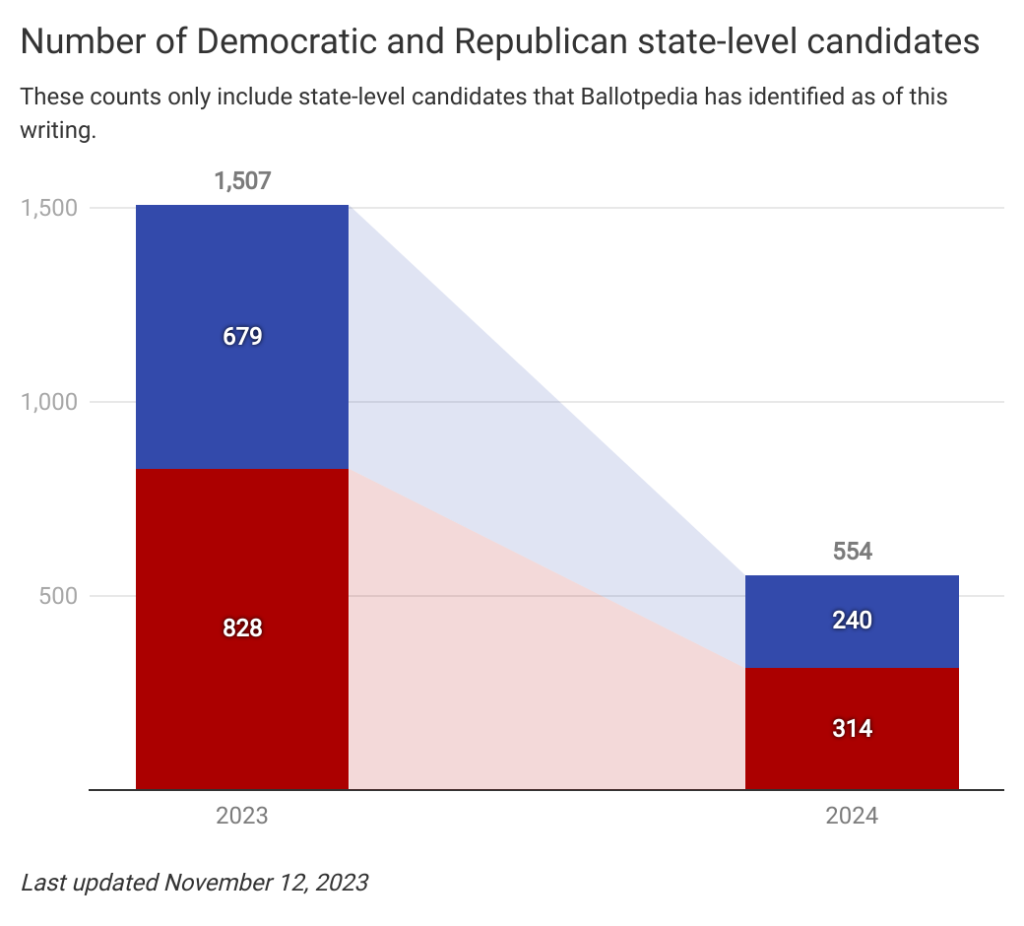 Additional reading: