Ballotpedia tracked three new state-level candidates in Texas between Nov. 6-12. This was one fewer candidate than the prior week.
One of those candidates is a Democrat and two are Republicans. The three candidates are running for state legislature in 2024.
Details on these candidates are below:
Incumbent Nate Schatzline (R) is running for Texas House of Representatives District 93. Schatzline said, "I am laser-focused on continuing to serve my amazing constituents in Texas House District 93. … From the very beginning of my term, I made it clear I was not there to go along to get along, but rather to be the elected official I promised my voters that I would be. I was elected to fight for our conservative values … I am running for re-election to the Texas House because I am committed to fighting for you … we must pass strong legislation to secure the Texas border, give education freedom to all Texas children, and we need someone who will stand up for businesses and families without wavering. … I look forward to continuing this work for the people of District 93." 
Norma Chavez (D) is running for Texas House of Representatives District 77. Chavez said, "I have a strong record of passing legislation with statewide and local impact, including creating a state felony for human trafficking, passing the 20-year retirement bill to include all El Paso County employees, establishing the inaugural funding for UTEP's Center for Law and Border Studies and expanding the Texas Transportation Commission from 3 to 5 members, securing the first El Paso TxDOT commissioner."
Avi Nash (R) is running for Texas House of Representatives District 74. Nash said, "My mission statement has always been: 'I am committed to empowering men and women to be champions, RUN to vote, and voice their opinions to the elected and appointed local, county, district, and senate officials.' … We need representatives who not only understand the residents, but who will also embrace concerns when it comes to local issues, introduce bills and resolutions, offer amendments and serve on committees that will benefit our District as well as the State of Texas. … I plan to represent you based upon what our District needs!"
Since the beginning of the year, Ballotpedia has identified 58 candidates for state-level office in Texas. Seven hundred and fifty candidates ran for state-level office in Texas in 2022, while 582 ran in 2020. In 2022, 277 were Democratic, while 384 were Republican. In 2020, 270 were Democratic and 249 were Republican. Nationally, Ballotpedia has tracked 679 Democrats and 828 Republicans running for state-level office in 2023, and 240 Democrats and 314 Republicans running in 2024.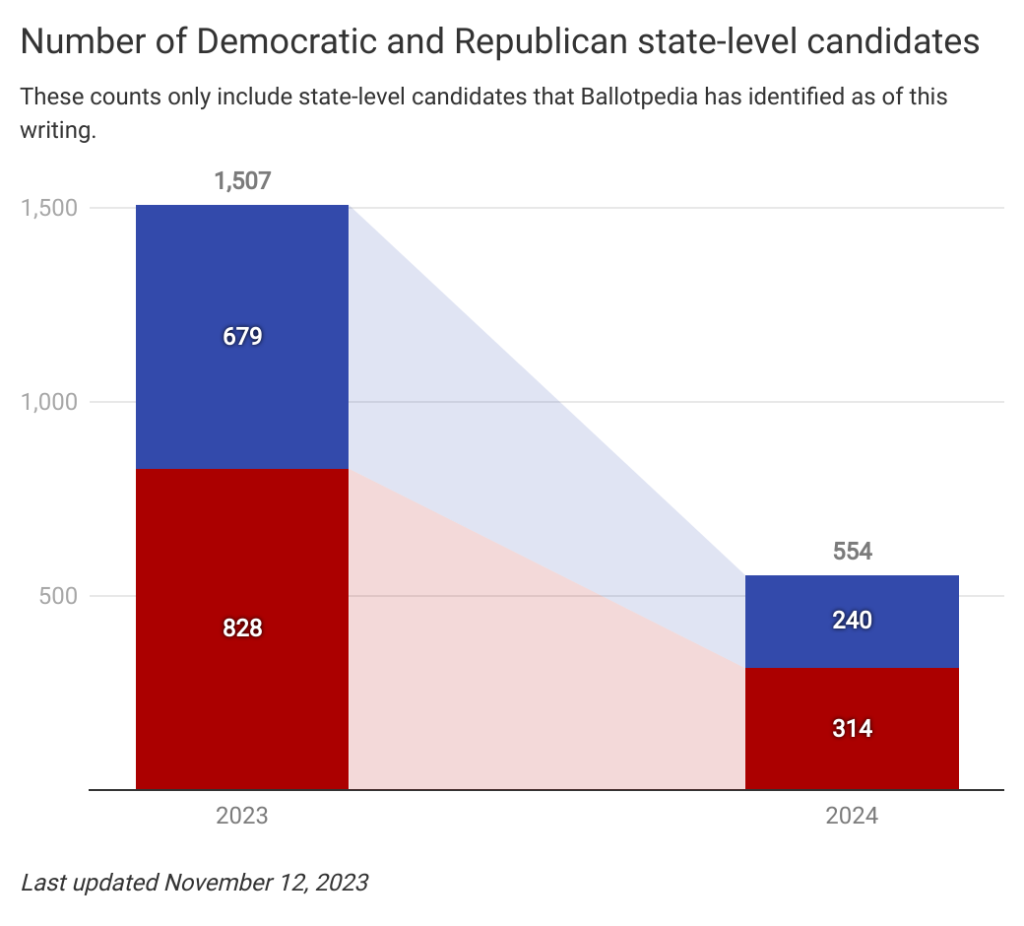 Additional reading: