The filing deadline for the Georgia Republican presidential primary passed on Nov. 12, 2023. Eleven candidates qualified to appear on the March 12, 2024, ballot. In order to qualify, candidates had to submit paperwork and pay a recommended $25,000 voluntary contribution to the state party.
The following candidates qualified:
Ryan Binkley
North Dakota Governor Doug Burgum
Former New Jersey Governor Chris Christie
Florida Governor Ron DeSantis
Former U.N. Ambassador and South Carolina Governor Nikki Haley
Former Arkansas Governor Asa Hutchinson
Perry Johnson
Vivek Ramaswamy
U.S. Senator from South Carolina Tim Scott
David Stuckenberg
Former President Donald Trump
This is the fifth Republican presidential filing deadline that has passed. Binkley, Burgum, Christie, DeSantis, Ramaswamy, and Trump are the only candidates who have qualified to participate in all five nominating contests. See the chart below for an overview of the number of candidates who have filed in each Republican presidential primary contest.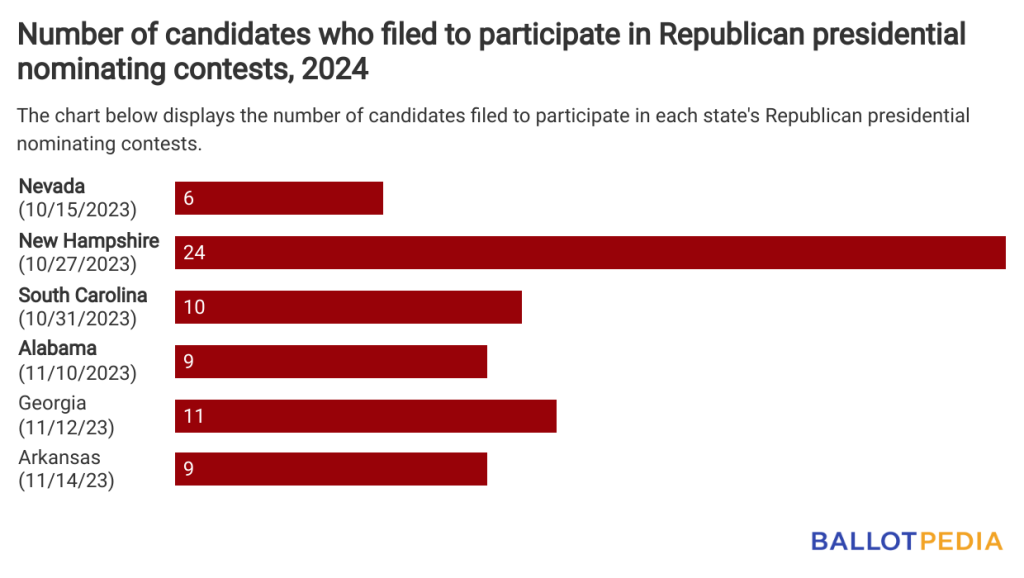 The next Republican presidential primary filing deadline will take place on Nov. 30, 2023, in Florida.
Additional reading: