Georgia Secretary of State Brad Raffensperger (R) certified the state's Jan. 5 runoff election results on Jan. 19, and election winners Jon Ossoff (D) and Raphael Warnock (D) were sworn into the Senate on Jan. 20.
This was the third year Georgia has held a runoff election for U.S. Senate. The state also held Senate runoffs in 1992 and 2008. Like this year's runoff, the previous two also featured a runoff for public service commissioner.
Unlike the first two Senate runoffs, Democrats won in 2021. Ossoff defeated incumbent David Perdue (R) in the regular election, and Warnock defeated incumbent Kelly Loeffler (R) in the special election. Republican Public Service Commissioner Bubba McDonald won re-election in his runoff.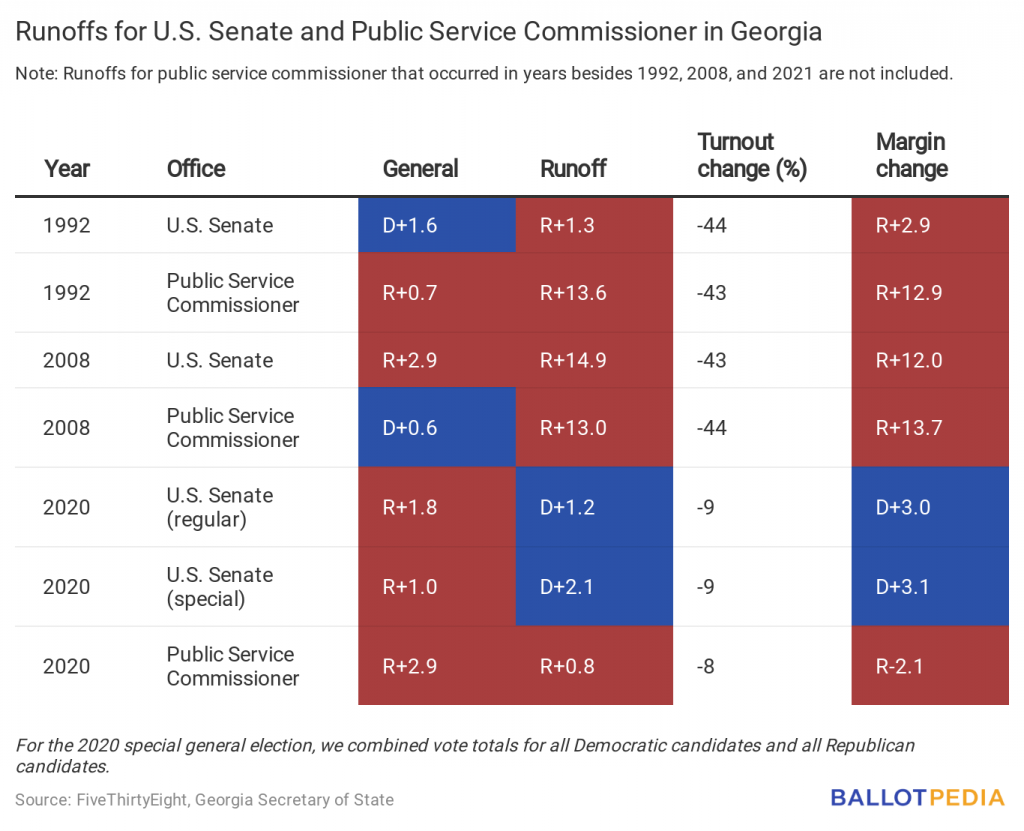 In previous runoffs for both Senate and public service commissioner, Republicans' vote margin increased between the general election and the runoff. Turnout declined between the two elections between 43% and 44%.
In 2021, however, Democratic Senate candidates' vote margins increased by around 3 percentage points between the general and runoff. And while McDonald won his runoff, his margin over Democrat Daniel Blackman decreased by around 2 percentage points.
Turnout in the 2021 Senate runoffs was 9% lower than it was in the general election. Turnout for the public service commissioner race was 8% lower.
In Georgia, runoff elections are required for all congressional, state executive, and state legislative elections in which a candidate does not receive a majority in the general election. In November, Perdue led Ossoff 49.7% to 47.9%. In the special election, Warnock led the 20-candidate field with 32.9%, and Loeffler was second with 25.9%. All six Republican candidates combined received 49.4% of the special election vote in November, and all eight Democratic candidates combined received 48.4%.
Additional reading: