The Republican Party of Virginia selected Glenn Youngkin as its nominee for governor in an unassembled convention on May 8. Youngkin received 55% of the delegate vote in the sixth and final round of vote-counting, which ended on May 10.
Incumbent Ralph Northam (D) is unable to seek re-election due to term limits, leaving the position open.
Youngkin is the former president of The Carlyle Group, a global investment firm. He defeated six other candidates, including business owner Pete Snyder, state Sen. Amanda Chase, and former House Speaker Kirk Cox. Peter Doran, Octavia Johnson, and Sergio de la Pena also ran in the convention. The Republican Party chose to use ranked-choice voting in 2021. Results from each round of the vote-counting are shown below: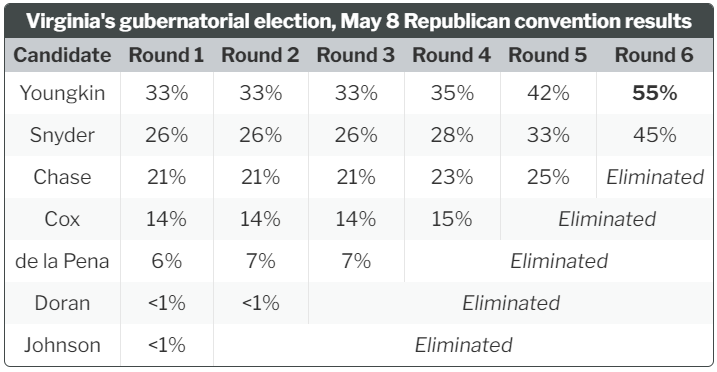 Youngkin submitted a Candidate Connection survey to Ballotpedia ahead of the convention. In it, he said, "We need a governor with real-world experience who can create jobs, keep businesses from leaving, put an open-for-business sign on Virginia, and create a rip-roaring economy that lifts all Virginians."
Youngkin led the field of Republican candidates in fundraising. According to campaign finance reports, he raised $7.7 million as of March 31. Youngkin was also the largest target of satellite spending during the convention. Two organizations, Patriot Leadership Trust and Virginia Cornerstone PAC, spent a combined total of roughly $459,000 on advertisements and mailers opposing his candidacy.
The general election for Governor of Virginia will be held on Nov. 2, 2021. Youngkin will face the winner of the June 8 Democratic primary and independent candidates Princess Blanding, Paul Davis, and Brad Froman.
The last Republican to win the governorship in Virginia was Bob McDonnell (R), elected in 2009. In 2019, Democrats won majorities in both the state House and Senate, creating a Democratic trifecta in the state for the first time since 1994.
To learn more about the Republican convention for Governor of Virginia, click here.