In the race for Governor of Virginia, investment executive Glenn Youngkin (R) has outspent former Gov. Terry McAuliffe (D) according to the most recent campaign finance reports covering spending through June 30, 2021. Youngkin, who launched his campaign three months after McAuliffe, has spent $16.9 million dollars to McAuliffe's $11.3 million.

McAuliffe recorded his first expenditure on Sept. 6, 2020. Youngkin recorded his first on Jan. 14, 2021, and passed McAuliffe's total expenditures on Feb. 8, 2021. Since then, Youngkin has exceeded McAuliffe in total expenditures throughout the campaign.
The chart below shows the progression of campaign expenditures since Jan. 1, 2021. McAuliffe's largest single-day expenditure was $995,982 on April 29 and Youngkin's largest was $1.2 million on June 18. For both campaigns, these expenditures primarily consisted of media buys, where campaigns spend money to reserve digital, television, and radio ad space.
Producing and placing media ads make up the majority of both campaigns' total expenditures.
Roughly 41% of all of McAuliffe's expenditures have gone to a single vendor: Grassroots Media LLC, which offers strategic media planning services and carries out media buys. Similarly, 42% of all of Youngkin's expenditures have gone to Smart Media Group LLC, an advertising agency and media buy company.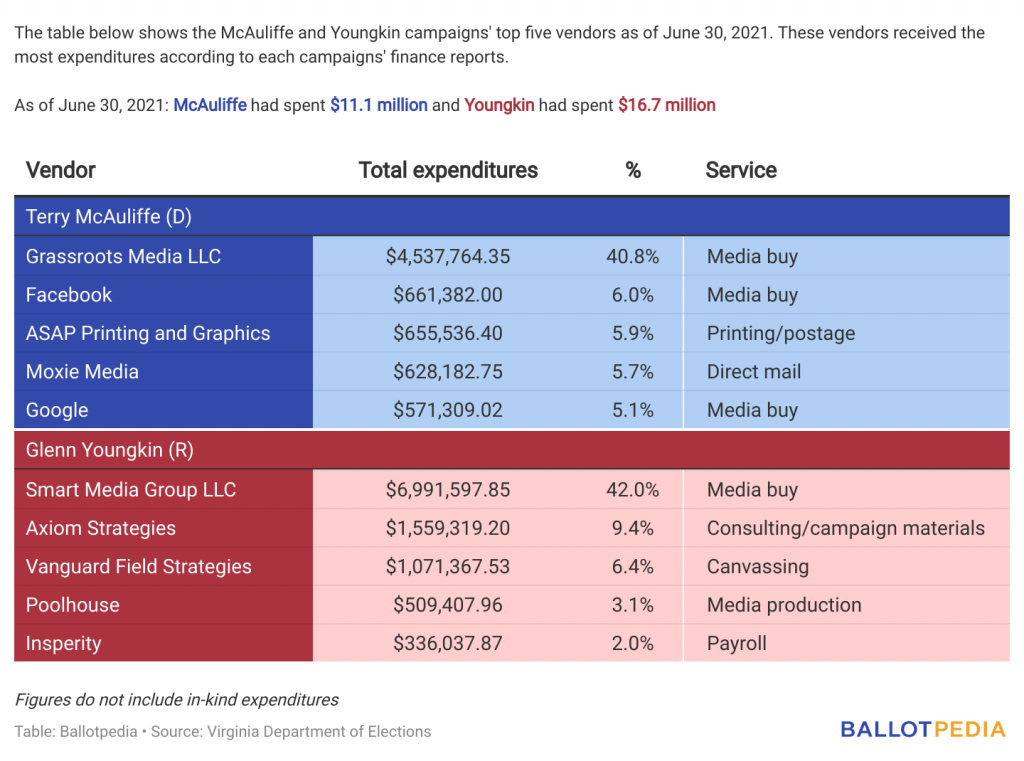 Princess Blanding, the Liberation Party candidate, will also appear on the general election ballot. She spent $11,043 as of June 30 and has $7,739 on hand according to the most recent campaign finance reports. Her expenditures primarily have been for campaign supplies and canvassing costs, with her largest expenditure—$1,193 on March 4, 2021—going towards yard signs.
Virginians will elect their new governor on Nov. 2, 2021. Democrats have won four of the five most recent gubernatorial elections and all thirteen statewide elections in Virginia since 2012. In 2019, Democrats won majorities in both the state House and Senate, creating a Democratic trifecta in Virginia for the first time since 1994.