In 2021, state legislative incumbents filed for re-election at a higher rate than any other year in the past decade other than 2013. When an incumbent does not run for re-election, his or her seat is left open, meaning it is guaranteed to a newcomer at the start of the next state legislative session.
Of the 220 seats up for election this year, 92.3% of incumbents (203) filed for re-election, leaving 7.7% of seats (17) open. From 2011 to 2021, only the state legislative elections held in 2013 saw a lower percentage of open seats at 6.8%.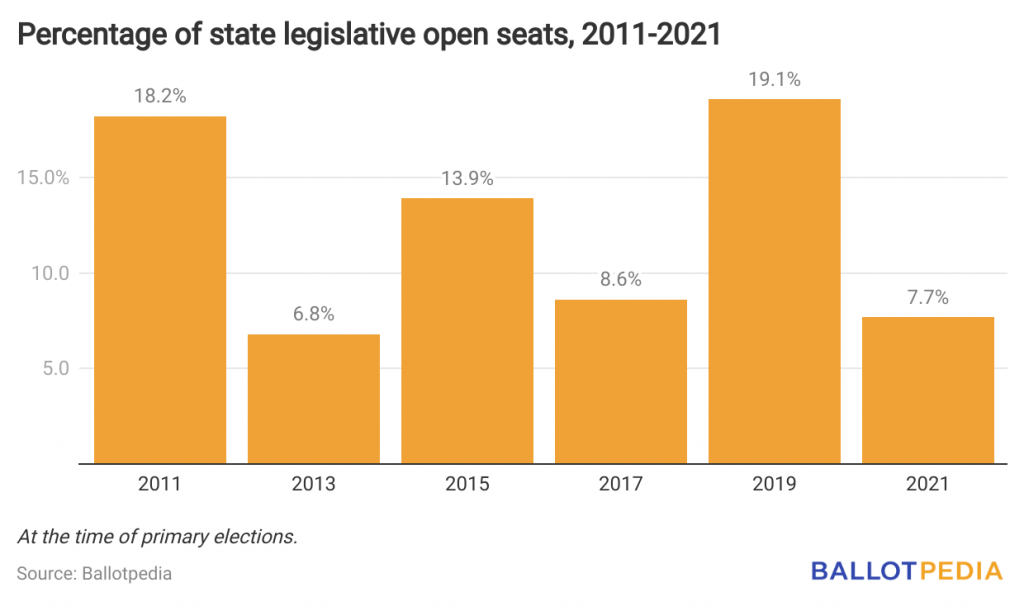 Two states—New Jersey and Virginia—are holding state legislative elections in 2021. These states hold elections every two years in odd-numbered years.
In New Jersey, 120 seats are up for election, 10.0% of which (12) are open. Of those open seats, six were most recently held by Democrats and six by Republicans.
Compared to previous elections, New Jersey's rate of open seats in 2021 is tied with 2017 for the state's second-highest percentage of open seats in the past decade.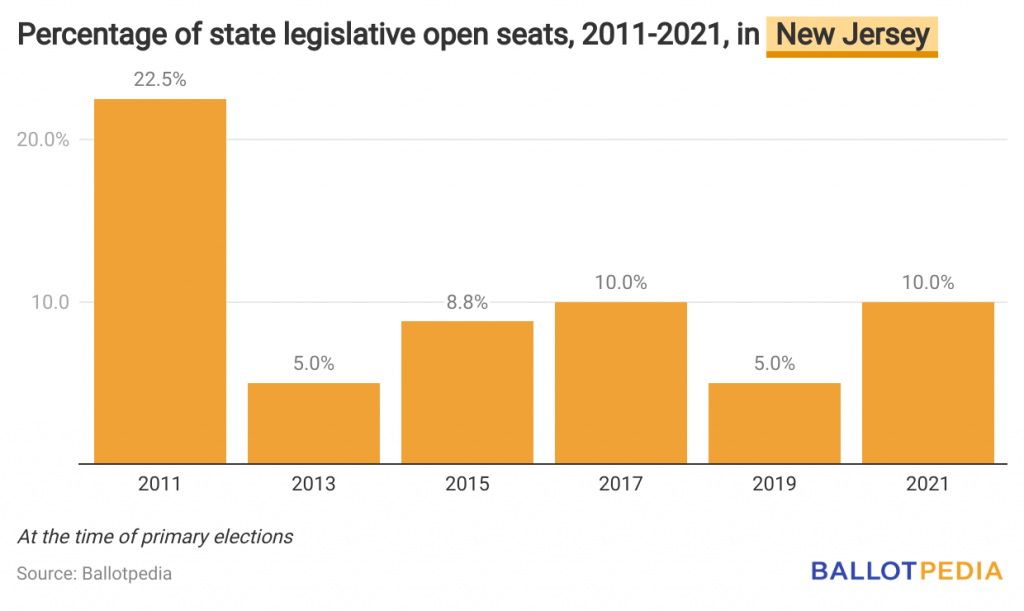 In Virginia, 100 seats are up for election, 5.0% of which (5) are open, a decade-low rate for the state. Of those five open seats, one was most recently held by a Democrat and four by Republicans.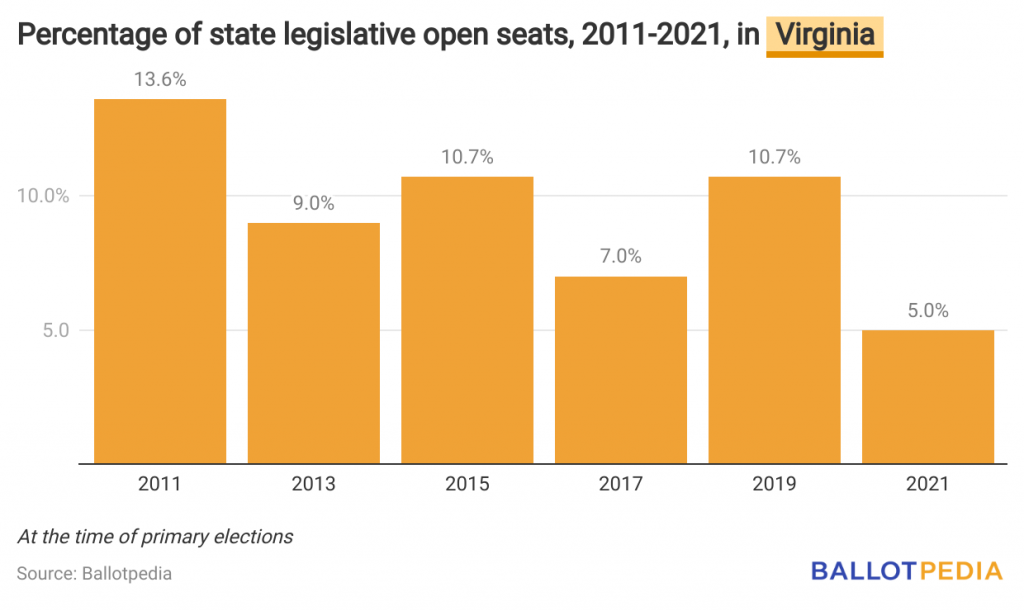 Neither New Jersey nor Virginia has state legislative term limits, meaning all open seats this year were left by incumbents voluntarily choosing not to file for re-election. Of the four states that hold state legislative elections in odd-numbered years, only one—Louisiana—has term limits.
As shown by the chart below, term limits can have a varying effect on the total number of open seats. In 2011, 15.2% of open seats were caused by term limits, while in 2019, term limits accounted for 45.6% of all open seats.
In the chart below, a voluntary open seat is one where an incumbent chose not to file for re-election. A term-limited open seat is one where an incumbent could not seek re-election due to term limits.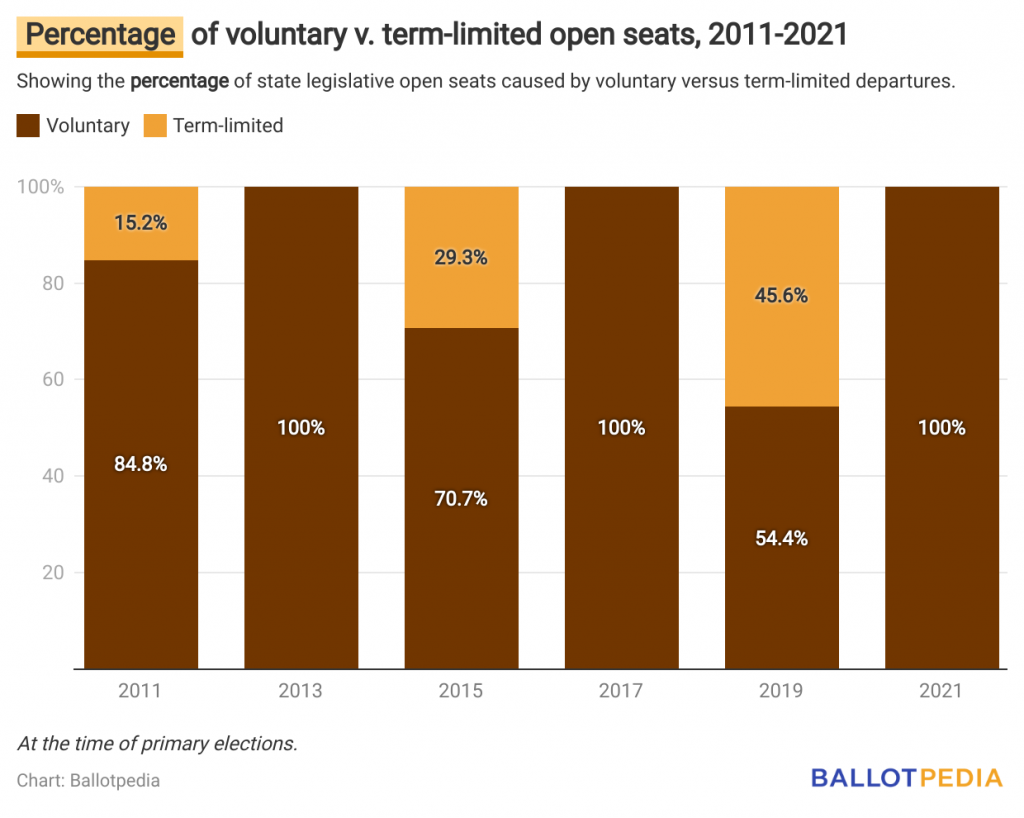 This analysis was conducted as part of Ballotpedia's annual state legislative competitiveness study. In addition to open seats, this study includes an analysis of incumbents in contested primaries and seats with major party competition in the general election.
To learn more about open seats in the 2021 state legislative elections, click here.