The filing deadline for candidates running for state offices in 2022 in Alabama was Jan. 28. State legislative elections will take place in all 35 Senate and 105 House districts. Overall, 271 candidates filed for those 140 districts: 88 Democrats, 182 Republicans, and one Libertarian. This equals 1.94 candidates per district, down from 2.15 in 2018 and 2.02 in 2014.
Alabama holds state legislative elections every four years during midterm cycles.
Here are some other highlights from this year's filings:
Of the 140 districts holding elections, either a Democrat or Republican is likely to win 105 (75.0%) because no candidates from the opposing party filed. Democrats will likely win 27 districts—six in the Senate and 21 in the House—because no Republicans filed to run for them. Republicans will likely win 78 districts—21 in the Senate and 57 in the House. This is the lowest rate of major party competition in the state since at least 2014.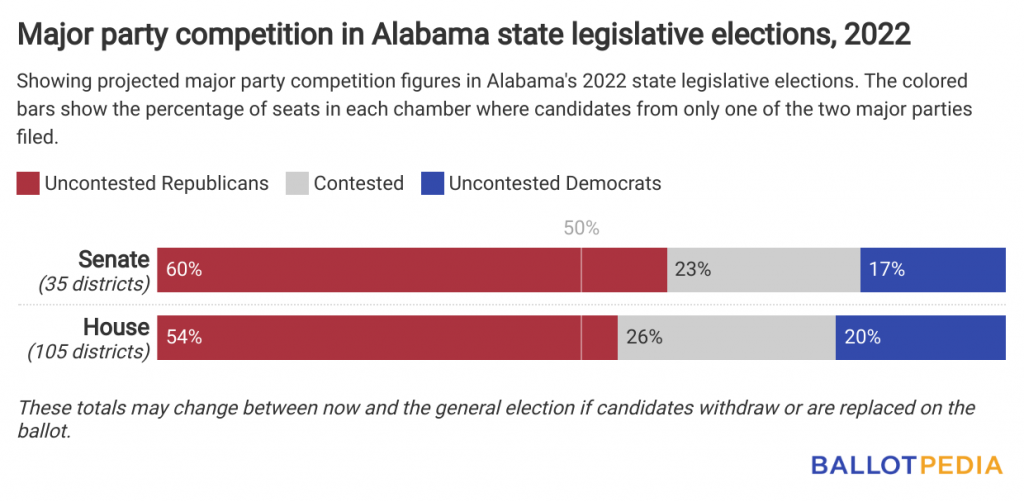 Twenty-five of the 140 districts holding elections (17.9%) are open, meaning no incumbent is running. This is a decrease from the 37 open districts in 2018 but more than the 20 in 2014.
Sixty-three of the 280 possible major party primaries (22.5%) are contested, meaning more than one candidate filed for a party's nomination in a given district. This is the lowest number of contested primaries since at least 2014, which had 64 contested primary elections.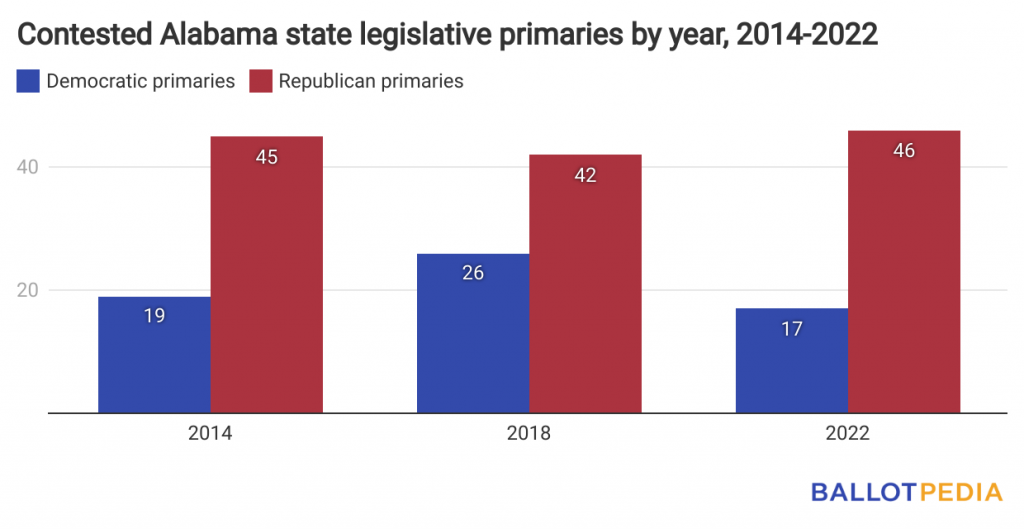 Alabama's primaries are the 11th in the nation, alongside Arkansas and Georgia. All three states will hold primary elections on May 24. In all three states, if no candidate wins a majority of the vote in the primary, the top two finishers will advance to a runoff election on June 21.
Additional reading: