The filing deadline for candidates running for state or federal office in 2022 in Texas was Dec. 13, 2021. State legislative elections will take place in all 31 Texas State Senate districts and all 151 Texas House of Representatives districts. In all, 461 candidates filed for those 181 districts, including 269 Republicans, 192 Democrats, and one independent. This equals 2.55 candidates per district, up from 2.32 candidates per district in 2020 and 2.50 in 2018.
Here are some other highlights from this year's filings:
Thirty-one of the 181 districts holding elections (17.1%) are open, meaning no incumbent is running. This is the largest percentage of open seats in a Texas legislative election cycle since at least 2014. The next highest was 10.2% in 2016.
Seventy-five percent (265) of the 362 possible Democratic or Republican primaries are uncontested, either because just one candidate filed or because no candidates filed, the second-lowest percentage since at least 2014. The only year with fewer uncontested primaries was 2018, when 236 out of 330 possible primaries (71.5%) went uncontested. In 2020, there were 261 uncontested primaries out of 332 overall, or 78.6%.
Forty-four percent (79) of the 181 seats up for election are likely guaranteed to one of the two major political parties. Republicans are likely to win at least 49 seats—eight in the Senate and 41 in the House—because no Democrats filed to run for them. Democrats are likely to win at least 30 seats—three in the Senate and 27 in the House—since no Republicans filed. In 2020, there were 32 seats guaranteed to Democrats and 27 guaranteed to Republicans because no candidate from the other party filed. In 2018, 38 seats were guaranteed to Democrats and 19 to Republicans.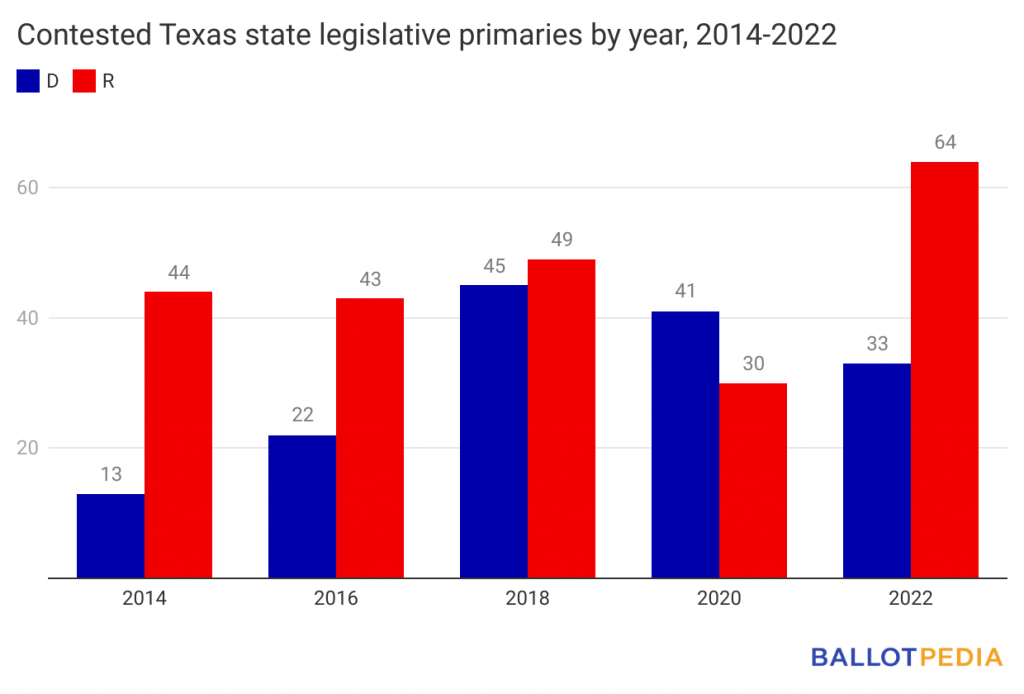 Texas' state legislative primaries are the first in the country, on March 1, 2022. Candidates need at least 50% of the vote to win in the primary; in the event no candidate wins a majority of the vote, the top two finishers will advance to a May 24 runoff.
Additional reading: