The filing deadline for candidates running for state or federal office in Kentucky was Jan. 25, 2022. State legislative elections will take place in 19 of the 38 state Senate districts and all 100 state House districts. In all, 256 candidates filed for those 119 districts: 88 Democrats and 168 Republicans. This equals 2.2 candidates per district, up from 2.0 in 2020 but lower than the 2.4 in 2018.
Republicans currently hold a 30-8 majority in the Senate and the 75-24 majority in the House. One House district, most recently represented by Rep. Reginald Meeks (D), is vacant and will be filled in a Feb. 22 special election.
Here are some other highlights from this year's filings:
Of the 119 districts holding elections, either a Democrat or Republican is likely to win 61 (51.3%) because no candidates from the opposing party filed. Democrats will likely win 12 districts—one in the Senate and 11 in the House—because no Republicans filed to run for them. Republicans will likely win 49 districts—nine in the Senate and 40 in the House. This is the least amount of major party competition in the state since 2012 when 63 districts saw no major party competition (52.9%).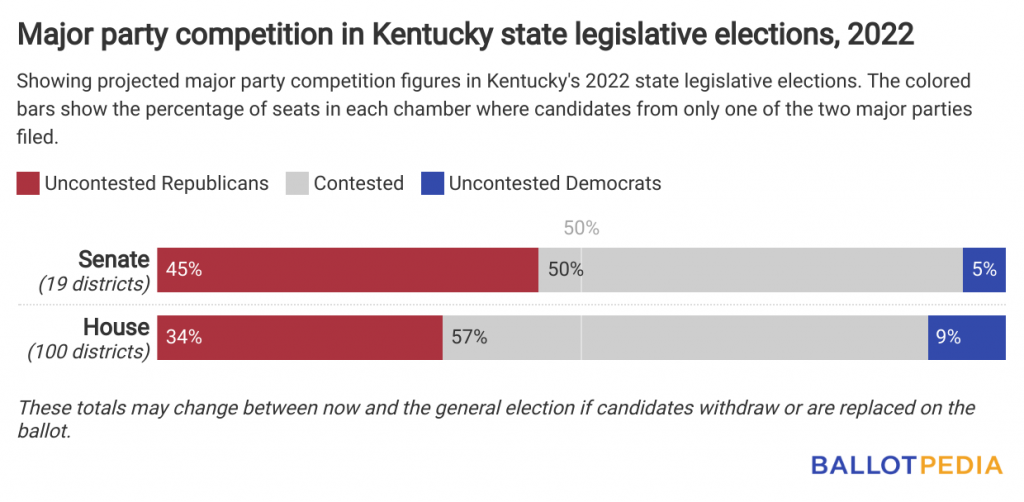 Twenty-one of the 119 districts holding elections (17.6%) are open, meaning no incumbent is running. This is a larger percentage than 2020 (14.2%) but lower than 2018 (18.5%). Four of these districts are open because the incumbents representing those districts were drawn into new districts as a result of redistricting.
There will be 59 contested primaries out of a possible 238 (24.8%). This is the largest number of contested primaries in the state since at least 2014.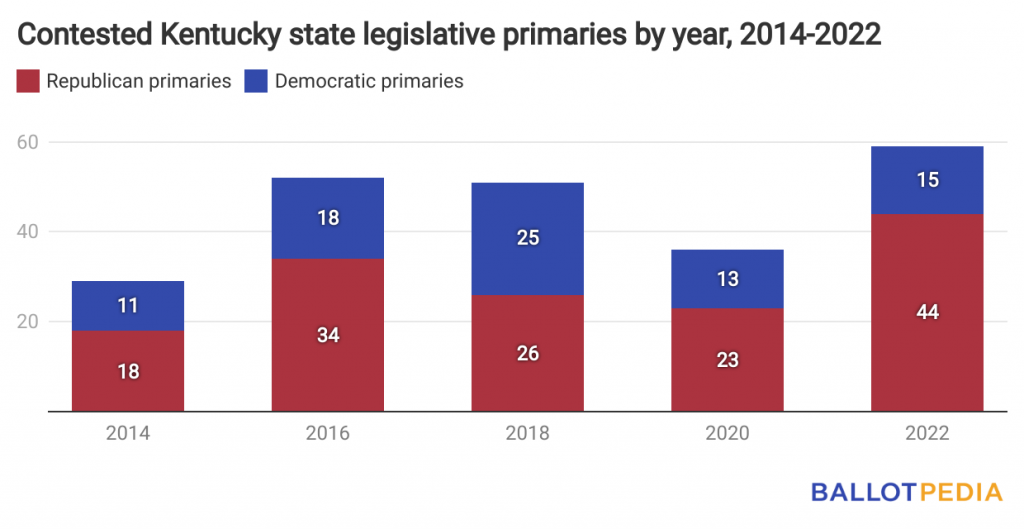 Kentucky's primaries are the sixth in the nation alongside four other states: Idaho, North Carolina, Oregon, and Pennsylvania. All five states will hold primary elections on May 17.
Additional reading: