The filing deadline for candidates running for state or federal office in Indiana this year was Feb. 4, 2022. Elections will take place in 25 of the state's 50 Senate districts and all 100 state House districts. Two hundred and fifty-eight candidates filed for those 125 districts: 84 Democrats and 174 Republicans.
Fifty-one primary elections will take place, 20% of the possible 250. This is the largest percentage of contested primary elections in Indiana since at least 2014.
The increase in primaries compared to recent election cycles was driven by the 42 Republican contests, a 75% increase over 2020. There will be nine contested Democratic primaries, a 55% decrease from the previous cycle.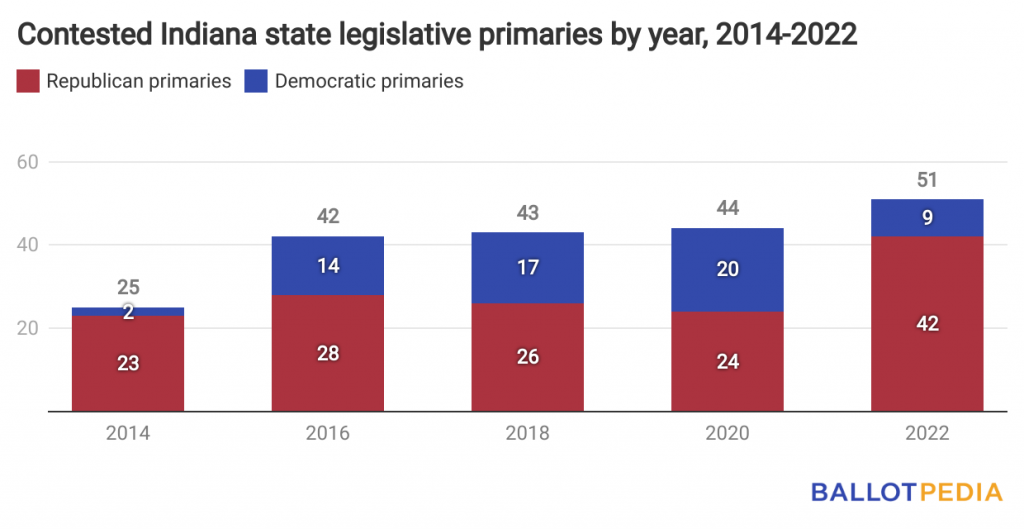 Here are some other highlights from this year's filings:
Fifteen of the 125 districts holding elections (12%) are open, meaning no incumbent is running.
Five of those open districts are due to redistricting as incumbents were drawn into new districts, leaving their old ones open. Six incumbents—all Republicans—are running in different districts than the ones they were elected to in 2020. Four of those incumbents are running against other Republican incumbents in contested primaries.
One hundred and fourteen incumbents are seeking re-election—31 Democrats and 83 Republicans. Thirty-three incumbents (29%) will face primary challengers, the largest percentage since at least 2014. Two of those incumbents are Democrats and the remaining 31 are Republicans.
Of the 125 districts up for election, 72 (58%) likely are guaranteed to one of the two major political parties. Democrats likely will win 16 because no Republicans filed to run. Republicans likely will win 56. This is the largest percentage of districts without major party competition in Indiana since at least 2014.
Indiana's state legislative primaries are, along with Ohio's, the second in the election cycle, scheduled for May 3, 2022. Winning candidates will advance to the Nov. 8 general elections.
Additional reading: