The filing deadline for candidates running for state or federal office in 2022 in West Virginia was Jan. 29, 2022. This is the first election following West Virginia's redistricting process, which featured structural changes to the state's legislature.
Before the 2022 election cycle, the West Virginia House of Delegates used multi-member districts, with 100 seats divided between 67 districts. During the redistricting process, the legislature instead created 100 single-member districts. As a result, 84 of the 85 incumbents running for re-election are doing so in new districts.
The Senate kept its multi-member districts, in which two senators represent each of the 17 districts. One seat from each district is up for election each cycle, and senators are elected to staggered four-year terms. The 13 incumbent senators seeking re-election are all running in the same districts they represented before redistricting.
Here are some other highlights from this year's filings:
Overall, 295 major party candidates filed for the 117 districts holding elections this year: 100 Democrats and 195 Republicans. This equals 2.5 candidates per seat, matching 2020 but lower than the 2.6 in 2018.
Twenty-three of the 117 districts holding elections (20%) are open, meaning no incumbents filed to run. Four are in the Senate and 19 are in the House. Among those in the House, nine are in districts that did not exist before 2022, three are in districts that were previously multi-member, and seven are in districts that remain single-member.
30.8% of possible primaries are contested, the lowest percentage since 2016. However, 72 total primaries are contested, the most since 2014, because of the 33 new single-member House districts. Seventy-two contested primary elections will take place out of a possible 234 (30.8%).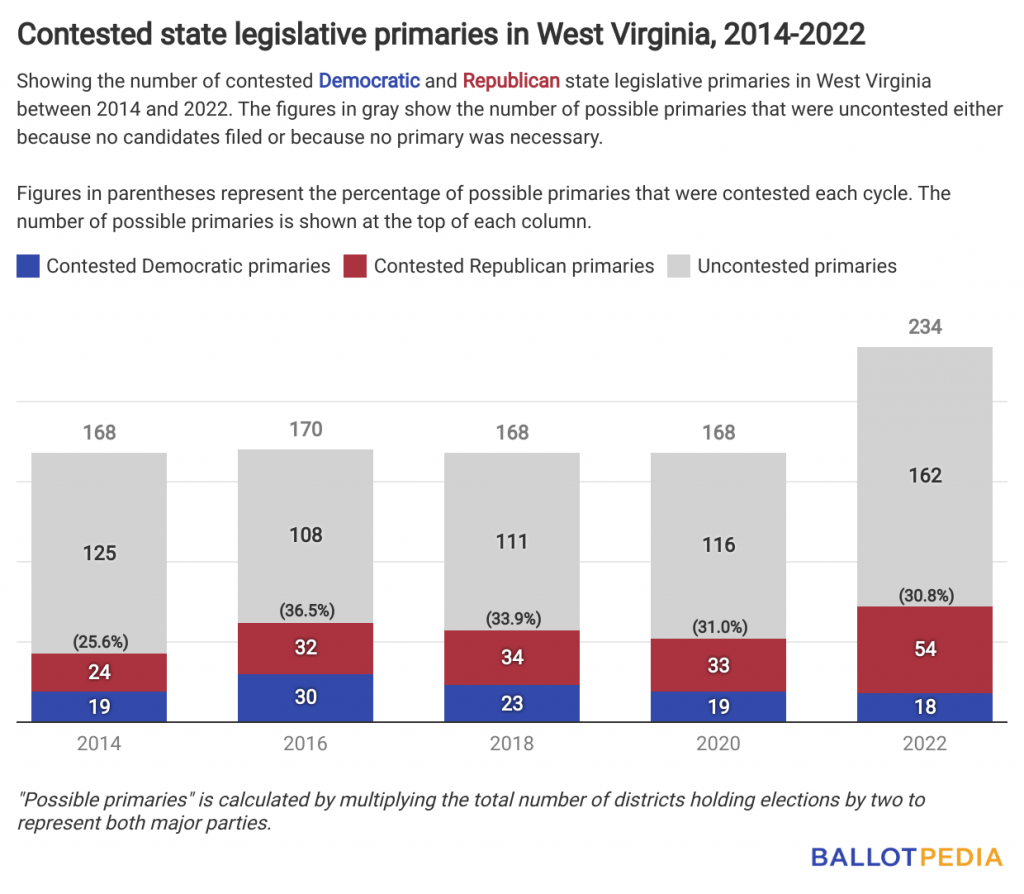 Ninety-eight incumbents are seeking re-election—22 Democrats and 76 Republicans. Thirty-six incumbents (37%) will face primary challengers, the lowest percentage since 2014.
West Virginia's state legislative primaries are, along with Nebraska's, the fourth in the election cycle, scheduled for May 10.
Additional reading: