The filing deadline for candidates running for state and federal office in 2022 in Nebraska was Feb. 15, 2022. In the state's unicameral legislature, elections will take place in 24 of the 49 Senate districts, over half of which will be represented by newcomers to the legislature next year.
There are 13 open districts where no incumbent is running for re-election representing 54% of the districts holding elections this year. This is the largest number of open districts since 2014 when 17 incumbents did not seek re-election.
This increase was caused, in part, by Nebraska's term limit laws, which limit senators to no more than two consecutive four-year terms in office. In 2022, 11 of the 13 open districts were caused by term limits, with the remaining two open districts caused by retirements. In 2014, all 17 open districts were caused by term limits.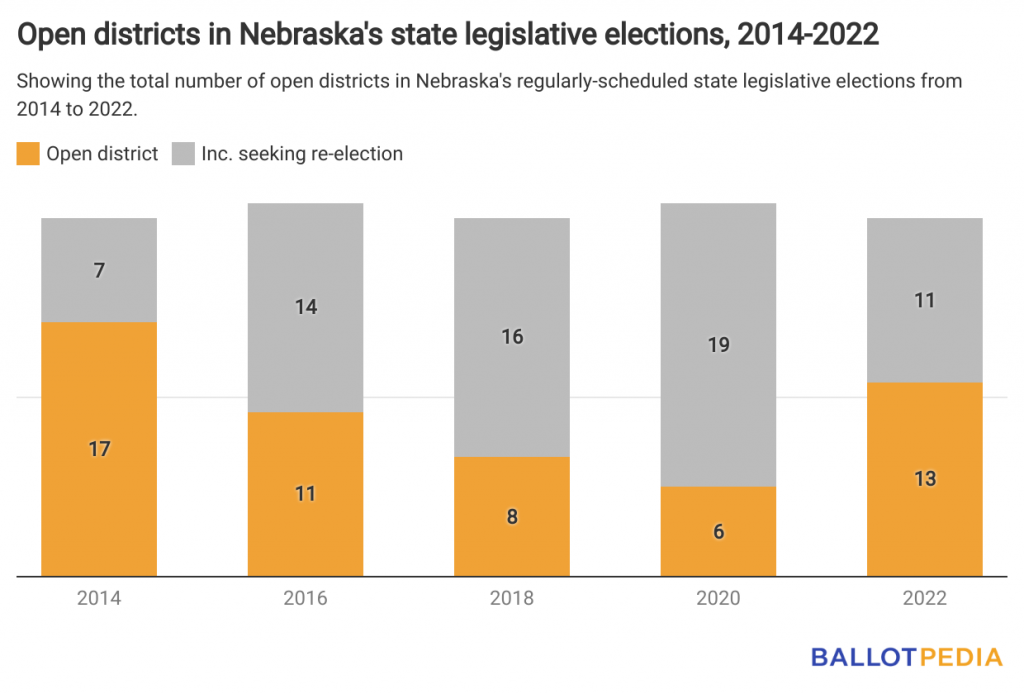 Here are some other highlights from this year's filings:
Sixty-six candidates filed for the 24 districts, equaling 2.8 candidates per district, the largest number since at least 2014 when there were 2.7 candidates per district.
While Nebraska's Senate is officially nonpartisan, using publicly available voter information provided by the Voter Information Lookup, Ballotpedia identified the partisan affiliations of 63 candidates: 17 Democrats, 39, Republicans, three Libertarians, and four registered as nonpartisan.
In Nebraska, every district uses a single top-two primary where every candidate runs and the two with the most votes advance to the general election. In 2022, 58% of the primaries (14) are contested. This is the largest number of contested primaries in the state since at least 2014.
Of those 14 contested primaries, six feature incumbents, meaning 55% of incumbents seeking re-election must first advance through a contested primary, the largest percentage since at least 2014.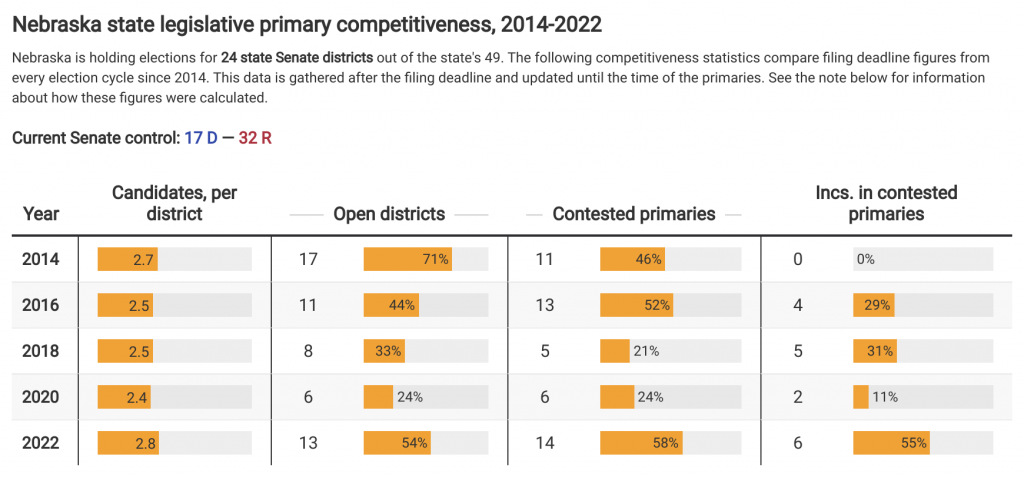 Nebraska's state legislative primaries are, along with West Virginia's, the fourth in the country, scheduled for May 10, 2022. 
Additional reading: