The number of uncontested state legislative districts in North Carolina grew from 14 in 2020 to 51 this year. Uncontested districts lack major party competition, meaning candidates from only one of the two major parties filed to run.
Democrats are effectively guaranteed to win 10 districts, and Republicans are guaranteed 41. Both major parties will contest the remaining 119 districts.
This year, the increase in uncontested districts was driven by a drop in Democratic challengers. In 2020, Democrats ran in 166 of the state's 170 districts, and Republicans ran in 160. This year, Republicans are once again contesting 160 districts while Democrats are running in 129.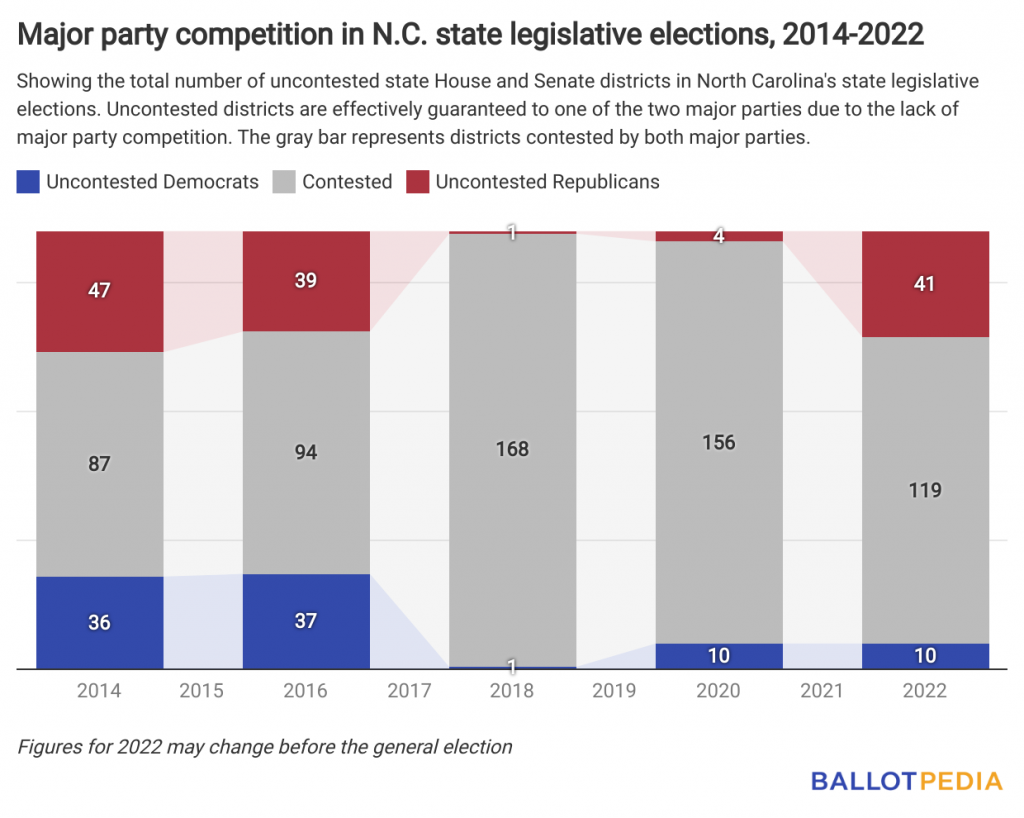 This decrease brings the number of Republicans running without Democratic opponents back to a level seen most recently in the 2014 and 2016 election cycles.
In 2018, the state saw its highest level of major party competition when two major party candidates contested 168 of the 170 districts. This increased level of competition remained in the 2020 cycle before dropping this year.
The filing deadline for candidates running for state legislature in North Carolina passed on March 4. Candidates filed to run for all 120 state House and all 50 state Senate districts. Republicans currently hold majorities in both chambers: 69-51 in the House and 28-22 in the Senate.
Here are some other highlights from this year's filings:
Overall, 386 major party candidates filed to run this year: 167 Democrats and 219 Republicans. This equals 2.3 candidates per district.
The number of open districts, those without an incumbent seeking re-election, increased from 27 in 2020 to 29 in 2022. This is lower than the 30 open districts in 2018, but a larger figure than earlier election cycles.
Of the 340 possible major party primaries, 73 (22%) will be contested, a larger number than every election cycle since 2014 except for 2018, which had 75 contested primaries.
Of the 145 incumbents seeking re-election, 33 (23%) will have primary challengers. Again, this is second only to the 2018 election cycle, when 35 incumbents faced contested primaries.
Due to redistricting, four incumbents—all Republicans—were drawn into new districts where they will run against other Republican incumbents in contested primaries. This means that at least four Republican incumbents will lose in the state's primary elections this year.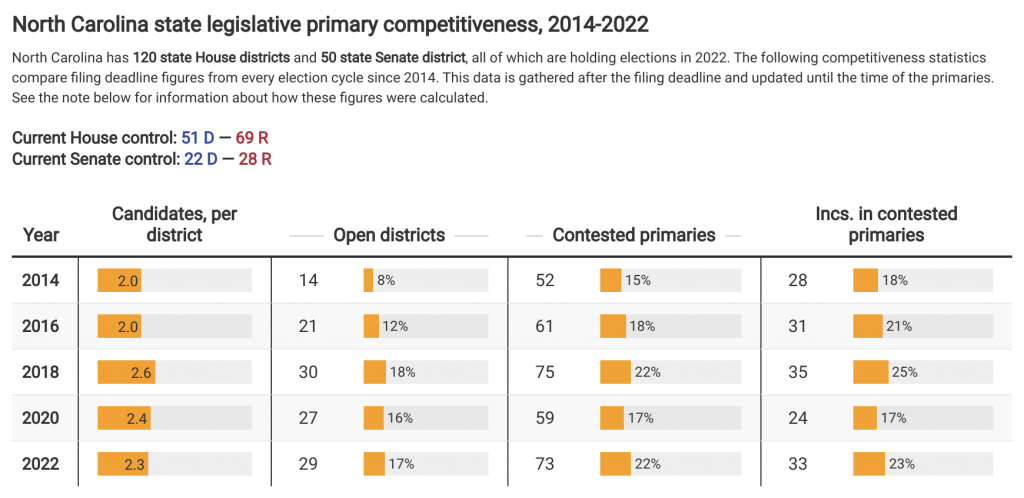 North Carolina's state legislative primaries are the sixth in the country on May 17, 2022. A candidate winning more than 50% of the vote automatically advances to the Nov. 8 general election. If no candidate receives more than 50% of the vote, the top two candidates will advance to a primary runoff on either July 5 or 26, depending on if any races for federal office advance to runoffs.
Additional reading: