Thirty incumbent state legislators in Montana—24% of those with expiring terms—were ineligible to file for re-election this year because of the state's term limit laws.
These laws guarantee open districts on a regular basis since incumbents are barred from running. Montana's term limits had the largest effect on the state Senate where they left 12 of the 25 districts holding elections (48%) open. In the House, 18 of the 100 districts up for election (18%) were left open due to term limits.
In addition to the 30 term-limited legislators, 10 other incumbents did not file for re-election, one in the Senate and nine in the House. Overall, term limits accounted for 75% of the open districts in Montana this year, the largest percentage since 2014.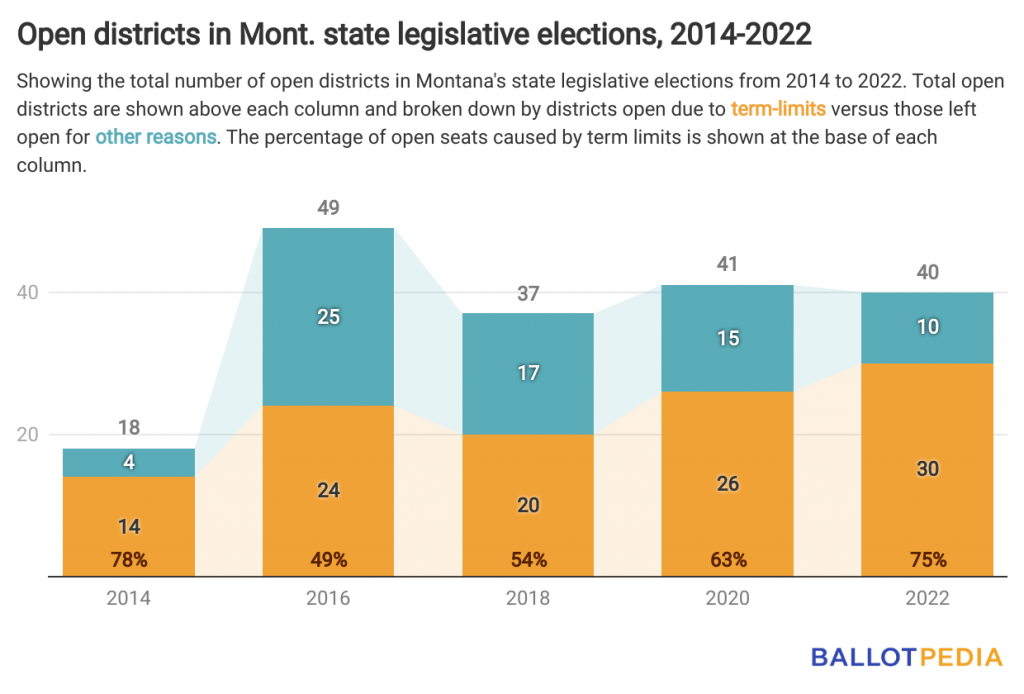 In Montana, one of 15 states with state legislative term limits, legislators can serve eight years in office during any 16-year period. These are not lifetime limits, meaning legislators can run again after spending the requisite amount of time out of office.
Montana's limits are also chamber-specific, meaning that while a term-limited senator cannot seek re-election to the Senate, he or she can file to run in the House and vice versa. This year, 10 term-limited House members are running in a Senate district and two term-limited Senators are running in the House:
The filing deadline for candidates running for state or federal office in Montana this year was March 14. Candidates filed to run for the state's 100 House districts and 25 of the 50 Senate districts.
Overall, 272 major party candidates filed to run this year. That's 2.2 candidates per district, the largest such figure since 2016, which had 2.5 candidates per district.
This is Montana's first election cycle as a Republican trifecta since 2004. From 2005 to 2020, Montana had a divided government. In 2020, Republicans gained the governorship with the election of Greg Gianforte (R). Republicans currently hold a 31-19 majority in the Senate and a 67-33 majority in the House.
Montana's state legislative primaries are scheduled for Jun 7, making them the 14th in the nation.
Additional reading: