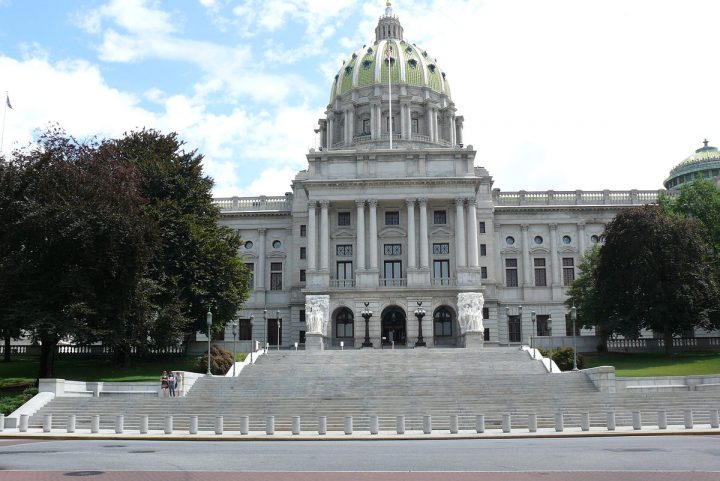 Nine candidates are running in the May 17 Republican primary for Governor of Pennsylvania. Incumbent Tom Wolf (D) is term-limited and cannot run for re-election.
The 2022 race features the largest number of candidates in a Pennsylvania Republican primary since at least 1978. The Philadelphia Inquirer's Andrew Seidman wrote, "Campaign aides say this year's winner could prevail with as little as 28%."
The state Republican Party decided not to endorse a candidate this year. Lou Barletta, Doug Mastriano, Bill McSwain, and Dave White have led in the polls.
Barletta represented Pennsylvania's 11th Congressional District from 2011 to 2019 and served as mayor of Hazleton from 2000 to 2010. Barletta has highlighted his experience in elected office, saying, "I actually have a record that people can look at, so you won't have to guess what I'll do tomorrow. You can see what I did yesterday." At an April 27 debate, Barletta criticized McSwain for having been a registered Democrat.
Mastriano, a U.S. Army veteran and state representative, has focused on his opposition to Covid-19 measures and has said he would defend election integrity while in office. Mastriano has claimed that voting fraud was prevalent in the 2020 election and has criticized McSwain for not supporting Mastriano's efforts to investigate the results of the election.
McSwain served in the U.S. Marine Corps and worked as a private attorney before former President Donald Trump (R) appointed him U.S. Attorney for the Eastern District of Pennsylvania. McSwain has emphasized his work as a U.S. Attorney, saying, "What the other candidates in this race know about crime, they read in the newspaper. I'm the only one who has actually done something about it." McSwain has criticized Mastriano for voting for Act 77, a law that expanded vote-by-mail in Pennsylvania, and has accused Barletta of supporting higher gas taxes. McSwain criticized White for receiving campaign contributions from union political action committees.
White is a former member of the Delaware County Council who worked as a steamfitter before founding a mechanical contractors company. White has said his labor background would help him attract former Democratic blue-collar voters to the GOP. "That's what differentiates me from the other candidates, is that I'm the only one that's capable of doing that," White said. White has highlighted a statement from Trump in which the former president told voters not to support McSwain.
Also running in the primary are Jake Corman III, Joe Gale, Charlie Gerow, Melissa Hart, and Nche Zama.
As of 2022, candidates for governor and lieutenant governor in Pennsylvania run in separate primaries for their party's nomination and then form a joint ticket. John Brown, Jeff Coleman, Teddy Daniels, Carrie DelRosso, Russell Diamond, Chris Frye, James Jones, Rick Saccone, and Clarice Schillinger are running in the Republican primary for lieutenant governor.