Sixty-three of the 188 Georgia state legislators running for re-election this year—27 Democrats and 36 Republicans—face contested primaries. That equals 34% of incumbents seeking re-election, the highest rate since 2014. The remaining 66% of incumbents are not facing primary challengers.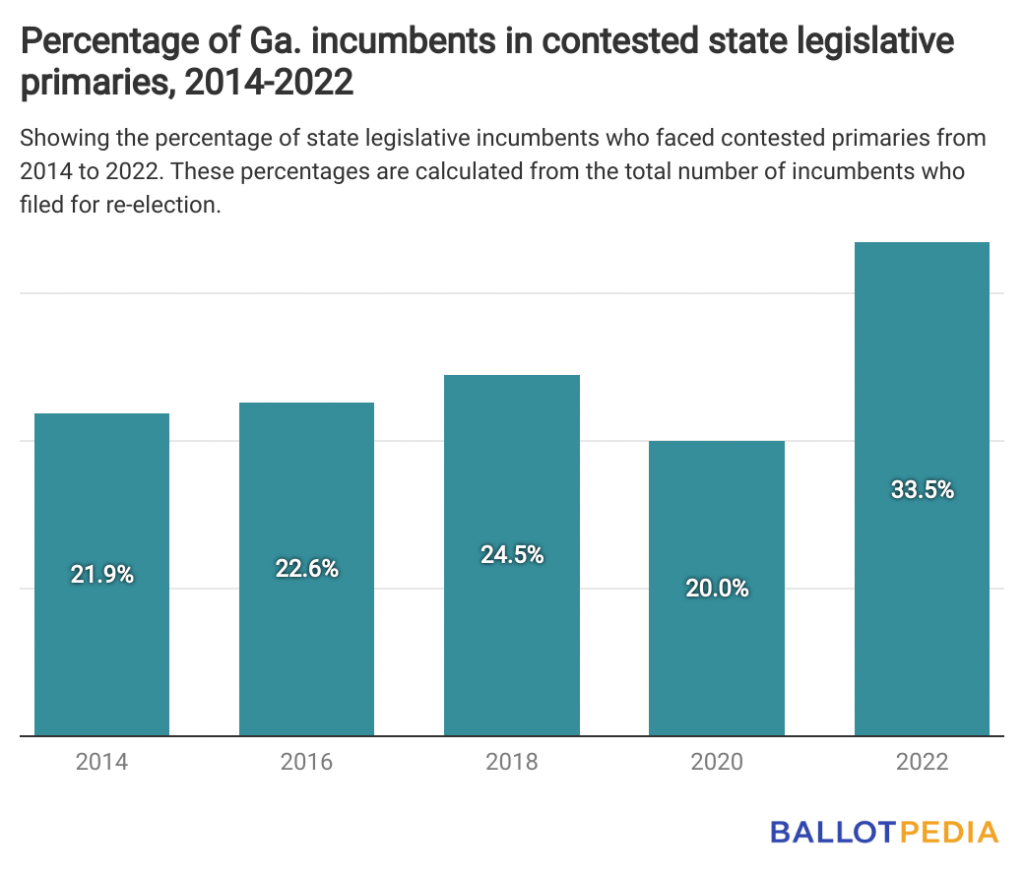 A contested primary is one where more candidates are running than there are nominations available. After redistricting, it is common to see primaries where two incumbents run against one another. This can happen if a district's lines are redrawn to place two incumbents in the same district.
This year, there are three incumbent versus incumbent primaries in Georgia. In these races, since only one candidate can win the nomination, one incumbent is guaranteed to lose:
House District 100: Reps. David Clark (R) and Bonnie Rich (R), from House Districts 98 and 97, respectively, filed to run against one another.
House District 106: Rep. Shelly Hutchinson (D), from House District 107, filed to run against Rep. Rebecca Mitchell (D).
House District 149: Rep. Danny Mathis (R), from House District 144, filed to run against Rep. Robert Pruitt (R).
The total number of contested primaries—including those without incumbents—also reached its highest point since 2014. With 236 districts, there are 472 possible primaries every election cycle.
This year, there are 104 contested primaries—51 Democratic primaries and 53 for Republicans. For Democrats, this is up from 49 in 2020, a 4% increase. For Republicans, that number increased 71%, from 31 in 2020 to 53 in 2022.
This is also the state's first cycle since 2016 with more Republican primaries than those for Democrats.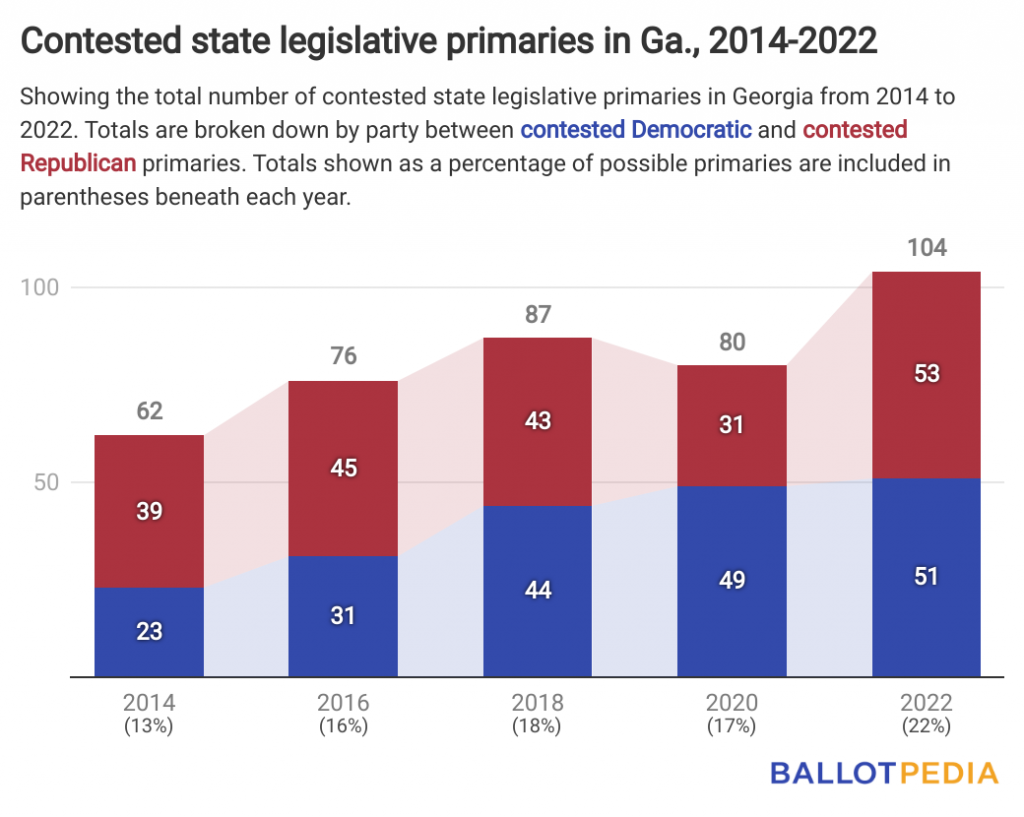 The filing deadline for candidates running for state legislative office in Georgia this year was March 11. Candidates filed to run for all of the state's 56 Senate districts and 180 House districts.
Fifty-one of those districts were left open, meaning no incumbents filed to run, the most since 2014.
Overall, 495 major party candidates filed to run this year: 238 Democrats and 257 Republicans. That equals 2.1 candidates per district, up from 2.0 in 2020 and 1.9 in 2018.
Georgia has been a Republican trifecta Republicans won control of the state House in 2004. Republicans currently hold a 34-22 majority in the Senate and a 103-76 majority in the House.
Georgia's primaries are scheduled for May 24, the fifth statewide primary date of the 2022 state legislative election cycle.
Additional reading: