Twenty-nine of the 123 Missouri state representatives running for re-election—13 Democrats and 16 Republicans—face contested primaries. That equals 24% of incumbents seeking re-election to the Missouri House of Representatives, the highest rate since 2014. The remaining 76% of incumbents are not facing primary challengers.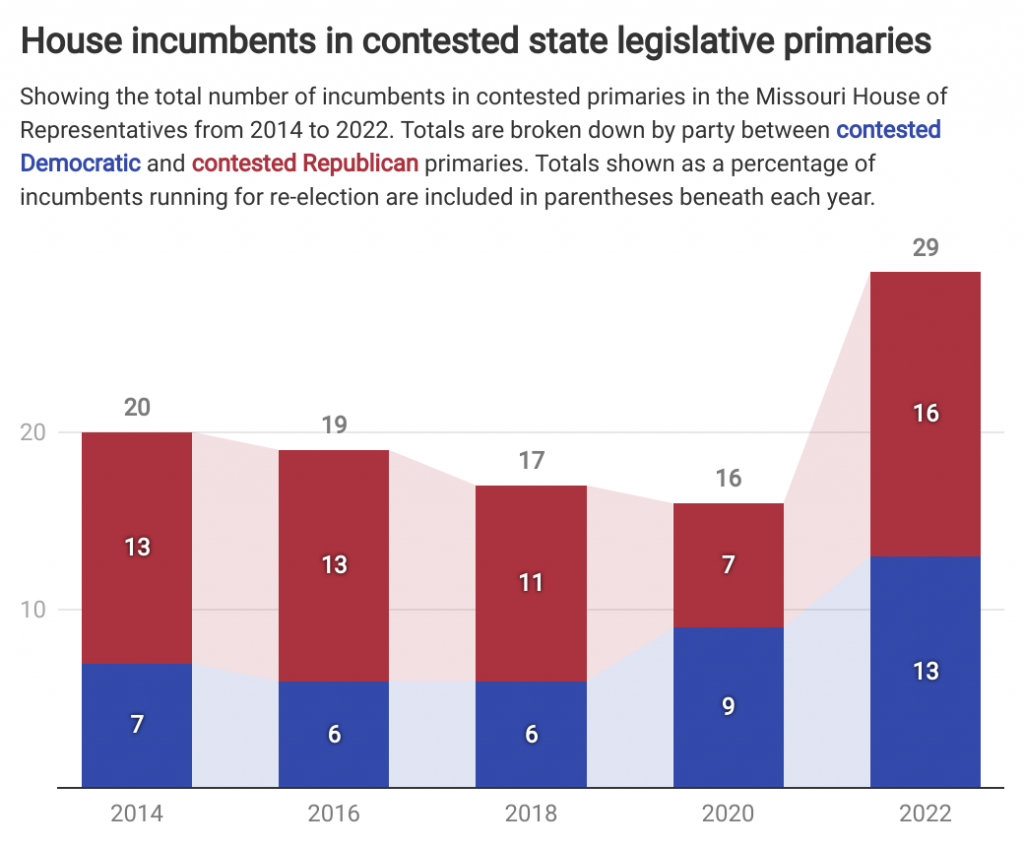 A primary is contested when there are more candidates running than available nominations, meaning at least one candidate must lose. Historically, however, Missouri incumbents tend to win contested primaries.
Since 2014, only five state representatives—three Democrats and two Republicans—have lost to primary challengers in Missouri. This means that during that time, 93% of incumbents in contested primaries ultimately advanced to the general election.
This year, at least one House incumbent is guaranteed to lose. Two Democratic incumbents—Reps. Mike Person (D) and Raychel Proudie (D)—were drawn into the same St. Louis-area district during the redistricting process. Only one will advance to the general election.
The total number of contested primaries—including those without incumbents—is also up this year, though lower than in 2018. With 163 House districts holding elections, there are 326 possible primaries every election cycle.
This year, there are 56 contested primaries in the House—15 Democratic primaries and 41 for Republicans. For Democrats, this is down from 18 in 2020, a 17% decrease. For Republicans, the number increased 21%, from 34 in 2020 to 41 in 2022.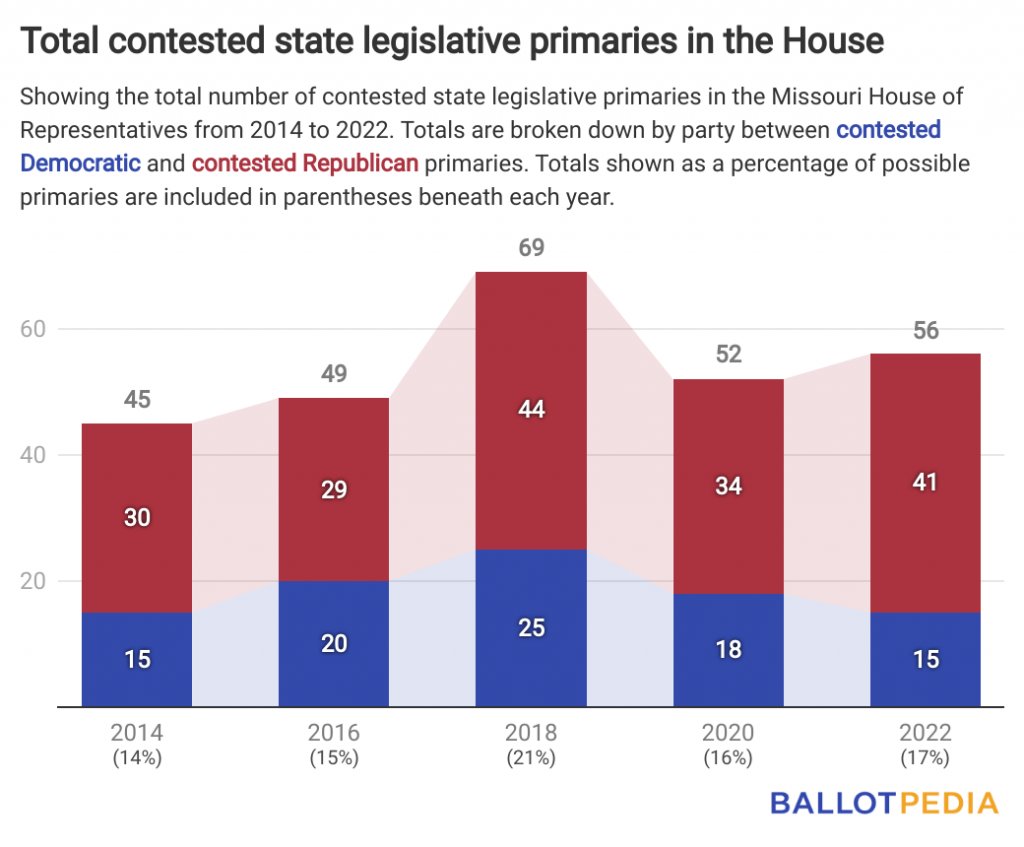 The filing deadline for candidates running for the Missouri House of Representatives was March 29. Candidates filed to run for all of the state's 163 House districts.
Forty-one of those districts were left open, meaning no incumbents filed to run, a lower figure than in recent cycles. This decrease comes as fewer legislators face term limits barring them from seeking re-election compared to recent election cycles.
In 2018, 44 representatives were term-limited, and 34 faced limits in 2020. In both cycles, the Missouri House of Representatives was the lower chamber most affected by term limits out of the 15 with limits nationwide. This year, 14 legislators faced term limits.
Overall, 361 major party candidates filed to run for the House in 2022: 114 Democrats and 192 Republicans.
Missouri has been a Republican trifecta since the party won the governorship in 2016. Republicans currently hold a 24-10 majority in the Senate and a 108-48 majority in the House.
Missouri's primaries are scheduled for August 2, the tenth statewide primary date of the 2022 state legislative election cycle.
Additional reading: