Fifteen of the 82 Utah state legislators running for election this year—two Democrats and 13 incumbents—face contested primaries. That equals 18% of incumbents seeking re-election, the highest rate since 2014. The remaining 82% of incumbents are not facing primary challengers.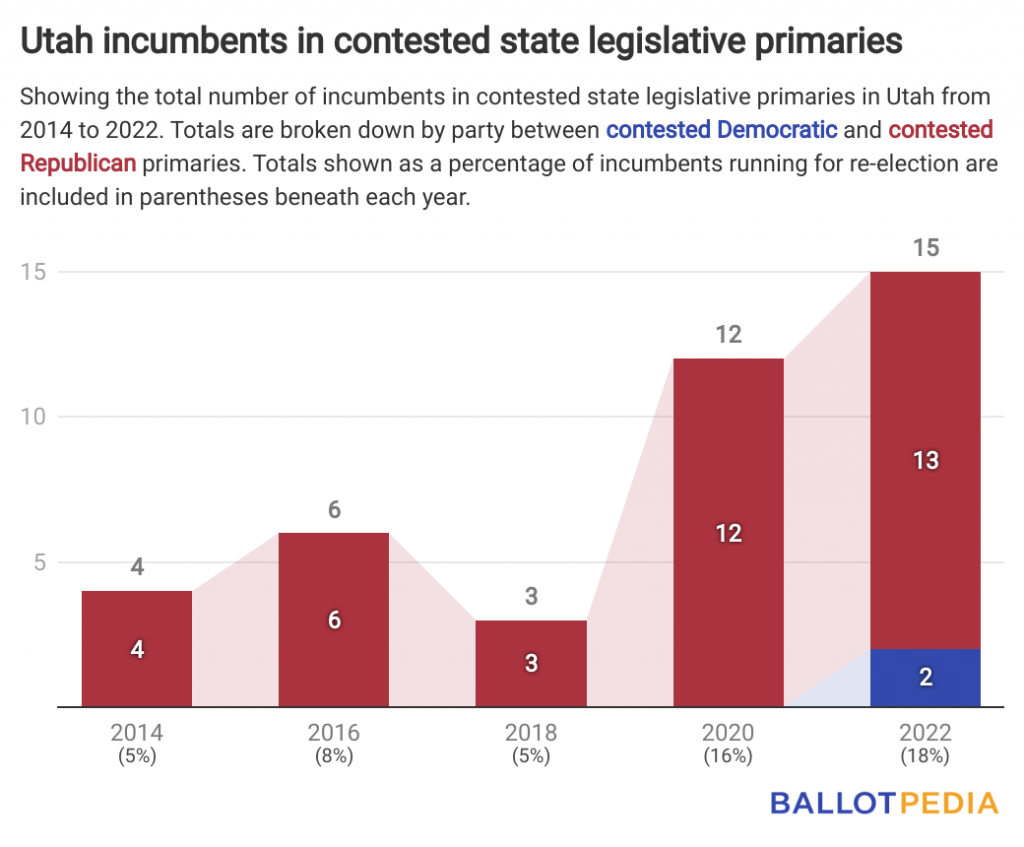 Utah uses a unique convention-primary structure where candidates participate in party conventions before advancing to the primary. This year, conventions were held on April 23.
If a candidate receives at least 60% of the delegate vote in the convention, they typically advance directly to the general election. If no candidate crosses that threshold, the top-two vote-getters advance to a contested primary.
In 2014, state law was changed so that candidates can also qualify for the primary ballot by collecting the required number of signatures.
Ballotpedia does not count contested convention races as contested primaries. Nevertheless, incumbents can be challenged and can lose in conventions if they do not gather signatures. Three incumbents have already been defeated: Reps. Stephen Handy (R), Douglas Sagers (R), and Steve Waldrip (R). This is the most state legislative incumbents defeated in Utah's conventions since 2014.
The total number of contested primaries—including those without incumbents—also reached its highest point since 2014. With 90 districts holding elections, there are 180 possible primaries in 2022.
This year, 23 districts (13%) are contested: three Democratic primaries and 20 for Republicans. For Democrats, this is up from one in 2020, a 200% increase. For Republicans, the number increased by 18% from 17 in 2020 to 20 in 2022.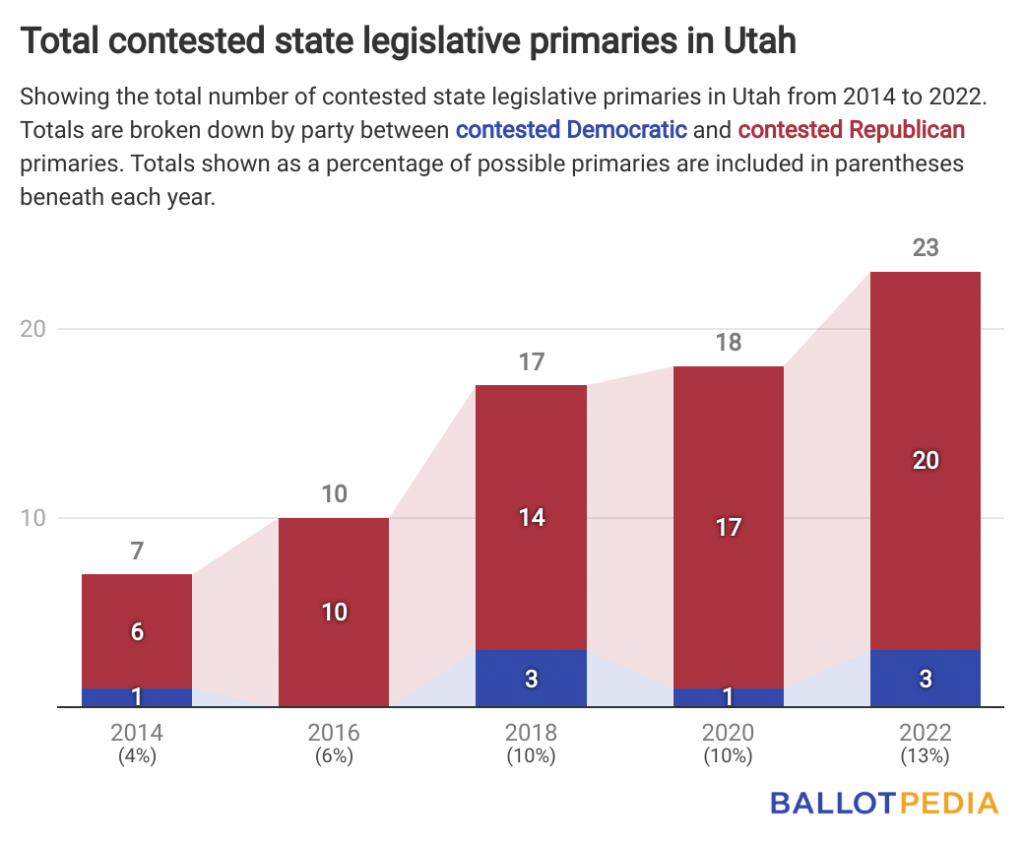 The filing deadline for candidates running for state legislative office in Utah this year was March 4. Candidates filed to run for all of the state's 75 House districts and 15 of its 29 Senate districts.
Eight of those districts were left open, meaning no incumbents filed to run, the fewest since 2014.
Overall, 161 major party candidates advanced beyond the convention this year: 52 Democrats and 109 Republicans.
Utah has had a Republican trifecta since the party won the governorship in 1984. This is currently the longest, continuous Republican trifecta streak nationwide.
Utah's state legislative primaries are scheduled for June 28, the eighth statewide primary date of the 2022 state legislative election cycle.
Additional reading: