So far this year, 91 state legislative incumbents—17 Democrats and 74 Republicans—have lost to primary challengers.
Across the 17 states that have held primaries, 5.3% of incumbents running for re-election have lost. This is both the largest number and highest incumbent loss rate in these 17 states since 2014.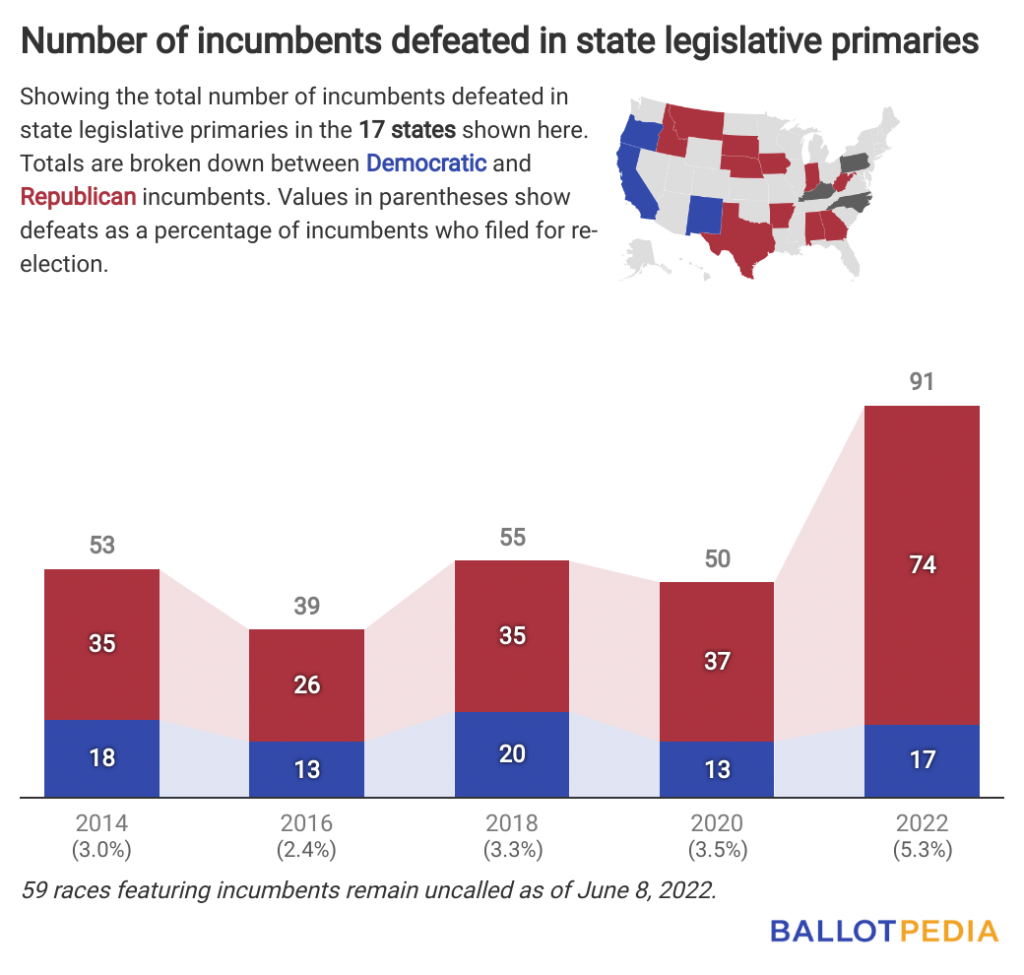 In addition to earlier primaries, these totals include preliminary results from primaries held in California, Iowa, Montana, New Mexico, and South Dakota, on June 7. So far, 13 incumbents have lost in those states:
Six Republicans in Iowa;
One Democrat in Montana;
One Democrat and one Republican in New Mexico; and,
Four Republicans in South Dakota.
No incumbents have lost in California's primaries so far. Since the state began using a top-two primary system in 2012, two state legislative incumbents have lost in primaries, both Republicans, in 2020.
Republican incumbents have lost at a higher rate than Democrats. Of the 1,083 Republican incumbents who filed for re-election, 74 (6.8%) have lost to primary challengers. For Democrats, 17 of the 635 who filed for re-election (2.7%) have lost.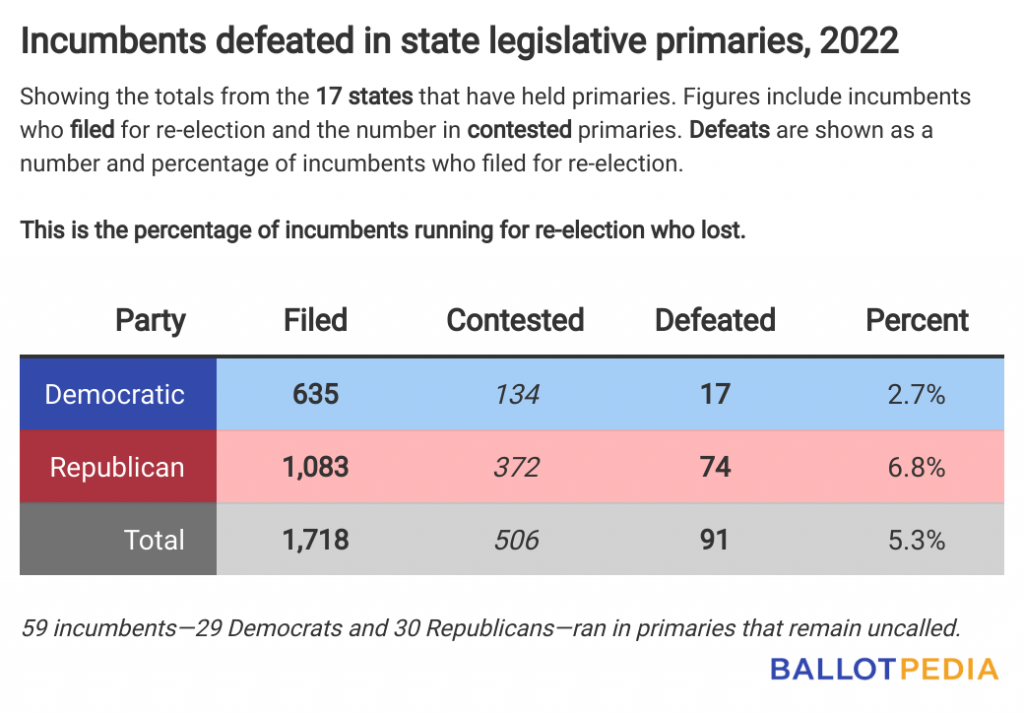 Fewer Democratic incumbents are facing primary challengers than Republicans. Around 21% of Democratic incumbents who filed for re-election faced contested primaries compared to 34% for Republicans.
In these 17 states, 1,718 incumbents filed for re-election, 506 of whom (29%) faced primary challengers.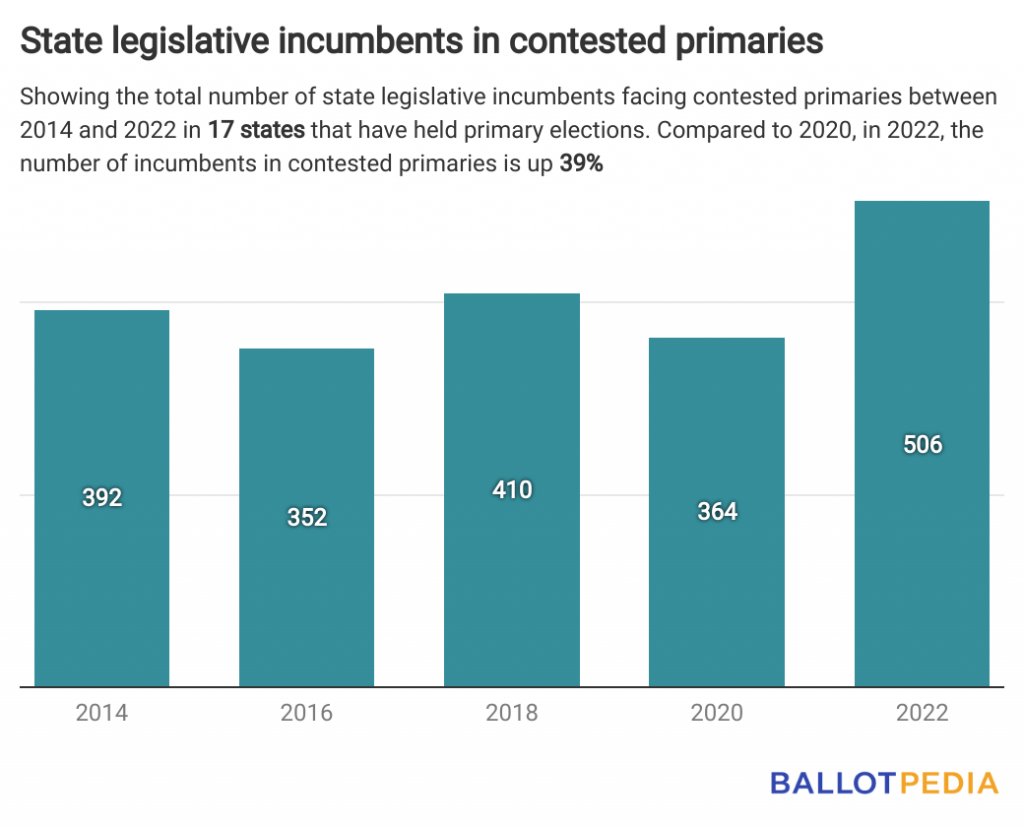 Twenty-six of these 91 incumbent defeats (29%) were guaranteed due to redistricting. When states redraw legislative lines, incumbents can oftentimes end up in a new district with other incumbents leading to incumbent v. incumbent primaries or general elections. Since, in these races, there are more incumbents running than nominations or seats available, at least one incumbent must lose.
Of the 17 states that have held primaries so far, three had Democratic trifectas, 11 had Republican trifectas, and three had divided governments with Democrats controlling the governorship and Republicans controlling both legislative chambers. Across these 17 states, there are 2,189 seats up for election, 36% of the nationwide total.
The figures for 2022 will likely increase. There are currently 58 uncalled primaries featuring 59 incumbents: 29 Democrats and 30 Republicans. One of those uncalled races is an incumbent v. incumbent primary, guaranteeing at least one more incumbent defeat.
You can view a full list of defeated incumbents and totals from previous years by clicking "Learn More" below.