Eighty-eight of the 125 state legislative districts up for election in Oklahoma this year are uncontested, meaning voters in 70% of districts will see either only a Democrat or only a Republican on their general election ballots. This is both the largest number and highest rate of uncontested districts since 2014.
Uncontested districts lack major party competition, which effectively guarantees that candidates from one of the two major parties will win the general election. This year, there are 14 districts with only Democratic candidates on the ballot and 74 with only Republicans. The remaining 37 districts currently feature candidates from both major parties, though that may change if candidates withdraw from their races.
In 2016 and 2018, Oklahoma candidates from both major parties ran in a majority of races. That changed in 2020 and the number of uncontested districts continued to grow this year.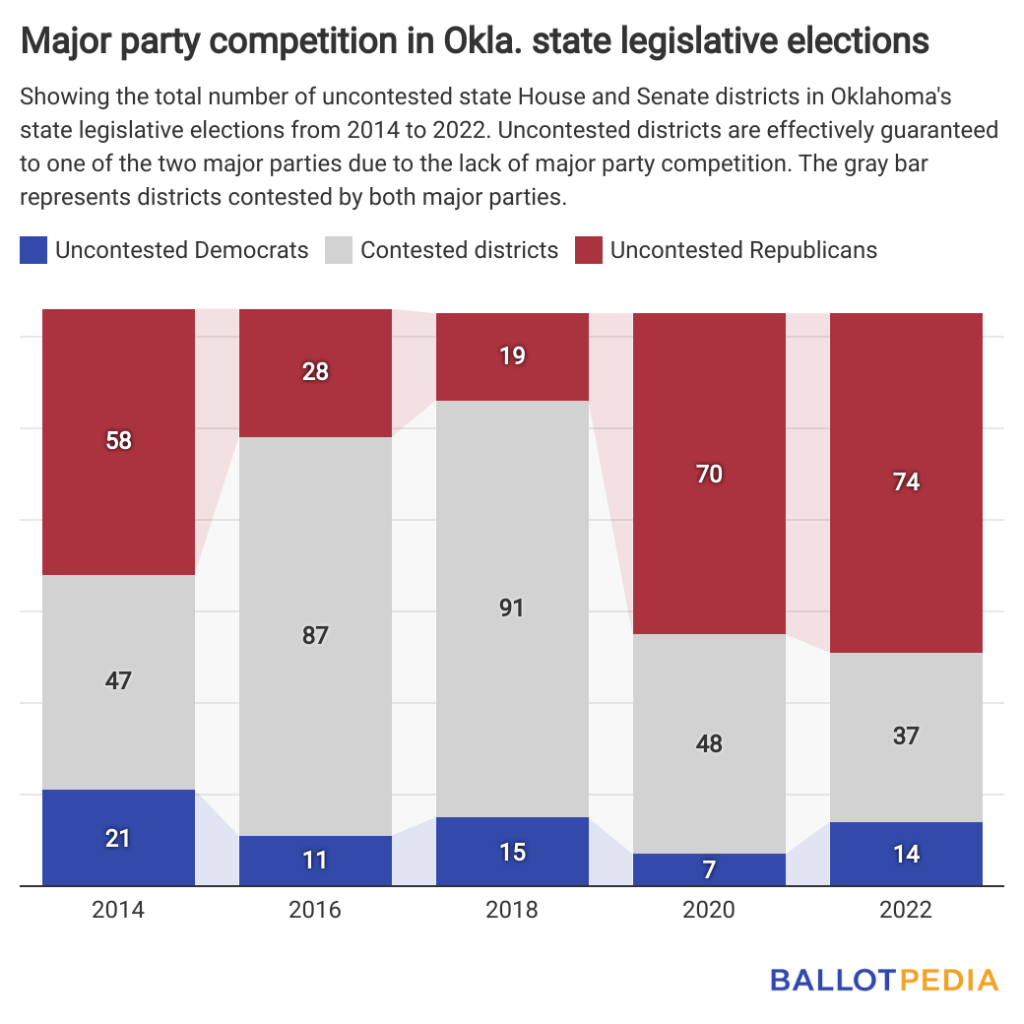 Uncontested Democratic districts are concentrated in the urban areas of Oklahoma City and Tulsa, while uncontested Republican districts occupy the state's more rural areas. Districts contested by both major parties are primarily located outside of the urban areas and in the state's southwestern corner.
Here's a look at all 101 districts up for election in the House: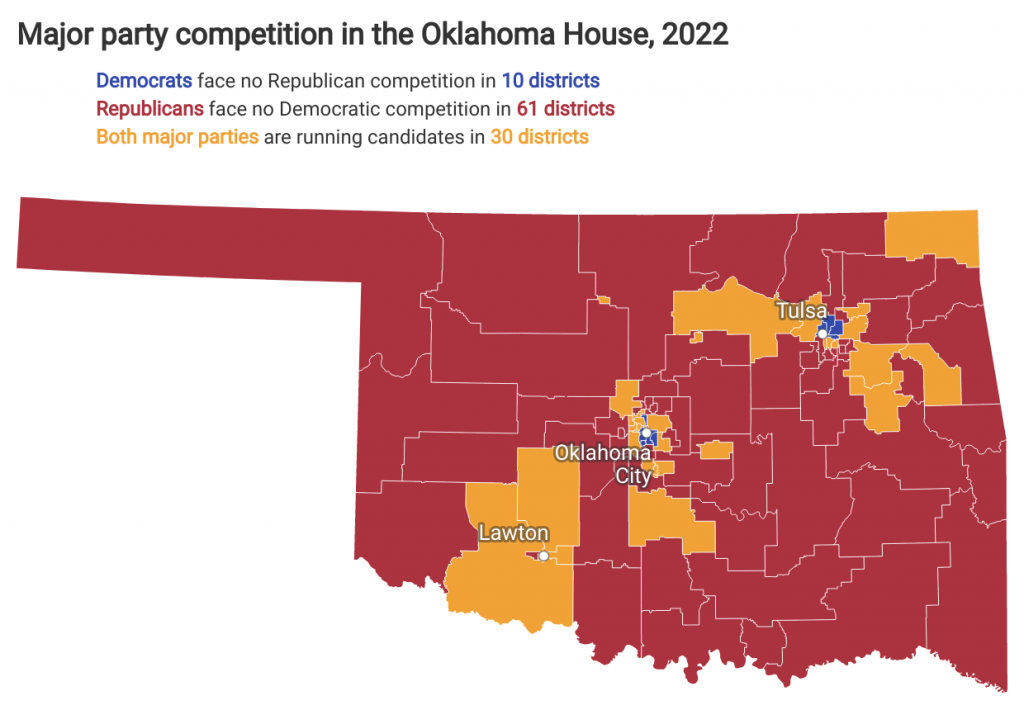 And a look at the 24 Senate districts holding elections this year: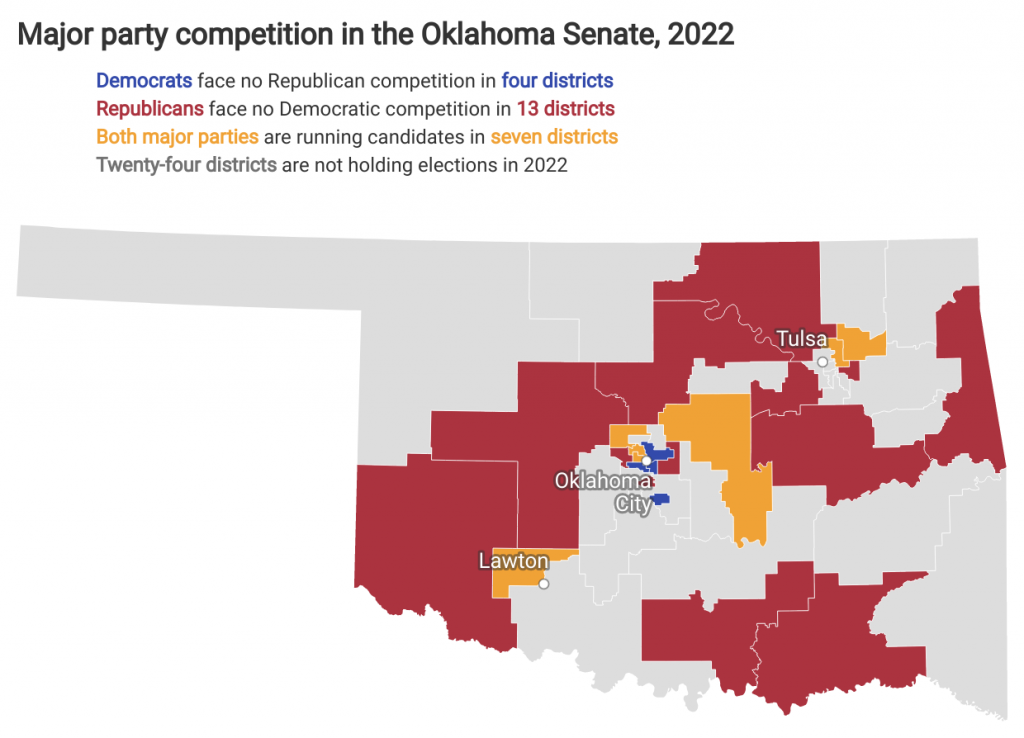 Overall, 237 major party candidates—58 Democrats and 179 Republicans—filed to run this year, down from 247 in 2020 and 418 in 2018.
There are 50 contested primaries where candidates from the same party compete against one another for their respective party's nomination.
This is the second-lowest number of primaries since 2014. The number of contested Democratic primaries decreased from eight in 2020 to six in 2022. For Republicans, the number remained the same at 44.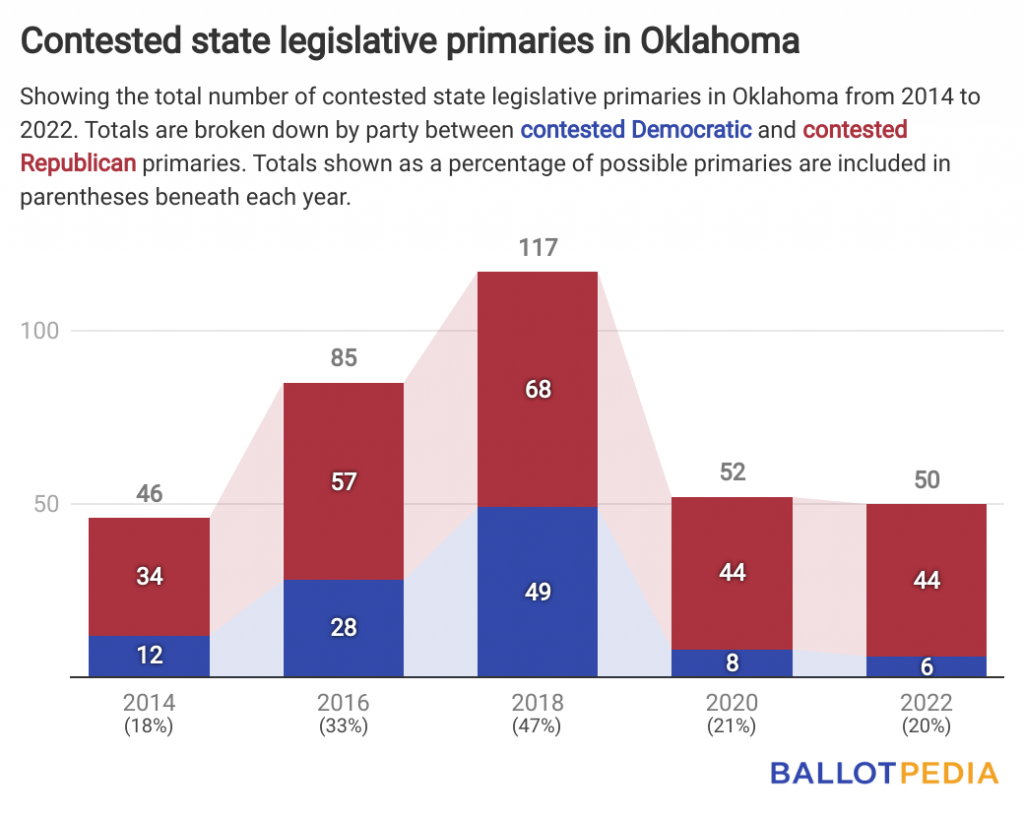 The filing deadline for candidates running for state legislative office in Oklahoma this year was April 15.
Oklahoma has had a Republican trifecta since Republicans won control of the governorship in 2010. Republicans currently hold 39-9 majority in the Senate and an 82-18 majority in the House, which currently has one vacancy.
Oklahoma's state legislative primaries are scheduled for June 28, the eighth statewide primary date of the 2022 state legislative election cycle. General elections will be held on November 8.
Additional reading: