With all 118 state legislative districts in Maryland up for election this year, there are 236 possible primaries. Of that total, 36.4%, or 86, are contested, similar to recent cycles in 2014 and 2018, which had 84 and 89 contested primaries, respectively.
A primary is contested when more candidates file to run than there are nominations available, meaning at least one candidate must lose.
The 86 contested primaries this year include 51 Democratic primaries and 35 for Republicans. For Democrats, this is down from 64 in 2018, a 20% decrease. For Republicans, that number increased 40% from 25 in 2018 to 35 in 2022.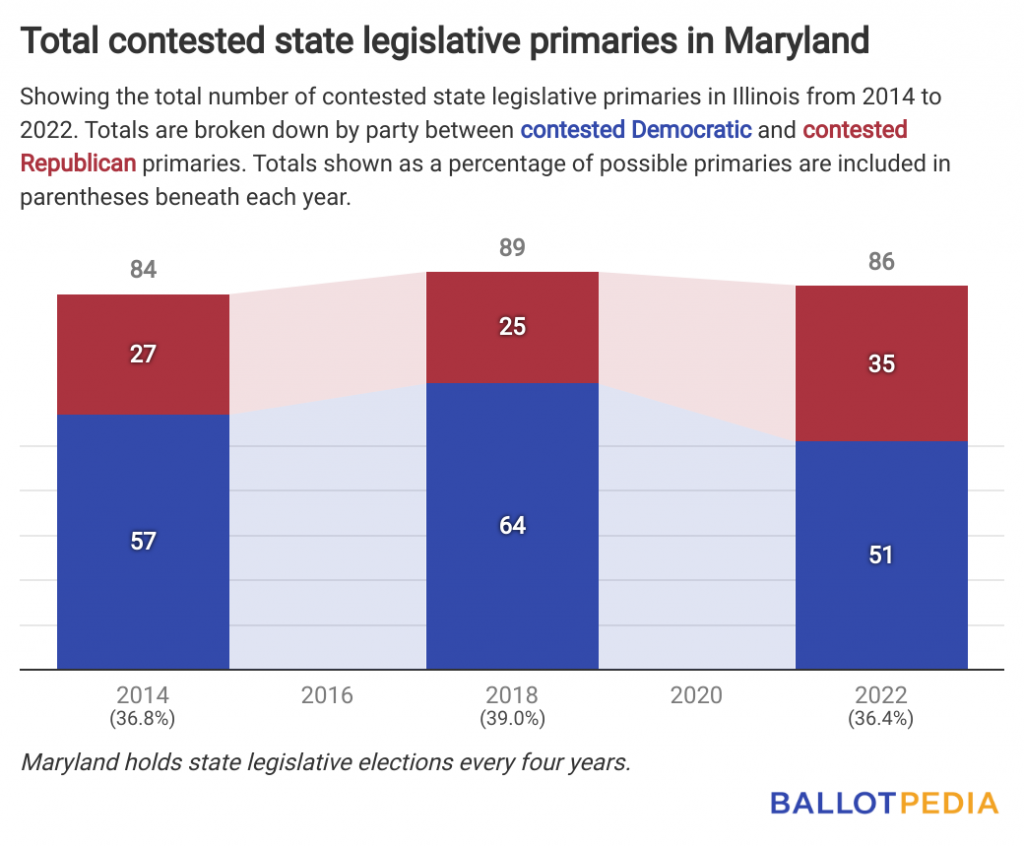 Overall, 444 major party candidates—260 Democrats and 184 Republicans—filed to run for the state's 141 House and 47 Senate seats.
Thirty-nine of those seats are open, meaning no incumbents filed. This guarantees that at least 21% of the legislature will be represented by newcomers next year.
There are 151 incumbents who filed for re-election: 108 Democrats and 43 Republicans. Of this total 95 (63%) face contested primaries, a lower rate than in 2018 (71%) and 2014 (67%).
Maryland has had a divided government since voters elected Gov. Larry Hogan (R) in 2014. Hogan is term-limited and unable to seek re-election this year. Democrats hold a 99-42 majority in the House and a 32-15 majority in the Senate.
Maryland's state legislative primaries are scheduled for July 19, the ninth statewide primary date of the 2022 state legislative election cycle.
Additional reading: