Fifteen percent (38) of 125 possible contested state House primaries in Kansas this year are contested by multiple candidates. One-hundred and twenty-five state House seats are up for election this year.
A primary is contested when more candidates file to run than there are nominations available, meaning at least one candidate must lose.
The 38 contested primaries this year include 12 Democratic primaries and 26 Republican primaries. For Democrats, this is the same as in 2020. For Republicans, that number decreased 10% from 29 in 2020 to 26 in 2022.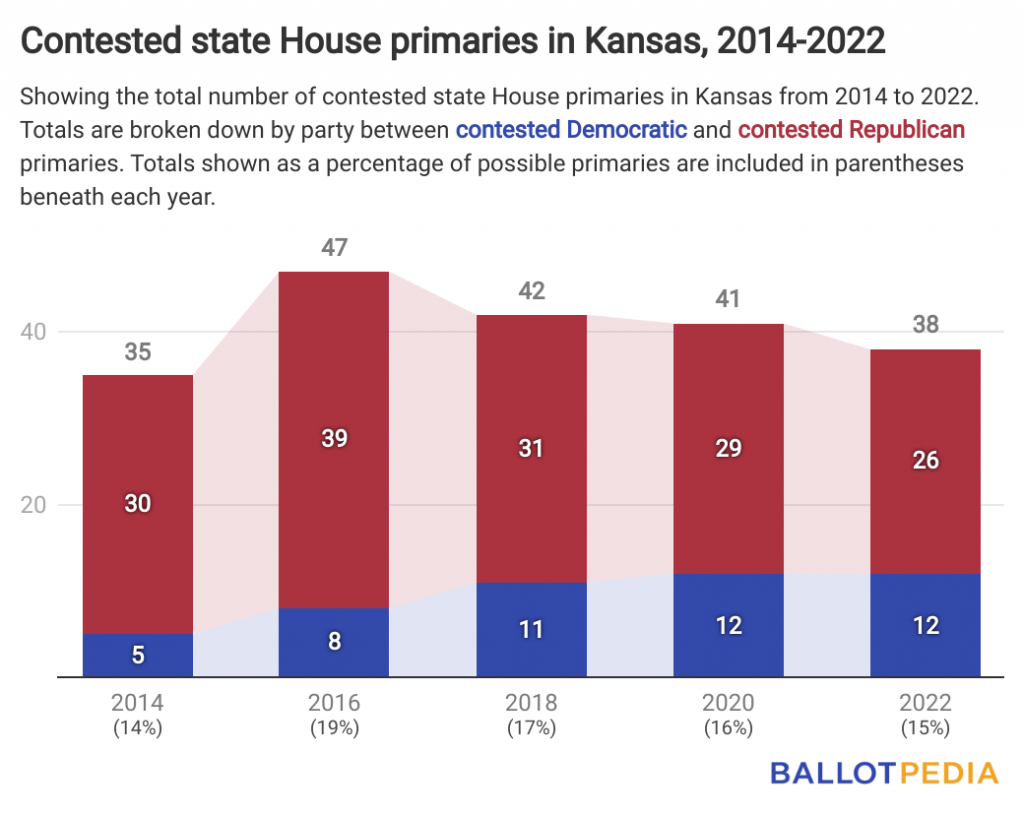 Seventeen of the 38 contested primaries feature an incumbent, representing 17% of incumbents who filed for re-election. This is the lowest rate of incumbents in contested primaries in the chamber of the past five election cycles.
Overall, 228 major party candidates—93 Democrats and 135 Republicans—filed to run for the state's 125 House districts.
Twenty-three House districts are open this year, meaning no incumbents filed. This guarantees that at least 18% of the chamber will be represented by newcomers next year.
Kansas has had a divided government since voters elected Gov. Laura Kelly in 2018. Republicans currently hold a 29-11 majority in the Senate and an 86-39 majority in the House.
Kansas' primary elections are scheduled for Aug. 2. The Kansas Senate holds elections every four years during presidential election cycles.
Additional reading: