Wyoming has 48 contested state legislative primaries this year, 31% of the total number of possible primaries, and a 4% increase from 2020.
A primary is contested when more candidates file to run than there are nominations available, meaning at least one candidate must lose.
Of the 48 contested primaries, there are two for Democrats and 46 for Republicans. For Democrats, this is down from six in 2020, a 67% decrease. For Republicans, the number increased 15% from 40 in 2020.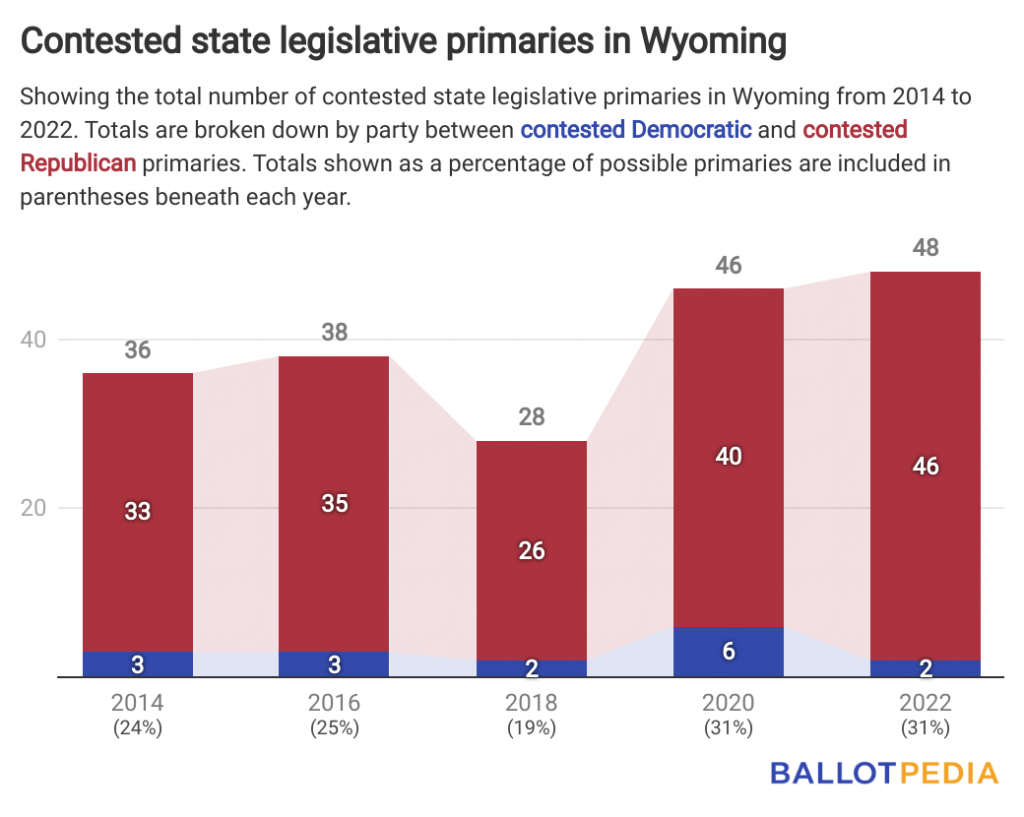 Twenty-eight primaries feature an incumbent, representing 49% of all incumbents who filed for re-election. This is down from 2020, when 31, or 52% of incumbents, faced contested primaries.
All 28 incumbents in contested primaries this year are Republicans. No Democratic incumbents who filed for re-election face a contested primary.
Overall, 168 major party candidates—27 Democrats and 141 Republicans—filed to run. All 62 House districts and 16 of the state's 31 Senate districts are holding elections. This includes two new House districts and one new Senate district created following redistricting.
Twenty-one of those districts are open, meaning no incumbents filed. This guarantees that at least 23% of the legislature will be represented by newcomers next year.
Wyoming has had a Republican trifecta since 2010 when the party gained control of the governorship. Republicans have controlled both legislative chambers since 1977 and currently hold a 28-2 majority in the Senate and a 51-7 majority in the House with two districts represented by third-party or independent incumbents.
Wyoming's state legislative primaries are scheduled for August 16, the 14th statewide primary date of the 2022 state legislative election cycle.
Additional reading:
Wyoming State Senate elections