Michigan has 139 contested state legislative primaries this year, 47% of the total number of possible primaries, the highest rate of contested primaries in the state over the past five election cycles.
A primary is contested when more candidates file to run than there are nominations available, meaning at least one candidate must lose.
The Michigan House holds elections every two years. The Senate holds elections every four years during midterm election cycles.
Of the 139 contested primaries, 58 are for Democrats, and 81 are for Republicans. For Democrats, this is down from 67 in 2018—the last time both chambers held elections—marking a 13% decrease. For Republicans, the number increased 37% from 59 in 2018.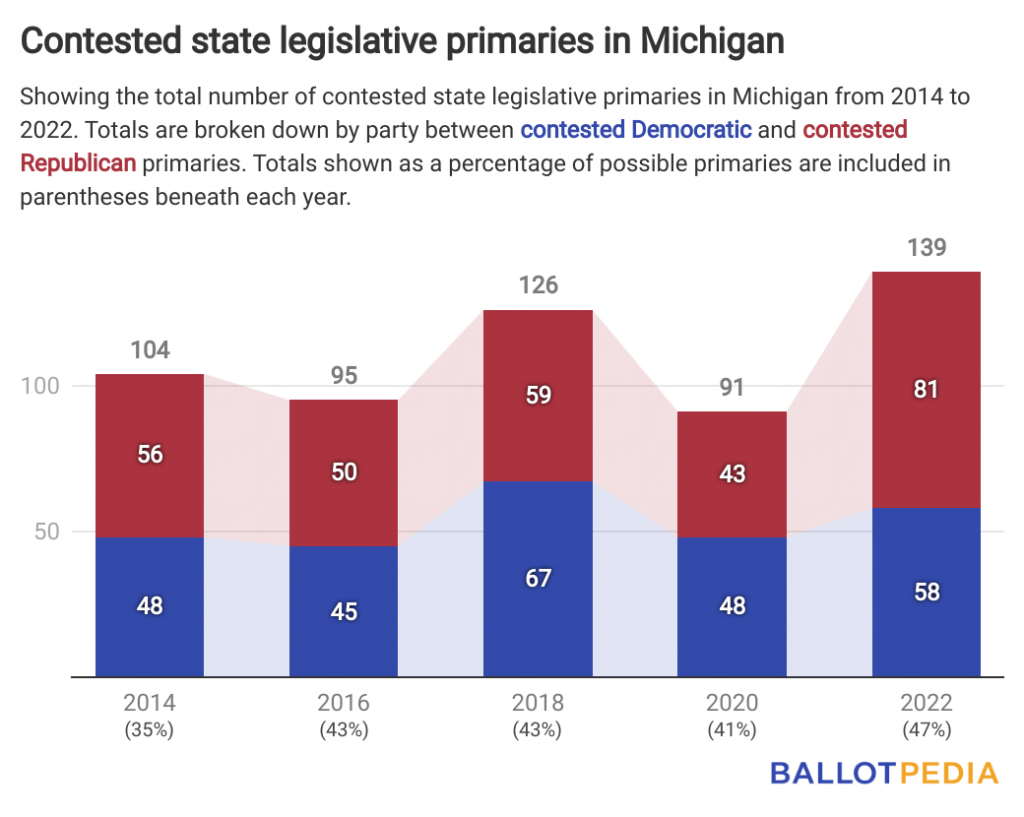 Forty-three primaries feature an incumbent: 18 Democrats and 25 Republicans. This represents 52% of all incumbents who filed for re-election, another high of the past five election cycles.
Overall, 548 major party candidates—256 Democrats and 292 Republicans—filed to run for the state's 110 House and 38 Senate districts.
Sixty-seven of those districts are open, guaranteeing that at least 45% of the legislature will be represented by newcomers next year.
Michigan has had a divided government since the election of Gov. Gretchen Whitmer (D) in 2018. Republicans currently hold a 22-16 majority in the Senate and a 56-53 majority in the House with one vacant district.
Michigan's state legislative primaries are scheduled for August 2, the 11th statewide primary date of the 2022 state legislative election cycle.
Additional reading:
Michigan State Senate elections, 2022