The filing deadline for candidates running for the U.S. House in Washington was May 20, 2022. This year, 68 candidates are running in Washington's 10 U.S. House districts, including 37 Republicans, 19 Democrats, seven independents, and five third-party candidates. That's 6.8 candidates per district, fewer than the 7.3 candidates in 2020, and more than the 4.9 candidates per district in 2018.
Here are some other highlights from this year's filings:
This is the first election to take place under new district lines following the 2020 census. Washington was apportioned ten districts, the same number it was apportioned after the 2010 census.
All ten incumbents are running for re-election, meaning there are no open U.S. House seats for the first time in a decade.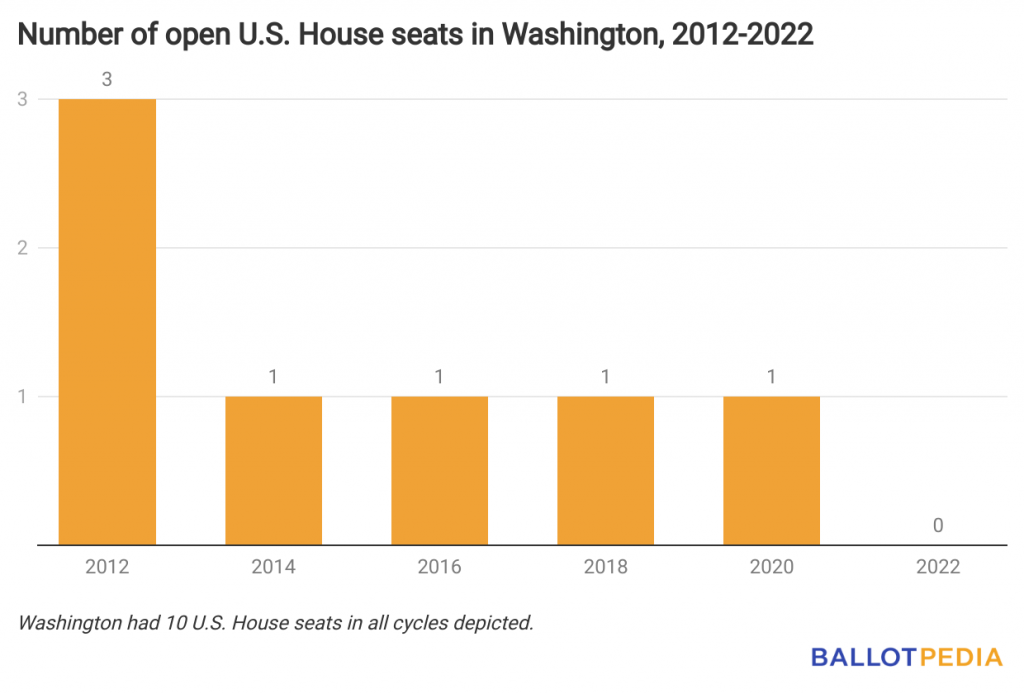 There are ten contested primaries this year, the same number as in 2020 and two fewer than in 2018, when there were eight contested primaries. 
All ten incumbents running for re-election are facing primary challengers this year. In 2020, all nine incumbents who filed for re-election faced primary challengers. In 2018, seven of the nine who filed did. 
In Washington's top-two primary system, all candidates are listed on the same ballot regardless of party affiliation. Two incumbents — Rep. Suzan DelBene (D) and Rep. Pramila Jayapal (D) — are not facing intra-party primary challengers. DelBene represents the 1st district, and Jayapal represents the 7th.
At this point, no districts are guaranteed to either party. Democratic and Republican candidates have filed to run in the primaries in all ten districts. After the primaries take place, some districts may have two candidates of the same party running in the general under Washington's top-two primary system.
Eleven candidates are running in the 8th district, the most candidates running for a seat this year. Three Democrats, including incumbent Kim Schrier (D), five Republicans, one independent, one Libertarian, and one Concordia Party candidate have filed to run. 
Washington and four other states — Arizona, Kansas, Michigan, and Missouri — are holding primary elections on August 2. Washington utilizes a top-two primary system. In a top-two primary system, all candidates are listed on the same ballot. The top two vote-getters, regardless of their partisan affiliations, advance to the general election.